Intelligent test system automatically detects steady-state wear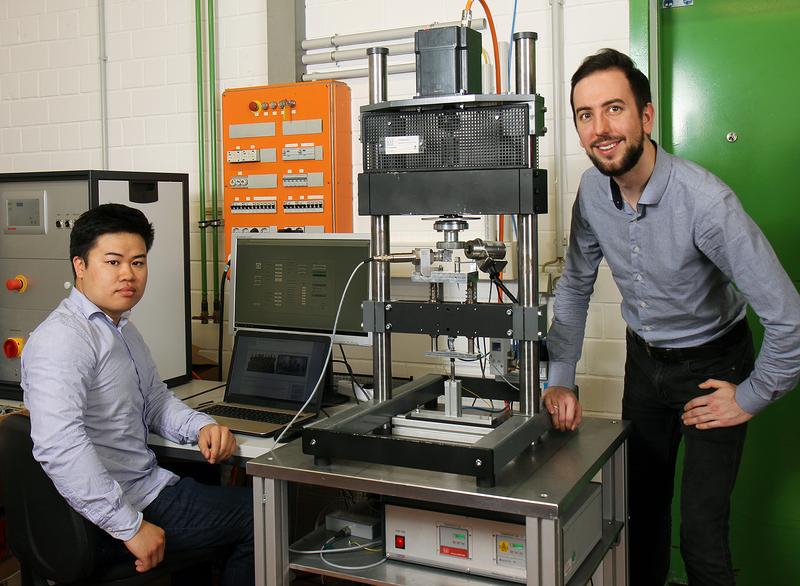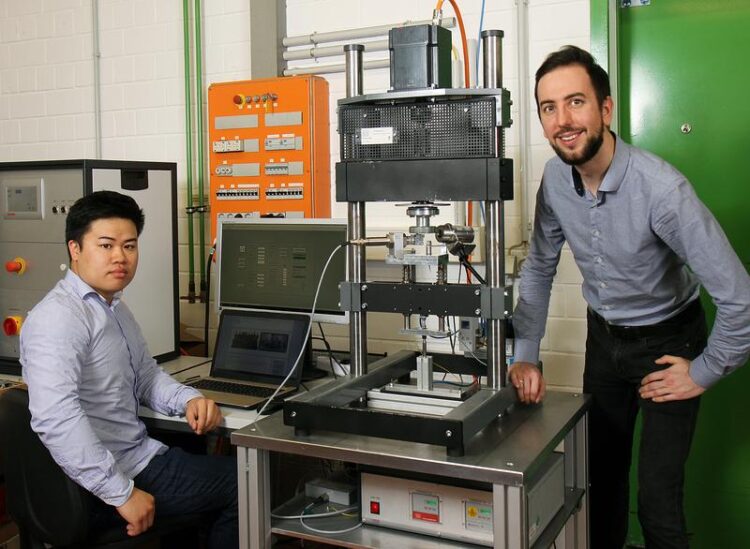 Whether in car tires or gears in production – friction and wear lead to losses. In Germany, this causes annual economic damage amounting to around five percent of the gross domestic product. It is therefore important to develop and test materials that minimize friction, such as plastic-metal combinations. Researchers from Kaiserslautern have developed a new system that automatically detects steady-state wear and analyzes data directly. They will present this technology at the digital Hannover Messe from 12 to 16 April at the virtual Rhineland-Palatinate research and innovation stand.
Researchers at the Chair of Composite Engineering (CCe) under Professor Dr Alois K. Schlarb at Technische Universität Kaiserslautern (TUK) are developing novel materials. Among other things, they are looking into how the service life of materials can be increased by reducing friction and wear. In this context, experts speak of tribology, which is the science of friction, wear and lubrication.
Various tribological testing equipment can measure wear on materials. For example, a pin-on-disc tribometer features a metal disc that rotates against a small sample of material for several hours. Sensors attached to the device measure the contact and frictional force, while an infrared sensor records temperature. "We specify the speed by means of a motor and the contact pressure of the disc by means of air pressure, and the temperature can also be regulated," says TUK doctoral student Sebastian Kamerling. "With this technology, we simulate different conditions components are exposed to during normal operations," says the engineer. "The measured values help us to see how the plastic-metal material combination behaves."
What is special: For this test, the engineers from Kaiserslautern have now developed a unique system that automates parts of the testing process that used to require manual control. "For one thing, it controls the machine," says Kamerling. "It recognizes when steady-state wear has begun and begins taking measurements." The technology is also capable of automatically setting a new load level. In addition, the system directly evaluates the resulting data. "With our method we are able to measure and analyse considerably more data in a shorter time," the researcher continues. "This also helps us, for example, to characterize the properties of the material sample much more precisely."
The method is not only interesting for research, but also for industry, since many companies use such testing methods to determine material wear. The technology promises to make this work faster and more efficient. The new method significantly reduces the experimental effort, as well as reduce materials and costs.
At the Hannover Messe, the researchers will present their testing machine, including the control and measurement system specially developed for it.
Questions can be directed to:
Nicholas Ecke
Chair of Composite Engineering (CCe)
Phone: 0631 205-5753
E-mail: nicholas.ecke[at]mv.uni-kl.de
Sebastian Kamerling
Chair of Composite Engineering (CCe)
Phone: 0631 205-4634
E-mail: sebastian.kamerling[at]mv.uni-kl.de
Klaus Dosch, Department of Technology and Innovation, is organizing the presentation of the researchers of the TU Kaiserslautern at the digital fair. He is the contact partner for companies and, among other things, establishes contacts to science.
Contact: Klaus Dosch, Email: dosch@rti.uni-kl.de, Phone: +49 631 205-3001
Media Contact
Hochschulkommunikation Universitätskommunikation
Technische Universität Kaiserslautern
All latest news from the category: Trade Fair News
Back to home
Newest articles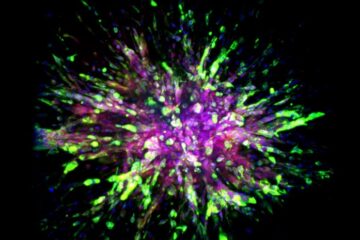 Scientists identify novel molecular biomarkers in cells
Studying a deadly type of breast cancer called triple negative, Johns Hopkins Medicine scientists say they have identified key molecular differences between cancer cells that cling to an initial tumor…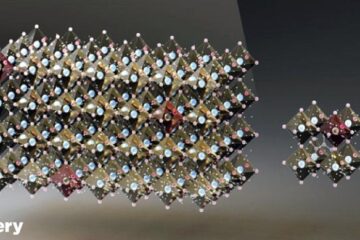 Getting more out of light
Tiny crystals, known as quantum dots, have enabled an international team to achieve a quantum efficiency exceeding 100 percent in the photocurrent generated in a hybrid inorganic-organic semiconductor. Perovskites are…
Antibiotics from natural substances
A new biosynthesis method has been developed. A research team with members from Goethe University Frankfurt and the University of Michigan in the USA is using bacterial biosynthesis to produce…