Nasa Discovers aSoggy Secret of El Niño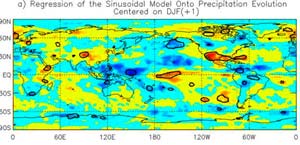 NASA-funded researchers have discovered El Niño's soggy secret. When scientists identified rain patterns in the Pacific Ocean, they discovered the secret of how El Niño moves rainfall around the globe during the life of these periodic climate events when waters warm in the eastern Pacific Ocean.
The results may help scientists improve rainfall forecasts around the globe during the life of an El Niño, and may also offer new insights into how an El Niño develops.
The findings were highlighted in a paper authored by Scott Curtis of the University of Maryland – Baltimore County, Baltimore, Md., and Bob Adler, of Goddard Space Flight Center, Greenbelt, Md. The study appeared in a recent issue of the American Geophysical Union's Journal of Geophysical Research.
In an effort to predict and understand the effects of El Niño, most scientists focus on seasonal changes in rainfall patterns, like where and when rain falls during winter. This study takes a different approach by first looking at the evolution of rainfall over the geographic area of the Pacific, which has the power to change the global winds and re-direct rainfall patterns around the world.
Curtis and Adler found a significant pattern of alternating rainfall for El Niños since 1979, with wetness in eastern China, dryness over Indonesia and wetness in the south Indian Ocean and Australia.
They noted that this pattern swings eastward as the El Niño weakens. As El Niño weakens, rainfall patterns alternate from one area to another. In the eastern Pacific, there is wetness on the Equator, dryness off the coast of Mexico, and wetness off the coast of California. The traditional view of El Niño based on seasonal rainfall patterns obscures these relationships.
El Niño events, like individual thunderstorms, differ in intensity, lifespan, rainfall, and other characteristics, making them difficult to quantify. So, Curtis and Adler had to set parameters to define El Niños based on rainfall that occurs in the equatorial Pacific. They looked at the periods before rainfall began, when the El Niño started, peaked, faded, and after it ended. They also identified areas around the globe that were consistently wet or dry during each El Niño evolution stage.
Curtis and Adler utilized global rainfall datasets developed from satellites and rain gauges from all over the world, which are part of the Global Precipitation Climatology Project under the Global Energy and Water Cycle Experiment (GEWEX), a project heavily supported by NASA.
Data from the Tropical Rainfall Measuring Mission (TRMM) satellite, used in this study, will also help ensure the accuracy of satellites used by the National Oceanic and Atmospheric Administration (NOAA) and Department of Defense. TRMM is a joint NASA/Japanese Space Agency mission to study tropical rainfall and its implications for climate. Each day, the TRMM spacecraft observes the Earth's equatorial and tropical regions.
In the future this kind of study will help pinpoint where an El Niño will generate floods, droughts, and changes in rainfallaround the globe. This information will be extremely useful once NASA's Global Precipitation Measurement mission, currently in formulation launches sometime after 2007.
This NASA funded work addresses a number of NASA's Earth Science Enterprise research strategies, including how variations in local weather, precipitation and water resources are related to global climate variation, in this case caused by El Niño. By recognizing global rainfall patterns associated with El Niño and by better understanding the impacts of El Niño, researchers may be able to better understand and predict these climate variations.
Media Contact
Rob Gutro
Goddard Space Flight Center
Alle Nachrichten aus der Kategorie: Earth Sciences
Earth Sciences (also referred to as Geosciences), which deals with basic issues surrounding our planet, plays a vital role in the area of energy and raw materials supply.
Earth Sciences comprises subjects such as geology, geography, geological informatics, paleontology, mineralogy, petrography, crystallography, geophysics, geodesy, glaciology, cartography, photogrammetry, meteorology and seismology, early-warning systems, earthquake research and polar research.
Zurück zur Startseite
Neueste Beiträge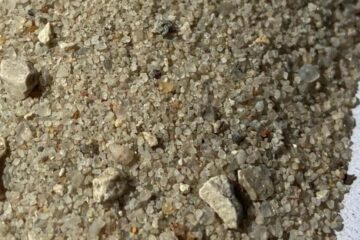 Tracing the source of illicit sand–can it be done?
Research presented at the 2020 GSA Annual Meeting. If you've visited the beach recently, you might think sand is ubiquitous. But in construction uses, the perfect sand and gravel is…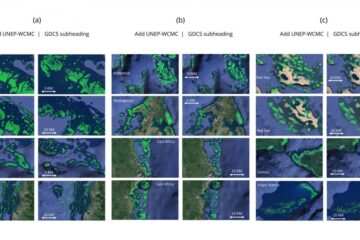 Location and extent of coral reefs mapped worldwide using advanced AI
Nearly 75% of the world's coral reefs are under threat from global stressors such as climate change and local stressors such as overfishing and coastal development. Those working to understand…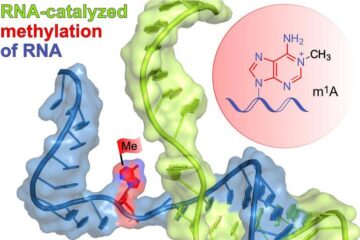 A New RNA Catalyst From the Lab
On the track of evolution: a catalytically active RNA molecule that specifically attaches methyl groups to other RNAs – a research group from the University of Würzburg reports on this…