Novel small molecule inhibitors of Focal Adhesion Kinase (FAK)
Focal adhesions are cell junctions that act as mechanical linkages between the intracellular actin cytoskeleton of a live cell and the extracellular matrix (ECM). They have a wide functional scope. In this context Focal Adhesion Kinase (FAK) plays a pivotal role. FAK is often overexpressed in tumor cells and is partly responsible for the high tissue invasiveness of the infected cells. Now "small molecules" have been developed at the University of Konstanz, Germany, that interfere with the localization and thus with FAK functioning. Therefore, these molecules can be deployed in cancer treatment as well as in the prevention and treatment of restenosis via drug-eluting stents.
The novel FAK inhibitors are highly effective, cell-penetrating, easy to sterilize and can be produced through chemically defined synthesis.
Further information: PDF
Technologie-Lizenz-Büro (TLB) der Baden-Württembergischen Hochschulen GmbH
Phone: +49 (0)721/79 00 40
Contact
Dipl.-Biol. Marcus Lehnen, MBA
As Germany's association of technology- and patenttransfer agencies TechnologieAllianz e.V. is offering businesses access to the entire range of innovative research results of almost all German universities and numerous non-university research institutions. More than 2000 technology offers of 14 branches are beeing made accessable to businesses in order to assure your advance on the market. At www.technologieallianz.de a free, fast and non-bureaucratic access to all further offers of the German research landscape is offered to our members aiming to sucessfully transfer technologies.
Media Contact
info@technologieallianz.de
TechnologieAllianz e.V.
Alle Nachrichten aus der Kategorie: Technology Offerings
Zurück zur Startseite
Neueste Beiträge
A precise mixture of light and sound
Nanoscale sound waves vibrate artificial atom A German-polish research team from Augsburg, Münster, Munich and Wrocław successfully mixed nanoscale sound waves and light quanta. In their study published in Optica…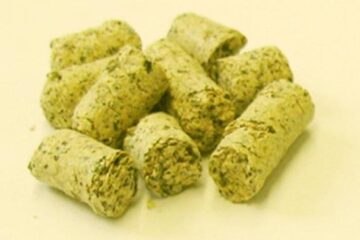 Vegetable proteins replace petroleum-based raw materials
Just like cellulose, lignin and fats, proteins are renewable raw materials. Their potential for the chemical industry remains largely untapped. Research teams at the Fraunhofer Institute for Process Engineering and…
An autonomous high-speed transporter for tomorrow's logistics
The Fraunhofer Institute for Material Flow and Logistics IML is developing a new generation of automated guided vehicles. "LoadRunners" use artificial intelligence and communicate via 5G to organize themselves as…