Building a better mouse model of lung cancer: FHIT counts
Scientists have identified some of the very earliest genetic changes involved in the development of lung cancer and have incorporated them into a new strain of mouse that develops the disease in much the same way that humans do.
The discoveries, reported in the August 1 issue of Cancer Research, open the door to the possibility of new, targeted treatments that could be offered at the very first signs of lung cancer, when the possibility of a cure is most likely.
Creating the new mouse was basically a matter of FHIT – the gene that forms the cornerstone of the new model – according to Kay Huebner, a professor of molecular virology, immunology and medical genetics and a researcher in Ohio State University 's Comprehensive Cancer Center (OSUCCC). Huebner, the senior author of the study, has studied FHIT for years, noting it is one of several tumor suppressor genes residing on chromosome 3 in humans that, when working normally, keep any potentially cancerous cells from growing out of control.
But when mutations or alterations eliminate one or both copies of the FHIT gene, the "brakes" that control cell growth are released, allowing potentially cancerous lesions to become malignant.
Studies show that very early in the development of lung cancer, the FHIT gene loses its ability to produce a specific protein (called Fhit). This same loss has been linked to head and neck, esophageal, colorectal, breast and cervical cancers as well.
Because the loss of FHIT occurs so early in lung cancer, mice that are missing that gene may be a good model in which to test new ways to treat or prevent the disease, says Huebner. "There are some other useful mouse models out there, but they generally reflect genetic mutations that happen later in the disease, when tumors are clearly visible and successful treatment unlikely," says Huebner. "We were interested in creating a model that reflected the timing and order of genetic and epigenetic changes in the human experience of this disease."
Huebner and colleagues at Ohio State and Thomas Jefferson University bred two strains of mice, one that had only one copy of the FHIT gene, and another that lacked both copies. They also established a control group of normal mice that had both copies of the gene.
They exposed all the mice to NNK, a powerful carcinogen commonly found in tobacco smoke that researchers believe plays a major role in human lung cancer.
They discovered that while mice deficient in the FHIT gene's protein did not develop lung tumors any more frequently than did normal mice, the tumors they did develop were larger and more numerous. In addition, the severity of the tumor growth appeared to follow a continuum paralleling the loss of the protein. While the normal mice developed only benign tumors, 17 percent of the mice that had lost one copy of the gene developed malignant tumors and all of the tumors in the mice that lost both copies of the gene were malignant.
"This suggests that even very low levels of the protein might be enough to suppress or even prevent lung cancer," says Huebner.
Huebner had a hunch that pairing loss of protein with the loss of another tumor suppressor might enhance the research value of the new mouse model even more, so the research team bred another strain of mice that coupled the lack of the protein with partial loss of a second tumor suppressor gene, VHL, which also sits on chromosome 3 in humans. (Mice with loss of both copies of VHL do not survive.)
"We chose this gene because VHL is important in regulating angiogenesis, or the growth of blood vessels that tumors need to support themselves," says Huebner. "When VHL is in place and working properly, it blocks angiogenesis."
Interestingly, humans whose VHL gene is lost or mutated suffer from a condition called Von-Hippel Lindau disease, an inherited disorder characterized by abnormal blood vessel growth in the eyes, brain, spinal cord, adrenal gland and other parts of the body.
The scientists exposed mice deficient in both genes to a second carcinogen, DMN, which is also found in smoke but also in beer, fish meal and some preserved meats. They discovered that when the VHL gene was missing as well, the mice were even more susceptible to tumor growth. "We thought this was interesting because this is the first indication that loss of just one of the two copies of the VHL gene could contribute to the development of cancer," says Huebner, noting that loss of one copy of the VHL gene occurs in several types of human lung cancer.
Huebner says there is still plenty of room for improvement in their new mouse model. There are several other genes on chromosome 3 that are also lost in many human lung cancers, and incorporating deficiencies in those genes with the current model will only make it stronger, she says, adding they're already working on it.
Other Ohio State researchers who contributed to the study include Nicola Zanesi, adjunct assistant professor and research scientist, George Calin, adjunct assistant professor, and Yuri Pekarsky, assistant professor, all in the department of molecular virology, immunology and medical genetics; Rita Mancini, post-doctoral researcher, and Mohamed Kaou, research associate, in the OSUCCC, and Carlo Croce, professor and chair of the department of molecular virology, immunology and medical genetics.
Grants from the National Cancer Institute and the State of Pennsylvania Tobacco Settlement Funds supported the project.
The Ohio State University Comprehensive Cancer Center – Arthur G. James Cancer Hospital and Richard J. Solove Research Institute is one of the nation's leading centers for research on the prevention, detection, diagnosis and treatment of cancer. The OSU CCC-James encompasses six interdisciplinary research programs and includes more than 200 investigators who generate over $100 million annually in external funding. OSU James, a founding member of the National Comprehensive Cancer Network, is ranked by U.S. News & World Report as one of America 's best cancer hospitals.
Media Contact
Michelle Gailiun
EurekAlert!
All latest news from the category: Life Sciences and Chemistry
Articles and reports from the Life Sciences and chemistry area deal with applied and basic research into modern biology, chemistry and human medicine.
Valuable information can be found on a range of life sciences fields including bacteriology, biochemistry, bionics, bioinformatics, biophysics, biotechnology, genetics, geobotany, human biology, marine biology, microbiology, molecular biology, cellular biology, zoology, bioinorganic chemistry, microchemistry and environmental chemistry.
Back to home
Newest articles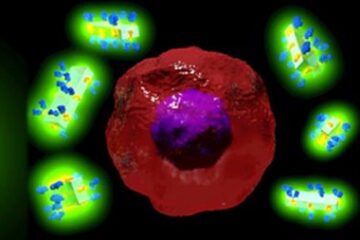 A world-first antibody-drug delivery system
It sounds like the stuff of science fiction: a man-made crystal that can be attached to antibodies and then supercharge them with potent drugs or imaging agents that can seek…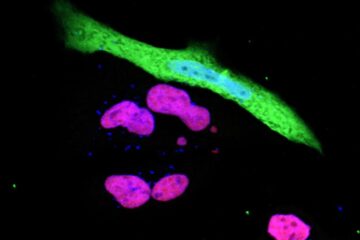 Revealed: How SARS-CoV-2 evades our immune system
Scientists at Hokkaido University and Texas A&M University have identified a key mechanism used by the SARS-CoV-2 virus to evade host immune systems. Researchers in Japan and the United States…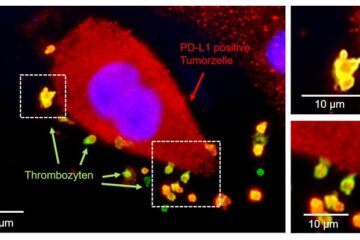 New approach developed to predict response of immunotherapies in lung cancer
New methodology at the University Hospital of Tübingen harnesses the function of platelets. At Tübingen University Hospital, a preclinical study led by Dr. Clemens Hinterleitner and Prof. Dr. Lars Zender,…