Researchers identify gene for most common paediatric malignant brain tumour
Researchers at The Hospital for Sick Children (HSC), the University Health Network (UHN), and the University of Toronto (U of T) have identified a novel gene that when mutated results in medulloblastoma, the most common malignant brain tumour found in children. This research is reported in the July issue of the scientific journal Nature Genetics.
Brain tumours are the second most common cancer in children after leukemia, with the incidence increasing at a rate of five to 10 per cent per year. More than 200 Canadian children are diagnosed with brain tumours each year, with approximately 100 new cases at The Hospital for Sick Children alone. Despite advances in treatment, survival from brain tumours remains lower than for other forms of cancer. Medulloblastoma, a malignant tumour that occurs in the cerebellum, accounts for 20 per cent of all paediatric brain tumours. It is a rapidly growing tumour that is more common in boys than girls.
"A subset of children with medulloblastoma are born with a mutation in a gene called SUFU, or human suppressor of fused, that predisposes them to develop this tumour. This is a germline mutation – the mutation is in every cell of the child's body – which indicates that this gene is important in the initiation of the tumour," said Dr. Michael Taylor, the study's lead author, a U of T graduate student, and a neurosurgery resident in HSC's Clinician-Scientist Training Program.
The mutated gene has lost the ability to suppress two signaling pathways (Hedgehog and Wnt) that are important in normal brain development. In children with a mutated SUFU gene, the brain cells grow too rapidly causing a tumour to form.
"The treatments currently available to treat medulloblastoma are surgery, radiation, and chemotherapy. At times, the adverse effects of each of these therapies can be devastating to the child's brain. This discovery is exciting because it gives us a specific target for the development of novel pharmaceuticals, or possibly the prevention of medulloblastoma," said Dr. James Rutka, co-principal investigator of the study, an HSC neurosurgeon and senior scientist, and co-director of the Arthur and Sonia Labatt Brain Tumour Research Centre.
"Our next approach will be to restore normal SUFU gene function to medulloblastoma cells to determine if this arrests tumour growth. We will also look at small molecule compounds that are known to work in the Hedgehog signaling pathway that could potentially be used as a therapy for medulloblastoma," added Dr. Rutka, holder of the Dan Family Chair in Neurosurgery and professor and chairman of the Division of Neurosurgery at U of T.
"Our findings have implications beyond childhood brain tumours," said Dr. David Hogg, a cancer geneticist who is co-principal investigator of the study. Dr. Hogg is an oncologist at Princess Margaret Hospital and an associate professor of Medicine and Medical Biophysics at U of T. "The same signaling pathways that are damaged in medulloblastomas are also disrupted in other cancers. We are now examining the role of SUFU in additional tumour types. An understanding of the genetics of human malignancy should allow us to design more effective treatments."
Dr. Hogg added: "I am very grateful for the hard work performed by Dr. Ling Liu, the senior postdoctoral fellow in my laboratory. She and Michael Taylor have put out a tremendous piece of work in a very short time."
This research was supported by the National Cancer Institute of Canada with funds from the Canadian Cancer Society and The Terry Fox Foundation, the Michael Young Melanoma Fund, the Canadian Institutes of Health Research, Brainchild, the Neurosurgery Research and Education Foundation, and The Hospital for Sick Children Foundation.
The Hospital for Sick Children, affiliated with the University of Toronto, is the largest paediatric academic health science centre in Canada and one of the largest in the world. Its mission is to provide the best in family-centred, compassionate care, to lead in scientific and clinical advancement, and to prepare the next generation of leaders in child health. For more information, please visit www.sickkids.ca.
University Health Network is a major landmark in Canada's healthcare system and a teaching hospital of the University of Toronto. Building on the strengths and reputation of each of our three hospitals, Toronto General Hospital, Toronto Western Hospital and Princess Margaret Hospital, the network brings together the talent and resources that make it an international leader in healthcare.
The University of Toronto, Canada's leading research university with 58,000 students, is celebrating its 175th anniversary in 2002. On March 15, 1827, King's College – precursor to the University of Toronto – was granted its royal charter by King George IV. The university now comprises 31 divisions, colleges and faculties on three campuses, including 14 professional faculties, numerous research centres and Canada's largest university library system – the third largest research library in North America.
For more information, please contact:
Janet Wong, Public Affairs University of Toronto (416) 978-5949 jf.wong@utoronto.ca
Vince Rice, Public Affairs University Health Network (416) 946-4501 ext. 5771 vince.rice@uhn.on.ca
All latest news from the category: Health and Medicine
This subject area encompasses research and studies in the field of human medicine.
Among the wide-ranging list of topics covered here are anesthesiology, anatomy, surgery, human genetics, hygiene and environmental medicine, internal medicine, neurology, pharmacology, physiology, urology and dental medicine.
Back to home
Newest articles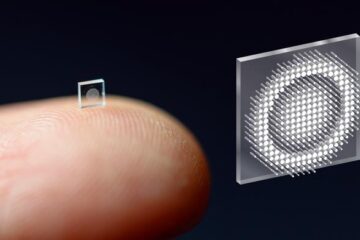 Researchers shrink camera to the size of a salt grain
Micro-sized cameras have great potential to spot problems in the human body and enable sensing for super-small robots, but past approaches captured fuzzy, distorted images with limited fields of view….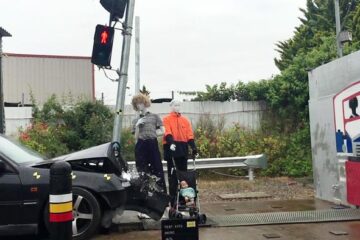 World-first product will be a lifesaving traffic stopper
Game-changing technology to design traffic lights that absorb kinetic energy, stopping them from crumpling when hit by a vehicle, will prevent thousands of fatalities and injuries each year and make…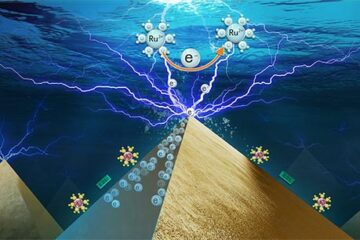 Scientists capture electron transfer image in electrocatalysis process
The involvement between electron transfer (ET) and catalytic reaction at electrocatalyst surface makes electrochemical process challenging to understand and control. How to experimentally determine ET process occurring at nanoscale is…