Virtual meetings save millions for BT
Researchers in Bradford have found that video and web conferencing can save millions of pounds for companies, improve employees' working lives and reduce impact on the environment.

Telecoms giant BT has saved £128 million a year by replacing face-to-face interaction with video and web-based conferencing.
Research carried out for BT by Dr. Peter Hopkinson and Professor Peter James of the University of Bradford's Department of Environmental Science has found that, on average, each avoided meeting saves the company a minimum of £432 in travel costs, accommodation fees and people's unproductive travel time.
By eliminating almost 300,000 face-to-face meetings, the research estimated that BT has saved over £128 million in the past year alone. Around 1.5 million return journeys have also been avoided which is a major bonus for staff and a significant reduction in fuel consumption and impact on the environment through carbon emissions.
In 2002, the Bradford researchers conducted an initial survey of conferencing at BT, in collaboration with technology charity SustainIT (who also collaborated in the current project). Since then, the company's use of the technology has almost doubled.
In 2004, BT's Conferencing unit asked the researchers to conduct another survey, with the aims of testing whether the general conclusions of the 2002 report remained correct whilst looking into the financial and travel benefits. A representative sample of 4957 people (about 5% of total BT employees) was selected at random for the survey with 18 per cent (911) of those contacted replying.
Peter James, Professor of Environmental Management at the University of Bradford, said: "As well as saving time and money and enhancing the employee's work-life balance, conferencing can also have a significantly positive impact on the environment.
"Each of the 1.5 million journeys BT eliminated last year created an average saving of approximately 32kg of CO2 emissions. This means that the use of conferencing prevented a total of around 47,400 tonnes of CO2 being pumped into the atmosphere every year."
Like many other organisations, BT realised that a heavy meetings culture often interrupted the flow of the working day, necessitating additional travel and often meaning an earlier start or later finish for already time-pressed staff. But it found that conferencing generally requires less time investment in terms of participation.
Two-thirds of BT users said their last call lasted less than an hour, making it easier for busy people to attend, and ensuring minimal draw on precious resources. It also emerged that conferencing has a major impact on meeting quality and effectiveness.
Because conferences can be set up and held virtually in an instant, the company has found that decisions can be made much more quickly than if everyone had to meet face-to-face. Similarly, if documentation needs to be shared, web conferencing allows anyone with a PC and a phone line to see the same documents in real time.
The majority of conferencing at BT is done via audio conferencing, which makes use of conventional voice telephony. Video conferencing – used when some form of visual support is essential – is generally conducted from a dedicated videoconferencing suite.
Mirroring the growing trend towards more flexible working practices, BT has found that an increasing number of staff are also attaching videocams to their PC, allowing face-to-face contact from home.
Another significant impact of the move to virtual meetings has been a reduction in the time many staff spend travelling outside conventional working hours. As a consequence, some fifty seven per cent of BT staff told the researchers that use of conferencing technology was having a positive impact on their work-life balance.
The researchers caution that there are some downsides to conferencing. But the majority of respondents agreed with the views of one BT employee that conferencing: "saves huge amounts of time both in terms of travelling and because meetings tend to be more focused. Things get done quicker because a conference call can be organised weekly rather than holding monthly meetings."
Business impacts:
• Each conference saved two hours of unproductive travel time for five people, i.e. 10 hours in total. The average cost of a BT member of staff is £25.41 an hour.
• With an average cost per meeting of £432, BT avoided total costs of £128 million.
• 71% of conferencing users stated that their last conference call had definitely or probably replaced a meeting.
• Over two thirds (68%) of conferencing users believed that their last conference call met all its objectives. Most (62%) of the remainder didn't believe that the partial or complete lack of success was related to the 'virtual' nature of the meeting.
Personal impacts:
• 73.5% of people who stated that their last conference call had definitely or probably replaced a meeting believed that they had saved at least 3 hours in travel time.
• Conferencing delivers better work performance and better work-life balance.
• A small number of respondents identified negative effects of conferencing, particularly lack of time due to its over-use.
Environmental impacts:
• The last conference call avoided a mean mileage of 146 miles for petrol car users, 229 miles for diesel car users and 146 miles for train users
• 46% of avoided trips would have been undertaken by car
• 78% of the avoided trips would have been undertaken at peak travel times, thereby freeing up road space and seats on public transport
• 35% of replaced meetings would have been in London (reflecting the fact that 33% of respondents had their main working base in London or South-East England), thereby helping deal with the capital's congestion problems
• By a very conservative estimate each conference call is saving a minimum 32 kg of travel-related CO2 emissions and all conferencing calls are saving at least 47,400 tonnes of CO2
All latest news from the category: Business and Finance
This area provides up-to-date and interesting developments from the world of business, economics and finance.
A wealth of information is available on topics ranging from stock markets, consumer climate, labor market policies, bond markets, foreign trade and interest rate trends to stock exchange news and economic forecasts.
Back to home
Newest articles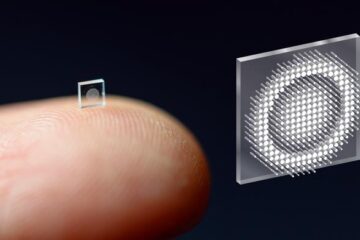 Researchers shrink camera to the size of a salt grain
Micro-sized cameras have great potential to spot problems in the human body and enable sensing for super-small robots, but past approaches captured fuzzy, distorted images with limited fields of view….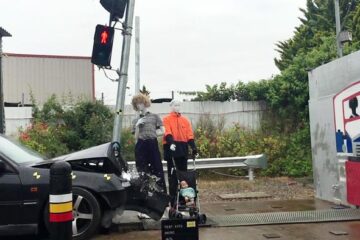 World-first product will be a lifesaving traffic stopper
Game-changing technology to design traffic lights that absorb kinetic energy, stopping them from crumpling when hit by a vehicle, will prevent thousands of fatalities and injuries each year and make…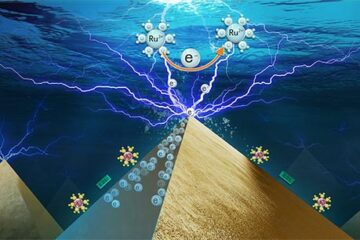 Scientists capture electron transfer image in electrocatalysis process
The involvement between electron transfer (ET) and catalytic reaction at electrocatalyst surface makes electrochemical process challenging to understand and control. How to experimentally determine ET process occurring at nanoscale is…