Ten-year study leads researchers to psoriasis genes
Other genes, environmental factors also likely to contribute to prevalent skin disorder
After a decade of searching, researchers have identified three genes linked to psoriasis, a potentially debilitating and disfiguring skin condition characterized by burning or itching patches of raised red skin.
The project's leader, Anne Bowcock, Ph.D., professor of genetics, of medicine and of pediatrics at Washington University School of Medicine in St. Louis, says the results could help scientists understand the molecular details of what happens in psoriasis and improve ways to treat the condition. The study will be published online by Nature Genetics on Nov. 9.
"Now we can look at the functional roles of these genes — how they normally keep the skin and the immune system from damaging healthy tissue with their defensive mechanisms," Bowcock explains. "These results are going to help us find answers for some very important questions, including how changes in cellular mechanisms cause the disease and whether we can predict who is going to develop the disease early on."
Psoriasis is a complex trait — a disorder linked to several genes and environmental factors. It comes in a variety of forms, including psoriatic arthritis, which causes additional arthritis-like symptoms. The condition can be severely disabling and afflicts up to 30 percent of all psoriasis patients.
The protagonist of The Singing Detective, a new movie currently in limited release in New York and Los Angeles, suffers from psoriatic arthritis. The film, which stars Robert Downey Jr. and Mel Gibson, is based on a play and television series by the late British author Dennis Potter, who suffered from the disease in real life.
According to the National Psoriasis Foundation, 4.5 million Americans have been diagnosed with the disorder and it afflicts about 2 percent of people in Western nations.
Scientists strongly suspect the immune system plays a major role in the disorders.
"We think the immune system may be overactive in some way that leads to damage to healthy tissue," Bowcock says. "Or the disease may be turning on a class of immune cells that can't be turned off properly. This could include immune cells in the skin."
Many psoriasis patients also have other disorders wholly or partially caused by immune system attacks on healthy tissue, including diabetes, lupus and Crohn's disease. A variety of environmental factors, including stress and infection by the streptococcus bacteria or HIV, are associated with the onset of psoriasis symptoms.
"HIV is becoming a serious trigger factor," Bowcock says. "In fact, psoriasis was very rare in Africa, but is now an additional complication in some of the HIV patients in Africa."
Bowcock is the director of the National Psoriasis Tissue Bank, which is located at the School of Medicine. To find the genes, she and her colleagues at Baylor University, the University of Washington in Seattle, Rockefeller University and the University of California in San Francisco analyzed DNA from 242 Northern European families with at least two affected individuals.
The search took a decade because they were looking for very subtle effects. The genes involved — SLC9A3R1, NAT9 and RAPTOR — didn't change much. Furthermore, researchers found that the forms of the genes that increased risk of psoriasis were present in about 37 percent of a group of people not suffering from the disease.
"Since only 2 percent of the general population develops psoriasis, there are clearly many other genes involved in determining psoriasis risk, and the genes we identified are low-risk," Bowcock says. "But it's encouraging because they're not genes we would have predicted to be involved in psoriasis, and now that we've found them the connections are starting to make sense."
Bowcock and her colleagues have found early evidence suggesting the genes may affect the development of immune system cells called T cells. Two of the genes, SLC9A3R1 and NAT9, under certain conditions, may be regulated by RUNX1, a gene involved in the development of blood cells including those of the immune system.
Bowcock notes that many of the new therapies for psoriasis are directed at reducing the activity of the immune system.
"It's therefore tantalizing that RUNX has been implicated in psoriasis, because RUNX is produced by cells of the immune system and thought to have a regulatory role in that system," Bowcock says. "In addition, the skin, like the immune system, has an important role in protecting us from infectious organisms. That role is poorly understood, as are the reasons why psoriasis affects the skin. This gene may help us begin to fill in some of those gaps."
Bowcock says she is intrigued by the possibility that the genes may be connected to other autoimmune diseases. The skin condition eczema, for example, has been linked to the same region of chromosome 17 where the three psoriasis genes were found.
"We're just putting together the first pieces of a big puzzle," Bowcock says. "If making progress in understanding psoriasis also leads us to new insights into other autoimmune diseases, that would be a double benefit."
In addition to probing the effects of these three genes and continuing the hunt for others, Bowcock and her colleagues want to see if they can use already identified genes to create a model of psoriasis in mice or other animals.
Helms C, Cao L, Krueger JG, Wijsman EM, Chamian F, Gordon D, Heffernan M, Wright Daw JA, Robarge J, Ott J, Kwok PY, Menter A, Bowcock AM. A putative RUNX1 binding site variant between SLC9A3R1 and NAT9 is associated with psoriasis susceptibility. Nature Genetics, early online edition Nov. 9, 2003.
Funding from the National Institutes of Health and the National Psoriasis Foundation.
The full-time and volunteer faculty of Washington University School of Medicine are the physicians and surgeons of Barnes-Jewish and St. Louis Children's hospitals. The School of Medicine is one of the leading medical research, teaching and patient-care institutions in the nation. Through its affiliations with Barnes-Jewish and St. Louis Children's hospitals, the School of Medicine is linked to BJC HealthCare.
Media Contact
Michael C. Purdy
EurekAlert!
All news from this category: Studies and Analyses
innovations-report maintains a wealth of in-depth studies and analyses from a variety of subject areas including business and finance, medicine and pharmacology, ecology and the environment, energy, communications and media, transportation, work, family and leisure.
Back to the Homepage
Latest posts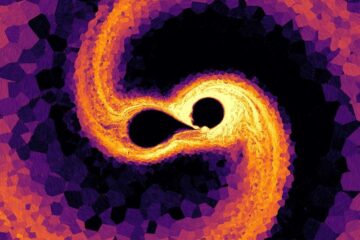 Exploring the evolution of stars
Fabian Schneider leads the new research group "Stellar Evolution Theory" (SET) at the Heidelberg Institute for Theoretical Studies (HITS). The astrophysicist explores the turbulent life of massive binary stars and…
Sustainable insulating material for shipping temperature-sensitive products
Researchers at the Institute of Natural Products Engineering at TU Dresden have developed an insulating material made from recycled paper for shipping temperature-sensitive foods and medicines. As part of a…
Helium nuclei at the surface of heavy nuclei discovered
Research team confirms a new nuclear property predicted by theory Scientists are able to selectively knockout nucleons and preformed nuclear clusters from atomic nuclei using high-energy proton beams. In an…