Success in Self-Assembly of Quantum Dots with World's Highest Density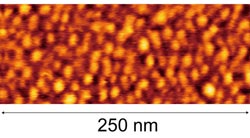 Dr. Takaaki Mano, a Senior Researcher, Dr. Masafumi Jo, a Post Doctoral Fellow, and Dr. Yoshiki Sakuma, Group Leader of the Quantum Nanostructures Group, Photonic Materials Unit (Unit Director: Kazuaki Sakoda), National Institute for Materials Science (President: Sukekatsu Ushioda) are engaged in developing an advanced self-assembling technology for semiconductor quantum dots called droplet epitaxy, which is an original NIMS technology, and recently succeeded in the development of a new self-assembling technology for quantum dots with the world's highest surface density, greatly exceeding the previously reported value. In addition, the NIMS researchers observed strong photoluminescence (PL) emission from the assembled quantum dots groups, suggesting that the developed technology is also effective for realizing excellent crystal quality.
Quantum dots have attracted heightened attention in recent years as a technology for achieving substantial improvement in the properties of semiconductor lasers and development of ultra-high efficiency photovoltaic cells based on a new operating principle. In the newly-developed technology, (1) use of a substrate with a high index surface, (2) formation and crystallization of gallium droplets at near-room temperature, and (3) suppression of the droplet coalescence by optimization of the amount of supplied gallium were introduced in the gallium arsenide (GaAs) quantum dot formation by droplet epitaxy. As a result, the NIMS team succeeded in self-assembly of GaAs quantum dots with an extremely high surface density of 7.3 x 1011/cm2 in a lattice-matched system. The team also discovered that defects originating in crystallization at near-room temperature can be restored by applying ingenuity to the heat treatment process for the crystallized quantum dots, and strong PL emission can be observed from the quantum dots.
Droplet epitaxy has attracted attention as the only method which enables self-assembly of quantum dots in lattice-matched systems, and in principle has the advantage that a large number of high quality quantum dot layers can be stacked in close proximity with maintaining high crystallinity. Therefore, if the ultra-high density in-plane quantum dots developed in this research are stacked in close proximity, it will be possible to produce quantum dot materials with extremely high volumetric density, which cannot be realized with the conventional technology. Thus, it is expected to be possible to achieve higher performance in optical and electronic devices which use quantum dots as a result of this research achievement.
Details of this research were published in the online edition of Applied Physics Letters, which is an American scientific journal in the field of applied physics, and are scheduled for publication in Vol. 100, No. 21 of the print edition.
For more details:
Takaaki Mano
Senior Researcher
Photonic Materials Unit
National Institute for Materials Science
TEL:+81-29-859-2790
E-Mail: MANO.Takaaki=nims.go.jp
(Please change "=" to "@")
Masafumi Jo
Post-doctoral Researcher
Photonic Materials Unit
National Institute for Materials Science
TEL: +81-29-859-2702
E-Mail: JO.Masafumi=nims.go.jp
(Please change "=" to "@")
For general inquiry:
NIMS Public Relations Office
TEL:+81-29-859-2026
FAX:+81-29-859-2017
Media Contact
Mikiko Tanifuji
Research asia research news
Alle Nachrichten aus der Kategorie: Materials Sciences
Materials management deals with the research, development, manufacturing and processing of raw and industrial materials. Key aspects here are biological and medical issues, which play an increasingly important role in this field.
innovations-report offers in-depth articles related to the development and application of materials and the structure and properties of new materials.
Zurück zur Startseite
Neueste Beiträge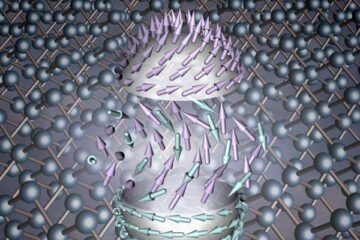 Nanostructures with a unique property
Nanoscale vortices known as skyrmions can be created in many magnetic materials. For the first time, researchers at PSI have managed to create and identify antiferromagnetic skyrmions with a unique…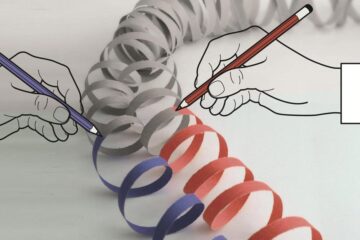 Unraveling the genome in 3D-space
The cells that make up our body are tiny, each of them measuring only micrometers in diameter. The ensemble of chromosomal DNA molecules that encode the genome, on the other…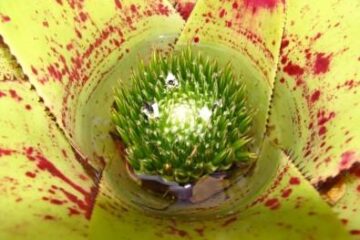 Study shows impact of climate change on Neotropical freshwater ecosystems
Researchers from six countries in the Americas explored bromeliad microcosms, showing how drought and flood affect the functioning of aquatic ecosystems, especially at the bottom of the food chain. To…