Scientists Fabricate Microscale 'Bicycle Chain'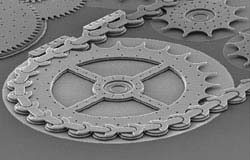 Scientists have manufactured a microscale bicycle chain comprised of silicon links thinner than a human hair that behaves just like its regular-sized counterpart. The tiny chain system could one day help power microscopic devices.
Ed Vernon, a technologist at Sandia National Laboratories, designed and patented the 50-link silicon microchain (see image), which was built by the lab's Microelectronics Development Laboratory (MDL). The centers of the tiny links are separated by just 50 microns. The links can rotate 52 degrees in either direction with respect to their counterparts in the chain without breaking the support structure. Such flexibility, the scientists note, means multiple gears powered by the chain need not lie in a straight line.
Such a gear and chain mechanism could conceivably replace the multiple drivers currently required to run microelectromechanical systems (MEMS) motors. "All those drives take up a lot of real estate on chips," Vernon notes. A single chain, however, could rotate many drive shafts or drive a MEMS device from a motor situated at a distance. But MEMS researcher Kaigham Gabriel of Carnegie Mellon University observes that "there are very few applications in the commercial space that require continuous rotary motion or the translation thereof." He also cautions that microscopic gears tend to lock together less tightly than do macroscopic ones. One thing is for certain, any applications that do come of the new work are a long way off. Says Vernon: "I expect it will be three to four years before you'll see anything this complex out in industry."
Media Contact
Sarah Graham
Scientific American
All latest news from the category: Materials Sciences
Materials management deals with the research, development, manufacturing and processing of raw and industrial materials. Key aspects here are biological and medical issues, which play an increasingly important role in this field.
innovations-report offers in-depth articles related to the development and application of materials and the structure and properties of new materials.
Back to home
Newest articles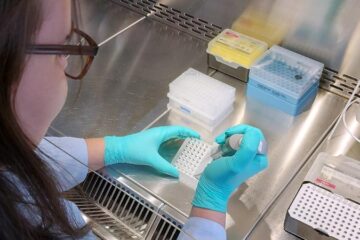 Simplified screening of individual bacterial species in biosamples
A method developed in the TransEvo research training group saves time and costs when analysing complex microbiological samples. In medical research and diagnostics, the microbiome, i.e. the microbial colonisation of…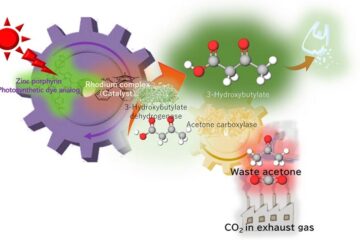 Low concentration CO2
can be reused in biodegradable plastic precursor using artificial photosynthesis. Poly-3-hydroxybutyrate—a biodegradable plastic—is a strong water-resistant polyester often used in packaging materials, made from 3-hydroxybutyrate as a precursor. In previous…
Earthquake prediction with GSI sensor technology
Can nuclear physics improve the prediction of earthquakes? That is the goal of the European research project artEmis, in which the GSI Helmholtzzentrum für Schwerionenforschung is participating together with twelve…