The seashell´s inner beauty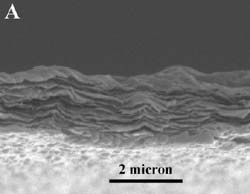 There is more to mother-of-pearl than good looks. Also called nacre, the gleaming, white material is renowned in scientific circles for its strong, yet flexible, properties. Now researchers have developed a nanoscale, layered material that comes close to nacre's properties, including its iridescence.
The ability to nanomanufacture artificial nacre may provide lightweight, rigid composites for aircraft parts, artificial bone and other applications.
Reporting online in Nature Materials on May 25, Nicholas Kotov and his colleagues at Oklahoma State University and at Digital Instruments/Veeco describe their method for creating nacre-like material that consists of alternating layers of clay and a type of polymer called a polyelectrolyte. Kotov received a National Science Foundation (NSF) CAREER Award to pursue the work.
"The discovery allows researchers to tailor flexible materials to a given application-to get the tough materials that nature has been able to produce," said Lynn Schneemeyer, the NSF program officer who oversees Kotov's award. NSF is an independent federal agency that supports fundamental research and education across all fields of science and engineering.
Natural nacre owes much of its strength and flexibility to an internal brick-like structure. Protein layers only nanometers (billionths of a meter) thick provide the pliable "mortar," while calcium carbonate, the principal chemical in limestone and antacids, comprises the similarly miniscule "bricks" adding hardness.
In the artificial nacre, platelets of a negatively-charged clay called montmorillonite provide the bricks while fibers of a positively-charged polyelectrolyte called poly(diallydimethylammonium) chloride (PDDA) serve as the mortar. The opposite charges help the two components bond tightly to form the nacre structure.
"The combination of montmorillonite and PDDA for nacre modeling came to us quite naturally," said Kotov. "It was the very first clay-polyelectrolyte system I worked with a few years back." He also states that the montmorillonite has several advantages over other layered minerals, such as talc, including an ability to disperse easily in water, while the PDDA has a high affinity for clays.
Unique "sacrificial bonds" hold the polymer chains to each other in a special way that maintains strength and flexibility. The bond is a result of the polymer interacting with negative charges on the clay surfaces (or, in the case of real nacre, proteins interacting with positive calcium ions).
Such ionic bonds are strong and absorb energy when the artificial nacre is deformed. If the bonds break, they can reform when the stress goes away. They are dubbed "sacrificial" because they take the brunt of an attack, leaving the covalent bonds in the molecules intact.
The artificial nacre was created by immersing a glass slide in alternating baths of clay and polymer. A robotic device performed the 200 dips, with each dip producing several plastic clay layers-each clay and plastic layer is, on average, only 24 nanometers thick.
"It is a very robust preparation and produces beautiful layers every time," said Kotov.
Because of the artificial nacre's potential for highstrength, protective coatings such as body armor and biocompatible substrates for growing human tissue or organs, Kotov and his colleagues are working with a company to further develop the material and techniques. And, because researchers can easily add new components like ultraviolet light- or corrosion resistant chemicals to the artificial nacre, the same manufacturing process can produce materials for a variety of applications.
Alle Nachrichten aus der Kategorie: Materials Sciences
Materials management deals with the research, development, manufacturing and processing of raw and industrial materials. Key aspects here are biological and medical issues, which play an increasingly important role in this field.
innovations-report offers in-depth articles related to the development and application of materials and the structure and properties of new materials.
Zurück zur Startseite
Neueste Beiträge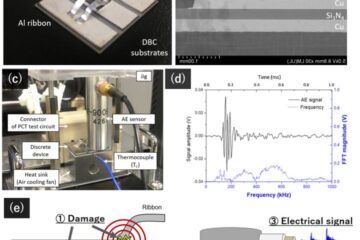 Detecting early-stage failure in electric power conversion devices
Researchers from Osaka University use non-destructive acoustic monitoring to identify the earliest stages of failure in silicon carbide power electronics, which will help in the design of more-durable power devices….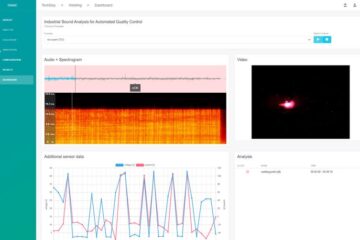 Build your own AI with ISAAC for error detection in production
Fraunhofer IDMT has developed a software tool for quality inspectors based on Artificial Intelligence (AI), which automates and simplifies the analysis of industrial sounds, for example in welding processes. Thanks…
BEAT-COVID – advanced therapy strategies against the pandemic
The present SARS-coronavirus-2 pandemic with all its effects on society – both health and economic – highlights the urgency of developing new therapies for COVID-19 treatment. At the same time,…