Scientists Discover Second-Oldest Gene Mutation
Researchers with the Ohio State University Comprehensive Cancer Center – Arthur G. James Cancer Hospital and Richard J. Solove Research Institute led the study and estimate that the mutation arose in the Middle East some 13,600 years ago. Only a mutation seen in cystic fibrosis that arose between 11,000 and 52,000 years ago is believed to be older.
The investigators described the mutation in people of Arabic, Turkish and Jewish ancestry. It causes a rare, inherited vitamin B12 deficiency called Imerslund-Gräsbeck Syndrome (IGS).
The researchers say that although the mutation is found in vastly different ethnic populations, it originated in a single, prehistoric individual and was passed down to that individual's descendents. This is unusual because such "founder mutations" usually are restricted to specific ethnic groups or relatively isolated populations.
The findings were published recently in the Orphanet Journal of Rare Diseases.
"Diagnosing IGS is often time-consuming and inconclusive mainly because vitamin B12 deficiencies have many causes, so identifying this condition usually involves excluding other possibilities," says principal investigator Stephan M. Tanner, research assistant professor of molecular virology, immunology and medical genetics.
"Our findings permit reliable genetic diagnostics in suspected cases of IGS in that this mutation should be considered first when genetically screening patients from these populations."
Even in rare disorders, founder mutations can cause a significant fraction of all cases, he says. This mutation accounts for more than half of the cases in these populations and for about 15 percent of cases worldwide. "It is also often seen in expatriates living abroad," Tanner says.
IGS was identified just over 50 years ago. It occurs in children born with two mutated copies of either the amnionless (AMN) or the cubilin (CUBN) gene. When a genetic mistake is present in both copies of either of these two genes, a person cannot absorb vitamin B12 in the small intestine, resulting in the deficiency.
Children with IGS experience a high risk of infections, fatigue, attention deficit, paralysis and, ultimately, a form of anemia that can be fatal if left untreated. An estimated 400 to 500 cases of IGS have been described worldwide thus far. The incidence rate remains unknown. The syndrome is treatable with life-long injections of vitamin B12.
For this study, the researchers examined a total of 20 patients, 24 parents, 8 unaffected siblings, and 4 grandparents from 16 IGS families. Because the researchers found the mutation in such diverse populations, they were unsure whether it was a true founder mutation that first arose in one individual and was passed down through many generations, or whether it was simply a mutation that recurred frequently over time in different populations.
Careful analysis of the gene sequences on either side of the mutation (i.e., the haplotype in both the Muslim and Jewish families), however, pointed to a single mutational event rather than repeated events.
Funding from National Cancer Institute helped support this research.
Other researchers involved in this study were Cameron M. Beech, Sandya Liyanarachchi, Nidhi P. Shah, Amy C. Sturm and Albert de la Chapelle of Ohio State University; and May F. Sadiq of Yarmouk University, Jordan.
The Ohio State University Comprehensive Cancer Center – Arthur G. James Cancer Hospital and Richard J. Solove Research Institute (cancer.osu.edu) strives to create a cancer-free world by integrating scientific research with excellence in education and patient-centered care, a strategy that leads to better methods of prevention, detection and treatment. Ohio State is one of only 41 National Cancer Institute (NCI)-designated Comprehensive Cancer Centers and one of only seven centers funded by the NCI to conduct both phase I and phase II clinical trials. The NCI recently rated Ohio State's cancer program as "exceptional," the highest rating given by NCI survey teams. As the cancer program's 210-bed adult patient-care component, The James is a "Top Hospital" as named by the Leapfrog Group and one of the top 20 cancer hospitals in the nation as ranked by U.S. News & World Report.
For additional information, see the 2011 review paper about IGS written by Ralph Gräsbeck – one of the two original describers of the syndrome in 1960 – and Stephan Tanner.
Contact: Darrell E. Ward, Medical Center Public Affairs and Media Relations,
614-293-3737, or Darrell.Ward@osumc.edu
Media Contact
Darrell E. Ward
EurekAlert!
All news from this category: Life Sciences
Articles and reports from the Life Sciences area deal with applied and basic research into modern biology, chemistry and human medicine.
Valuable information can be found on a range of life sciences fields including bacteriology, biochemistry, bionics, bioinformatics, biophysics, biotechnology, genetics, geobotany, human biology, marine biology, microbiology, molecular biology, cellular biology, zoology, bioinorganic chemistry, microchemistry and environmental chemistry.
Back to the Homepage
Latest posts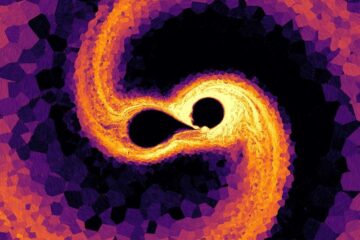 Exploring the evolution of stars
Fabian Schneider leads the new research group "Stellar Evolution Theory" (SET) at the Heidelberg Institute for Theoretical Studies (HITS). The astrophysicist explores the turbulent life of massive binary stars and…
Sustainable insulating material for shipping temperature-sensitive products
Researchers at the Institute of Natural Products Engineering at TU Dresden have developed an insulating material made from recycled paper for shipping temperature-sensitive foods and medicines. As part of a…
Helium nuclei at the surface of heavy nuclei discovered
Research team confirms a new nuclear property predicted by theory Scientists are able to selectively knockout nucleons and preformed nuclear clusters from atomic nuclei using high-energy proton beams. In an…