Mayo Clinic researchers discover genetic syndrome linked to inherited birth disorder
Mayo Clinic researchers have identified a genetic syndrome — an inherited birth disorder characterized by learning disabilities, facial malformations, impaired organs and mental retardation. It has been previously misdiagnosed or undiagnosed.
Researchers also discovered the syndrome's genetic basis: a rearrangement of DNA called "microduplication." When microduplication occurs, DNA segments are repeated and this causes a surplus of genes. Microduplication is a little-studied mechanism underlying the origin of human diseases, and Mayo Clinic researchers are in the forefront of scientists producing evidence for its impact. Their work is made possible by the February 2001 completion of the federal Human Genome Project, the mapping of all the major genes in the human body. It has produced a database that describes the DNA sequences of the entire human complement of genes, which is estimated to be around 30,000 genes. The Mayo Clinic research, "Microduplication 22q11.2: An Emerging Syndrome," appears in the November American Journal of Human Genetics (73:1027-40)
Symptoms
Specific symptoms of this syndrome may include slightly misshapen faces and unusually widely spaced eyes, eyebrows placed higher than usual, and long, narrow faces, with irregularly shaped ears. Some patients have impaired hearing and speech, malfunctioning spleen and thymus gland, or heart defects. Other symptoms: faulty immune function and degrees of mental impairment.
The Significance of the Mayo Clinic Research
The work is important from the perspectives of genetic counseling, patient care and the history of medicine. The risk of inheriting this syndrome is 50 percent for a child with one parent affected by it and it's highly likely that it runs in families. "This means it could make it a significant health concern," says Syed Jalal, Ph.D., a medical geneticist and professor at the Mayo Clinic College of Medicine and the study's chief author.
While some symptoms can be treated, the syndrome cannot be cured until researchers discover a gene therapy to repair the microduplication errors. Precisely defining the new syndrome will help physicians care for their patients, but the work's immediate importance is the insight it provides for genetic counseling. Says Dr. Jalal, "Microduplication now needs to be considered and investigated when some features or symptoms overlap with commonly occurring microdeletion disorders. This gives clinicians more information in providing the best care to patients and in understanding heritable diseases of a family's genome." He adds that routine chromosome analysis can easily miss this duplication. Use of FISH (fluorescent DNA) probes is required.
This discovery also is important because it provides evidence for a class of new genetic errors known as "genomic arrangement" as a precondition leading to disease. Most often the opposite kind of errors — microdeletion — is studied and associated with disease. While the contributions of microdeletions to disease were well-known, Dr. Jalal was curious to know what would happen if the DNA were rearranged by the less-studied condition involving microduplication. "One of the things I've been concerned about for a long time is how structural abnormalities arise,'' he explains.
"If you think about spontaneous miscarriages, 50 percent or more actually have a chromosomal problem. Recent large-population studies of miscarriages show that something like eight in 1,000 newborns have a chromosome problem. So chromosomal abnormalities are a part of the human experience, and are more significant than most people realize."
The Mayo Clinic research team collaborated with investigators in North Carolina, Maine, California and Georgia to define traits that constitute a new medical syndrome. They based their conclusions on detailed study — from the position of genes in chromosomes to the placement of eyebrows on the face — of 653 patients referred to the Mayo Clinic for evaluation of a known syndrome that shares some of the traits with the new syndrome.
This new syndrome has not yet been named, but it was often misdiagnosed as the DiGeorge syndrome — which has many of the same symptoms. Yet this syndrome is genetically distinct. Of the 653 patients studied, 13 show microduplication of DNA within chromosome 22. DiGeorge patients have the opposite condition at that chromosomal site: microdeletion of DNA. Dr. Jalal says no one knows how common the new syndrome is. But it's likely that it's more common than DiGeorge syndrome, which occurs in one in 4,000 or 5,000 Caucasians.
Background Biology
Under study is a phenomenon within the chromosome known as "low-copy repeats." In low-copy repeats certain DNA sequences are present many times. They are distributed throughout the genome, and their role in giving rise to genomic rearrangements is under intense investigation in research laboratories throughout the world.
Knowing that chromosome 22 was vulnerable to rearrangement, Dr. Jalal theorized that rearrangement would lead to deletion as often as it did duplication. "Surprisingly, there was no real evidence for this,'' he says. Previously, only three cases of microduplication disorders have been described in medical literature.
All news from this category: Life Sciences and Chemistry
Articles and reports from the Life Sciences and chemistry area deal with applied and basic research into modern biology, chemistry and human medicine.
Valuable information can be found on a range of life sciences fields including bacteriology, biochemistry, bionics, bioinformatics, biophysics, biotechnology, genetics, geobotany, human biology, marine biology, microbiology, molecular biology, cellular biology, zoology, bioinorganic chemistry, microchemistry and environmental chemistry.
Back to the Homepage
Latest posts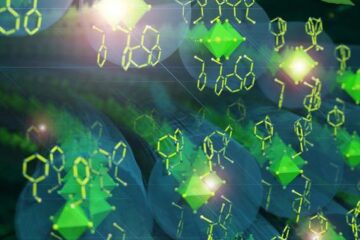 Just a few atoms thick: New functional materials developed
Using the smallest "construction set" in the world, a research team from the universities of Marburg, Giessen and Paderborn is designing new materials for computer chips, light-emitting diodes and solar…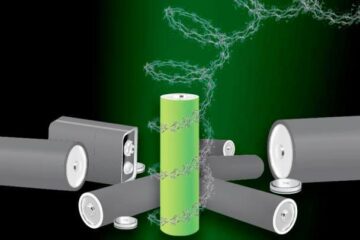 Researchers develop new metal-free, recyclable polypeptide battery
– that degrades on demand … This could result in battery production moving away from strategic elements like cobalt. The introduction of lithium-ion (Li-ion) batteries has revolutionized technology as a…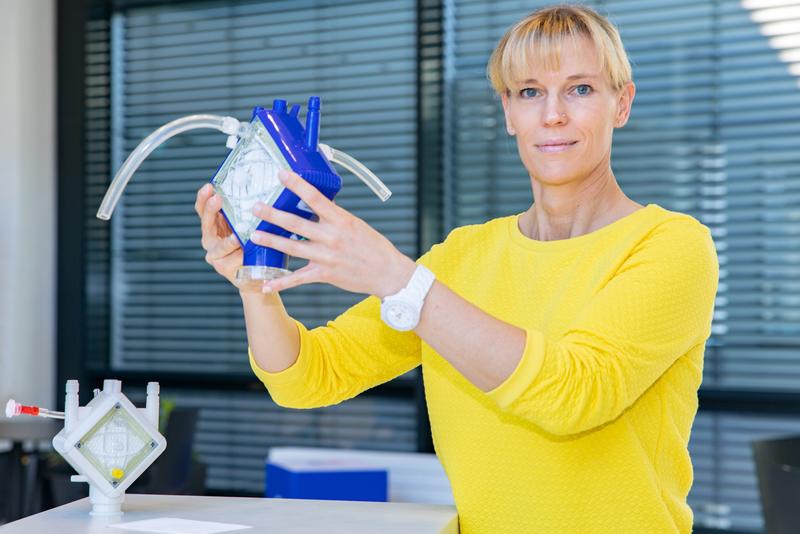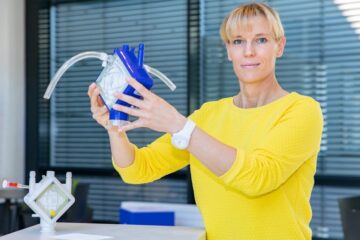 Artificial lungs as organ replacement
DFG priority program funds four MHH projects with 1.6 million euros. For people with severe lung diseases, transplantation of a healthy organ is often the only chance of survival. But…