Novel 'repair system' discovered in algae may yield new tools for biotechnology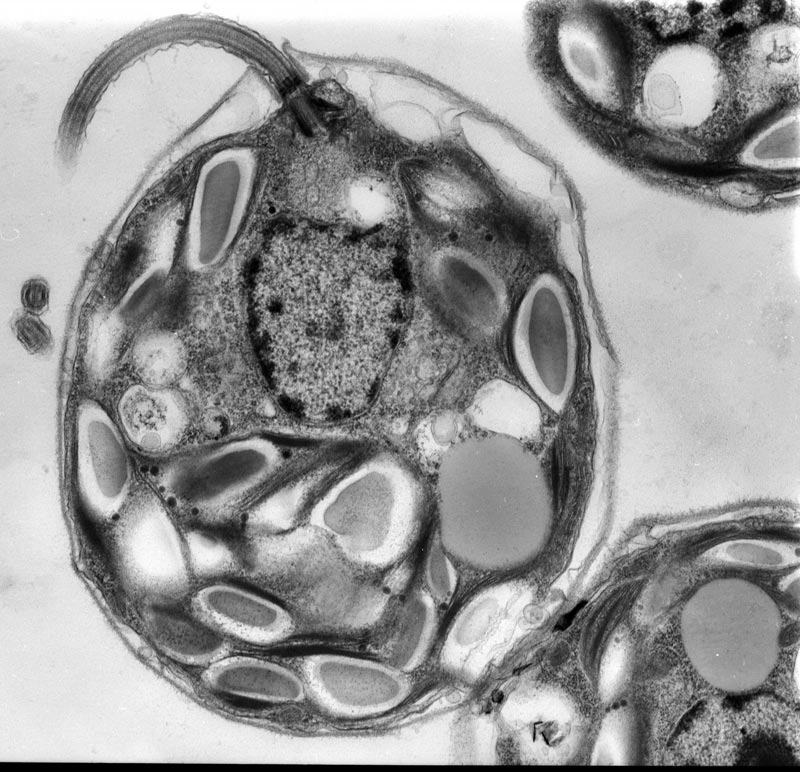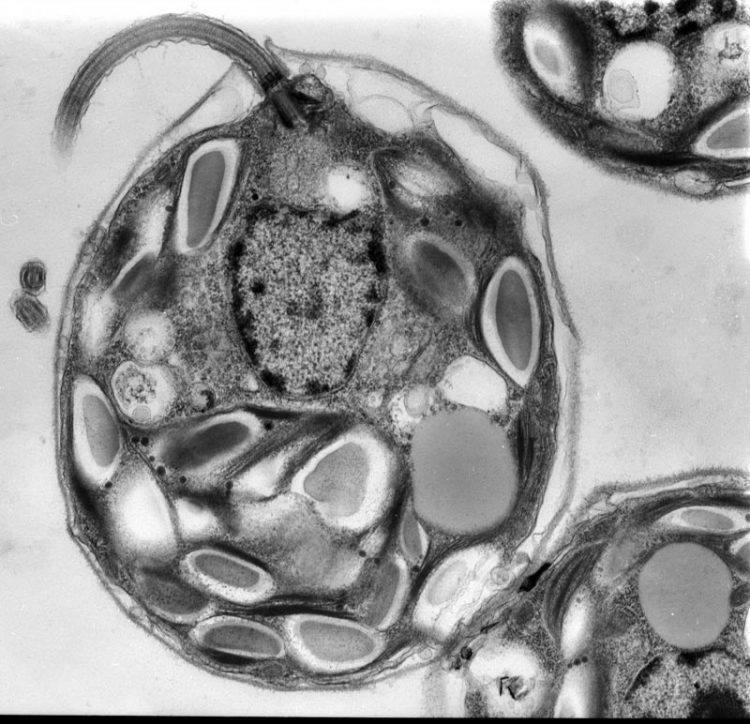 A new way of fixing inactive proteins has been discovered in an algae, which uses chloroplast extracts and light to release an interrupting sequence from a protein.
Research specialist Stephen Campbell and Professor David Stern at the Boyce Thompson Institute report the discovery in the July 29 issue of the Journal of Biological Chemistry. This repair system may have applications in agriculture and biotechnology because it could potentially be harnessed to enable proteins to become active only in the light.
Many proteins contain extra sequences, called insertions, that can disrupt their function. The current paper demonstrates that the algae Chlamydomonas reinhardtii has the necessary toolkit to repair proteins by removing these insertions.
Campbell discovered this new repair system while purifying a protein from the chloroplasts of C. reinhardtii that can cut RNA. Upon sequencing the protein, he identified it as RB47, a protein that was not known to have any RNA-cleaving ability. Campbell noticed that the middle of the protein was missing. When he compared the protein sequence to its corresponding gene sequence, the protein was much shorter than expected.
Upon further study, Campbell found that he could detect a long version of the protein that contained an insertion and a short version that didn't. The cells make both versions when grown in the light or the dark, but only the short version can cleave RNA. The long version of the protein could be converted into the short one by mixing it in a test tube with chloroplasts from cells grown in the light and by illuminating the reaction. This process removed the interrupting insertion and restored the RNA-cutting activity of the protein. It is likely that the chloroplast maintains the machinery necessary to remove the sequence so that it can restore functionality to the protein.
This new type of repair system provides intriguing possibilities for biotech applications.
Because the insertion can be placed so that it interrupts a protein's function, the insertion and repair system may be useful for producing certain pharmaceuticals or protein products–such as cancer drugs–in culture, which would otherwise kill the cell. After purification, the inactive products could be treated with chloroplast factors and light to remove the insertion and activate the proteins.
In future work, the researchers plan to investigate exactly how the insertion becomes spliced out of the protein and which plant factors facilitate its removal. They also aim to understand the purpose of the insertion, and whether the algae can control the splicing to respond to changes in the environment.
Campbell and Stern also want to know how widespread this new type of protein splicing might be.
"If it is happening in plants, is it happening in animals?" said Stern. "We're pretty sure that this protein is just one example; that we have only found the tip of the iceberg."
###
The study was supported by the U.S. National Science Foundation, award MCB-1244106.
URL: http://www.jbc.org/cgi/doi/10.1074/jbc.M116.727768
Media Relations Contacts: Patricia Waldron (607-254-7476, pjw85@cornell.edu) or Kitty Gifford (607-592-3062, kmg35@cornell.edu)
Communications Office
Boyce Thompson Institute
533 Tower Road
Ithaca, New York 14853 USA
To learn more about Boyce Thompson Institute (BTI) research, visit the BTI website at http://bti.cornell.edu.
Connect online with BTI at http://www.facebook.com/BoyceThompsonInstitute and http://www.twitter.com/BTIScience.
About Boyce Thompson Institute
Boyce Thompson Institute is a premier life sciences research institution located in Ithaca, New York on the Cornell University campus. BTI scientists conduct investigations into fundamental plant and life sciences research with the goals of increasing food security, improving environmental sustainability in agriculture and making basic discoveries that will enhance human health.
BTI employs 150 staff, with scientists from 40 countries around the world and has twice been named as one of the Best Companies in New York State. Its 15 principal investigators are leading minds in plant development, chemical ecology, microbiology and plant pathology, and have access to the institute's state-of-the-art greenhouse facilities with computerized controls and a system of integrated pest management. BTI has one of the largest concentrations of plant bioinformaticists in the U.S., with researchers who work across the entire spectrum of "omics" fields. BTI researchers consistently receive funding from NSF, NIH, USDA and DOE and publish in top tier journals. Throughout its work, BTI is committed to inspiring and educating students and to providing advanced training for the next generation of scientists. For more information, visit http://www.bti.cornell.edu.
Media Contact
Patricia Waldron
EurekAlert!
Alle Nachrichten aus der Kategorie: Life Sciences
Articles and reports from the Life Sciences area deal with applied and basic research into modern biology, chemistry and human medicine.
Valuable information can be found on a range of life sciences fields including bacteriology, biochemistry, bionics, bioinformatics, biophysics, biotechnology, genetics, geobotany, human biology, marine biology, microbiology, molecular biology, cellular biology, zoology, bioinorganic chemistry, microchemistry and environmental chemistry.
Zurück zur Startseite
Neueste Beiträge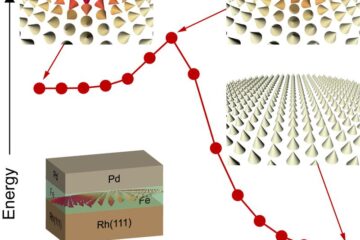 Extra stability for magnetic knots
Scientists from Kiel find a new mechanism for the stabilization of skyrmions Tiny magnetic whirls that can occur in materials – so-called skyrmions – hold high promises for novel electronic…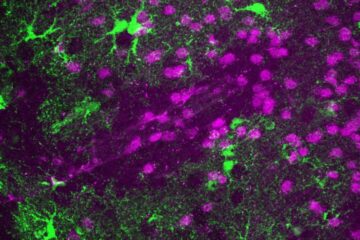 Scientists advance understanding of blood-brain barrier health
Fralin Biomedical Research Institute scientists' finding has implications for brain diseases. Hard skulls help protect our brains from physical injuries. In addition to a tough outer shell, brains have internal…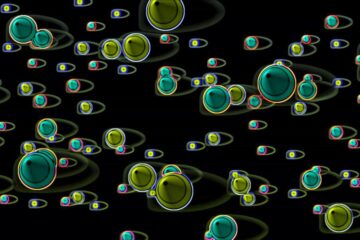 Why there is no speed limit in the superfluid universe
Physicists from Lancaster University have established why objects moving through superfluid helium-3 lack a speed limit in a continuation of earlier Lancaster research. Helium-3 is a rare isotope of helium,…