Revolutionary research on virtual surgery
Major new research examining the use of virtual surgery could revolutionise the way surgeons are trained in the future.
Experts use to believe that virtual reality, which allows trainee surgeons to feel and see exactly what they would if they were in the operating theatre, may help improve surgical skills, but it hadn't been proved – until now.
The innovative research, by world experts from Yale University and Queen's University Belfast, has shown that surgeons who trained on computer simulations performed the operation 29 per cent faster and made seven times fewer errors. This is the first time that the benefit of pre-operative training with a surgical simulator on a measured intraoperative performance has been shown and the researchers believe the surprising results may lead to a new approach to surgical skill training.
The study will be presented during the invitation-only meeting of the American Surgical Association from April 25-27 in Hot Springs, Virginia.
The Association, founded in 1880, is the most prestigious group of surgeons in the United States and its conference will give delegates the opportunity to hear at first hand research which could lead to a sea change in how surgeons are trained and assessed.
During the conference delegates will hear selected presentations containing the most current information available on clinical and research topics related to surgical or surgical specialities, including outcomes, practice of surgery and ethical and other issues that affect its practice.
As part of their research the group, which includes Richard M Satava, Professor of Surgery at Yale, who developed the world's first virtual reality system in surgery, studied 16 surgical residents. Some of the group, who were all judged to have the same baseline skills, were given virtual reality training on the Procedicus (r) MIST system, before performing surgical removal of a gallbladder.
Extensive studies showed that the gallbladder operation was completed 24.3 per cent faster by the VR-trained surgeons, while those who did not receive training were seven times more likely to fail to make progress.
In addition, both groups of surgeons received intraoperative, real-time instruction from a faculty member who did not know whether the surgeon had been trained on the virtual reality surgical simulator. All operations were videotaped, and the final grading was judged by at least two independent, "blinded" observers who did not know which group the taped surgeon belonged to.
Among those taking part in the research was Dr. Tony Gallagher, from the School of Psychology at Queen's University Belfast, who is currently a visiting Professor in the Department of Surgery at Yale.
Commenting on the results of the study, he said the striking advantage of the virtual reality training occurred despite both pre-operative and intra-operative training programmes. "This suggests that virtual surgery training is a very powerful addition to what is currently considered the 'best' training approach," he said.
Dr Gallagher added that the study had also shown that all the surgeons, even those with more than seven years experience, showed a "significantly improved" performance with the added experience of training on the virtual reality simulator. "This suggested that even more experienced surgeons can benefit from the use of a surgical simulator, much as experienced airline pilots continually maintain their skills through the use of flying simulators," he said.
Having won a Fulbright Distinguished Scholar Award last year it enabled Dr Gallagher to carry out innovative research at Yale University using virtual reality techniques in keyhole surgery. Fulbright grants are made to U.S. citizens and nationals of other countries for a variety of educational activities, primarily university lecturing, advanced research and graduate study in elementary and secondary schools. Since the programme's inception, more than 250,000 participants – chosen for their leadership potential – have had the opportunity to observe each other's political, economic and cultural institutions
James Moore, Executive Director of the US-UK Fulbright Commission, said: "Fulbright prides itself in finding the very best people to research important topics in the United Stats and to spread knowledge of American developments on their return to the United Kingdom".
The virtual reality system used in the study, the "Procedicus (r) MIST", was supplied by Swedish based company, Mentice AB, which provides turn key solutions – including hardware, software and technical support – from entry-level skills acquisition to high-fidelity procedural training.
Media Contact
Dr Tony Gallagher
alphagalileo
All latest news from the category: Health and Medicine
This subject area encompasses research and studies in the field of human medicine.
Among the wide-ranging list of topics covered here are anesthesiology, anatomy, surgery, human genetics, hygiene and environmental medicine, internal medicine, neurology, pharmacology, physiology, urology and dental medicine.
Back to home
Newest articles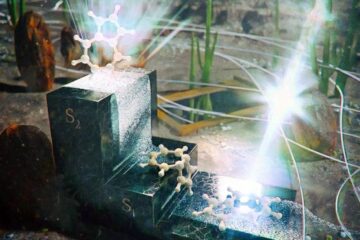 A mysterious blue molecule will help make better use of light energy
Researchers at IOCB Prague are the first to describe the causes of the behavior of one of the fundamental aromatic molecules, which fascinates the scientific world not only with its…
Let it flow: recreating water flow for virtual reality
The physical laws of everyday water flow were established two centuries ago. However, scientists today struggle to simulate disrupted water flow virtually, e.g., when a hand or object alters its…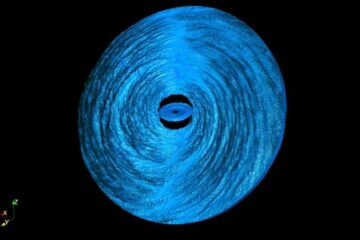 Black holes eat faster than previously expected
New finding might explain why quasars flare and fade so quickly. A new Northwestern University-led study is changing the way astrophysicists understand the eating habits of supermassive black holes. While…