Transporter's function provides support for eating vegetables, limiting antibiotics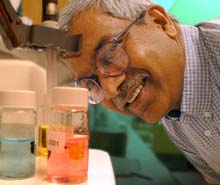 Researchers have found another good reason to eat your fruits and vegetables and not abuse antibiotics.
A transporter in the colon called SLC5A8 plays an important role in enabling the colon to get the last bit of good out of food before the unusable is flushed away, according to research currently published online as an accelerated communication in the Journal of Biological Chemistry.
In an amazing model of efficiency, good bacteria in the colon produce an enzyme that releases glucose found in plant cell walls, the leftovers of broccoli and other vegetables, fruits and cereals, which cannot be digested in the small intestine. In the oxygen-less environment of the bacteria-packed colon, bacteria ferment this glucose to use for energy which also results in the production of short-chain fatty acids, the preferred nutrients for colon cells.
Medical College of Georgia researchers have found – in animal and human cells – that SLC5A8 is a final piece of the model, a transporter expressed by colonic cells to absorb the just-produced, energy-packed short-chain fatty acids.
"We used to teach that bacteria produced short-chain fatty acids which are used by colonic cells but it was not known that these cells possessed an efficient active transport system to absorb these fatty acids," says Dr. Vadivel Ganapathy, biochemist, interim chair of MCG's Department of Biochemistry and Molecular Biology and the study's principal author.
The finding that SLC5A8 is the transporter helps clarify why fruits and vegetables are good for you and why antibiotics, which wipe out good bacteria along with bad, should only be taken when absolutely necessary: upset the model and colonic cells get sick and may even become cancerous.
"We do not make the enzyme to digest cellulose; bacteria make the enzyme in the colon," says Dr. Ganapathy. "Therefore, you need to eat dietary fiber to provide the food for bacteria. Otherwise, they are not going to survive there. Antibiotics can wipe out good bacteria as well, leaving a void where disease-causing bacteria can grow."
The professed meat-lover who has little interest in vegetables already has changed his diet based on his findings: "I eat a big helping of yogurt every day," he says of the food rich in bacteria products.
The colon's main function is to collect waste from the diet and store it until it can be eliminated. "The question is, why do we have so much bacteria in our colon?" Dr. Ganapathy says. In fact, bacterial cells in our body outnumber human cells. "We have evolved into a symbiotic relationship: we give them food, they do something in return for us."
He began to get a more complete picture of what bacteria do when cancer researchers at Case Western Reserve University in Ohio reported in 2003 in the Proceedings of the National Academy of Sciences that they had cloned the SLC5A8 transporter from the human colon. While they knew it was a transporter, they didn't know what it transported, but reported instead its function as a tumor suppressor. "When colon cells become cancerous, this particular transport system gets silenced," Dr. Ganapathy says.
That's when the pieces began to fall together. Dr. Ganapathy's lab actually cloned SLC5A8 from a mouse kidney three years earlier. He knew it was a transporter, but when he looked for what it transported in the kidney, he came up empty. Since his initial attempts to identify the transport function of SLC5A8 failed, he used Northern blot to investigate the tissue expression pattern of this transporter, hoping that the expression pattern would lead him to the identity of its transport function. He found that SLC5A8 is expressed in the kidney but not in any other tissue represented in the blot. Unfortunately, the commercially available multiple tissue blot that he used didn't include small intestine or colon. Unable to publish the finding without evidence of the transporter's function, he moved on to other things.
"Where the transport system is expressed in the body provides clues of what it transports," he says. The Case Western Reserve research told him the transporter was heavily expressed in the colon, a seemingly odd place because nutrient transport systems aren't typically expressed in the colon since digestion and absorption take place almost exclusively in the small intestine. But the finding made him think of what he has long taught medical students about colon cells and how they need short-chain fatty acids to stay healthy. "We go and test it with our clone sitting in the refrigerator and it works," Dr. Ganapathy says. "It means normal colon cells express this transport system so they can make use of the products made by the bacteria. If these essential nutrients do not come in, cells become sick."
And he doubts the story or the work of the transporter ends here. "The gut is a huge immune organ; there are more immune cells in our gut than there are in the rest of the body put together," says Dr. Robert G. Martindale, MCG gastrointestinal surgeon and nutritionist with a special interest in probiotics – giving patients good bacteria to restore a healthy flora. "The work that Dr. Ganapathy is doing is showing very nicely that if, in fact, we keep this short-chain fatty acid transporter healthy, we then can keep the whole immune system healthy."
Immune cells also have a specific receptor for short-chain fatty acids on the cell surface, and Drs. Ganapathy and Martindale are pursuing the idea that the SLC5A8 transporter is delivering these fatty acids to immune cells to interact with the receptors and keep the immune cells vigilant as well. They also want to know what happens to SLC5A8 and the receptor when inflammation, such as inflammatory bowel disease, occurs. Dr. Ganapathy hypothesizes that inflammation occurs when something goes awry in the symbiotic relationship between good bacteria and colon cells.
Dr. Ganapathy is also exploring the transporter's function in other organs as well as its therapeutic potential as a drug-delivery mechanism in diseases such as inflammatory bowel disease and colon cancer.
His studies are funded by the National Institutes of Health.
Alle Nachrichten aus der Kategorie: Health and Medicine
This subject area encompasses research and studies in the field of human medicine.
Among the wide-ranging list of topics covered here are anesthesiology, anatomy, surgery, human genetics, hygiene and environmental medicine, internal medicine, neurology, pharmacology, physiology, urology and dental medicine.
Zurück zur Startseite
Neueste Beiträge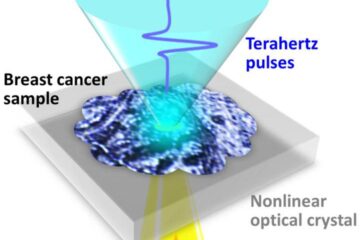 Key breakthrough towards on-site cancer diagnosis
No stain? No sweat: Terahertz waves can image early-stage breast cancer without staining. A team of researchers at Osaka University, in collaboration with the University of Bordeaux and the Bergonié…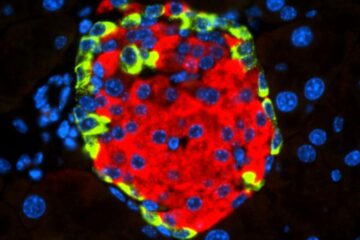 A CNIO team describes how a virus can cause diabetes
It has recently been described that infection by some enteroviruses – a genus of viruses that commonly cause diseases of varying severity – could potentially trigger diabetes, although its direct…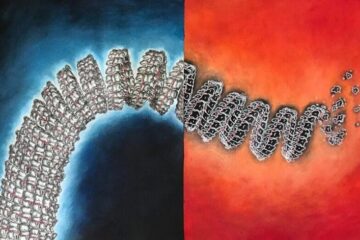 Targeting the shell of the Ebola virus
UD research team looking at ways to destabilize virus, knock it out with antivirals. As the world grapples with the coronavirus (COVID-19) pandemic, another virus has been raging again in…