Liver transplants result in excellent survival rates for patients with liver cancer
In the first national study to examine survival among liver transplant patients with advanced hepatocellular carcinoma (HCC), researchers found excellent five-year survival results, with a steady improvement over the last decade. Hepatocellular carcinoma, also known as hepatoma, or cancer of the liver, is a common cancer worldwide, with more than one million new cases diagnosed each year and a median life expectancy of six to nine months. Most hepatoma patients have cirrhosis, a risk factor of hepatoma, and are inoperable because of tumor size, location or severity of underlying liver disease. Results of this study will be reported online in the Journal of Clinical Oncology.
"This study shows that we can achieve excellent survival with liver transplantation among patients with hepatoma, confirming similar results reported by single center studies," said Paul J. Thuluvath, MD, senior author and Associate Professor in the Department of Medicine at Johns Hopkins University School of Medicine. "These findings are particularly reassuring for patients with tumors that cannot be surgically removed, which comprise more than 80 % of HCC patients."
The primary objective of the study was to determine survival in an unselected patient population who had liver transplantation for HCC. Using the United Network for Organ Sharing (UNOS) database, researchers collected data on 48,887 patients who underwent liver transplantation in the United States between 1987 and 2001. Patients were excluded if they had undergone multiple organ transplantation, retransplantation, were less than 18 years of age, or lacked survival information.
Of the remaining patients included in the final analysis, 985 had liver transplantation for hepatocellular carcinoma (hepatoma group) and 33,339 patients had liver transplantation for other reasons (control group). Both the hepatoma and control groups were divided into three different five-year time periods: 1987 – 1991, 1992 – 1996, and 1997 – 2001.
Researchers found significant and steady improvement in survival over time among liver transplant patients with HCC, particularly in the last five years. Five-year survival improved from 25.3 percent during 1987-1991 to 47 percent during 1992-1996, and 61.1 percent during 1996-2001.
"Although the survival is low in patients with hepatoma as compared to patients who had transplantation for non-malignant liver conditions, excellent five-year survival rates in patients with HCC suggest that liver transplantation is the treatment of choice in patients with advanced cirrhosis and HCC," said Dr. Thuluvath.
Researchers also wanted to see whether the 'Milan criteria' for selecting HCC patients for liver transplantation, incorporated by many transplant centers as a 'guideline' after a landmark study in 1996, had any indirect effect on patient survival among the 1997-2001 group. Milan criteria require that tumors be less than five centimeters, less than three centimeters if there are one to three tumors, and no invasion of blood vessels or lymph nodes.
Study authors noted that the excellent survival results between 1997 and 2001 may be a result of careful patient selection based on the improved Milan criteria, but cautioned that this finding is based on speculation.
Researchers also noted several limitations to the study. Because they examined a large database and did not have information on detailed staging of individual patients and the actual criteria used at the time of liver transplant, critical information about how patients were selected, tumor size and histology, and the extent of a patient's liver disease remains unknown.
In addition, given the prevalence of hepatoma worldwide and the limited supply of organs, researchers pointed to the need for better surveillance, detection and prevention of hepatoma and underlying cirrhosis, and universal HBV vaccination, particularly for countries where organ transplantation is not always an option.
"The outcome of liver transplantation in patients with hepatocellular carcinoma in the US between 1998 and 2001: 5-year survival has improved significantly with time." Paul J. Thuluvath, M.D. et al, Johns Hopkins University School of Medicine, Baltimore, Maryland.
The Journal of Clinical Oncology is the semi-monthly peer-reviewed journal of the American Society of Clinical Oncology (ASCO), the world's leading professional society representing physicians who treat people with cancer.
ATTRIBUTION TO THE JOURNAL OF CLINICAL ONCOLOGY IS REQUESTED IN ALL NEWS COVERAGE.
For the full text of any JCO article, contact 703-519-1423 or 212-584-5014. The JCO News Digest is also distributed via email. Please let us know if you would like to be added to our email distribution list.
Media Contact
Carrie Housman
EurekAlert!
All latest news from the category: Health and Medicine
This subject area encompasses research and studies in the field of human medicine.
Among the wide-ranging list of topics covered here are anesthesiology, anatomy, surgery, human genetics, hygiene and environmental medicine, internal medicine, neurology, pharmacology, physiology, urology and dental medicine.
Back to home
Newest articles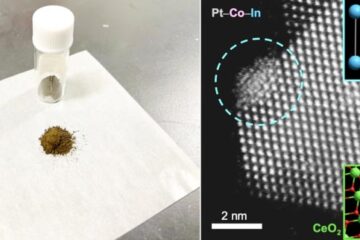 New, highly efficient catalyst for propylene production
Researchers have developed an innovative catalyst for the synthesis of propylene, which has potential benefits for the chemical industry and carbon recycling. Propylene is a colourless, flammable hydrocarbon gas that…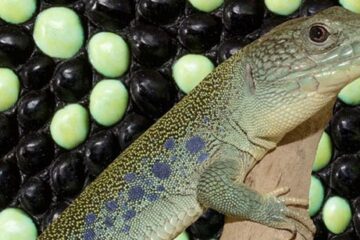 A mathematical secret of lizard camouflage
A multidisciplinary team at the UNIGE has succeeded in explaining the complex distribution of scales in the ocellated lizard by means of a simple equation. The shape-shifting clouds of starling…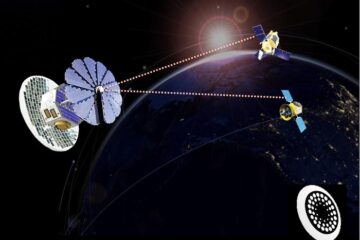 Revolutionize satellite power using laser beaming
The University of Surrey and Space Power are tackling the problem of powering satellites in Low Earth Orbit (LEO) during their eclipse period when they cannot see the sun. By…