Hannover Messe: Anti-microbial coatings with a long-term effect for surfaces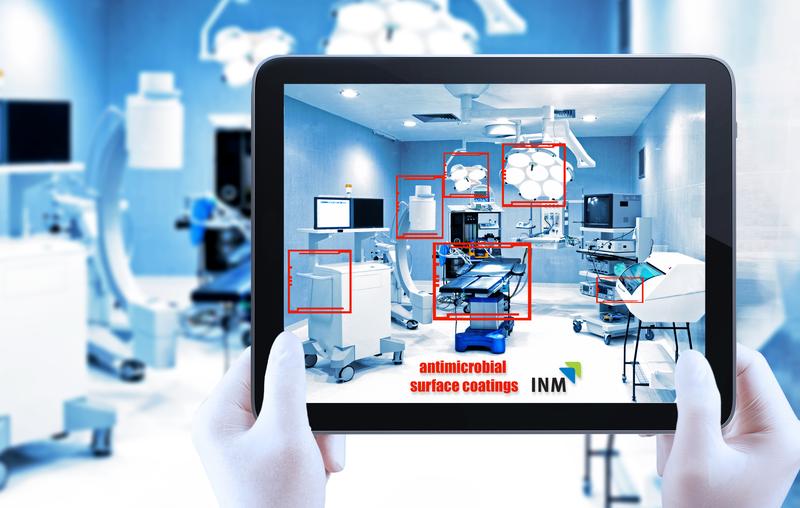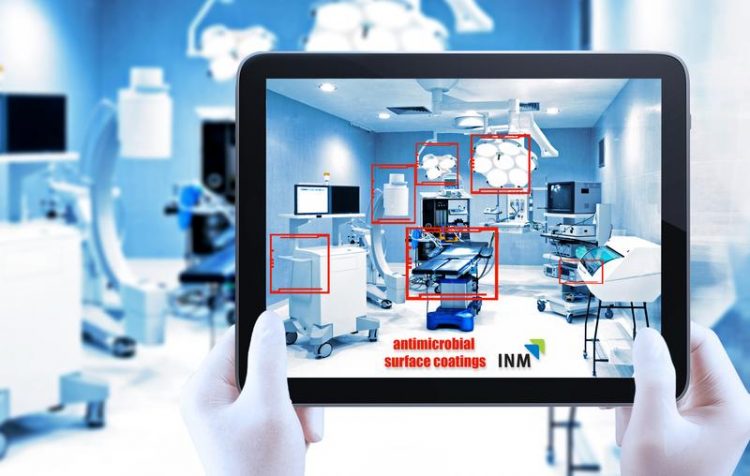 In these areas, bacteria and fungi compromise the health of both consumers and patients. Researchers at the INM have now produced antimicrobial abrasion-resistant coatings with both silver and copper colloids with a long-term effect that kill germs reliably and at the same time prevent germs becoming established.
The coatings are particularly suitable for the application on large and solid surfaces, on doorhandles and for textiles.
From 7 to 11 April 2014, the researchers of the INM will be presenting this and further results in Hall 2 at the stand C48 of the Hannover Messe in the context of the leading trade fair for R & D and Technology Transfer. This includes new developments of transparent and conducting layers, CIGS solar cells, coatings against corrosion and for the reduction of friction as well as printed electronics.
"The new development combines two properties which means the presence of germs and fungi on these surfaces is zero", explains Carsten Becker-Willinger, Head of the Nanomers Program Division. Silver or copper colloids which gradually release germicidal metal ions into the environment are incorporated in the coating. "The metal colloids are only a few nanometers in size, but their particular ratio of size to surface area produces a distinctive long-term effect. The "consumption" of metals to metal ions is then so low that the coating can be effective for several years", says the chemist. The long-term effect will also be increased by the high abrasion resistance.
At the same time, the surface of the coating is anti-adhesive, so neither dead nor fresh germs can adhere to the surface. As a result, the coating primarily counteracts the formation of an extensive biofilm.
The researchers were able to prove the double microbicidal and biofilm-inhibiting action using the standardised ASTM E2 180 test process. The new material can be applied to a variety of substrates such as plastic, ceramic or metal using conventional techniques such as spraying or dipping, and cures thermally or photochemically. Selective variation of the individual components allows the developers to react to the particular and different needs of potential users.
As part of the EU-sponsored CuVito project, the developers are now looking at increasingly using copper colloids and copper ions as well as silver which they hope will open up other fields of application.
Contact:
Dr. Carsten Becker-Willinger
INM – Leibniz Institute for New Materials
Head Nanomers®
Phone: +49681-9300-196
nanomere@inm-gmbh.de
Your contact at the stand:
Dr. Sabine Schmitz-Stöwe
Dr. Dirk Bentz
The INM will also present its competence within various talks in Hall 2 at the Tech transfer stand.
* "Nanotechnology at the INM – Leibniz Institute for New Materials", Dr. Mario Quilitz, Monday, 7.4. 2014, 10:15 – 10:30 a.m.
* "Nanotechnology in the Leibniz Network Nano", Dr. Mario Quilitz, Monday, 7.4.2014, 12:00 – 12:15 p.m.
* "Nanoparticles for Optics and Electronics", Dr. Peter William de Oliveira, Tuesday, 8.4.2014, 11:00 – 11:10 a.m.
* "Nanomers – Highly structured integrated functional coatings for practical solutions in industrial applications", Dr. Carsten Becker-Willinger, Tuesday, 8.4.2014, 11:20 – 11:35 a.m.
INM conducts research and development to create new materials – for today, tomorrow and beyond. Chemists, physicists, biologists, materials scientists and engineers team up to focus on these essential questions: Which material properties are new, how can they be investigated and how can they be tailored for industrial applications in the future? Four research thrusts determine the current developments at INM: New materials for energy application, new concepts for medical surfaces, new surface materials for tribological applications and nano safety and nano bio. Research at INM is performed in three fields: Nanocomposite Technology, Interface Materials, and Bio Interfaces.
INM – Leibniz Institute for New Materials, situated in Saarbruecken, is an internationally leading centre for materials research. It is an institute of the Leibniz Association and has about 195 employees.
Media Contact
Dr. Carola Jung
idw - Informationsdienst Wissenschaft
All latest news from the category: HANNOVER MESSE
Back to home
Newest articles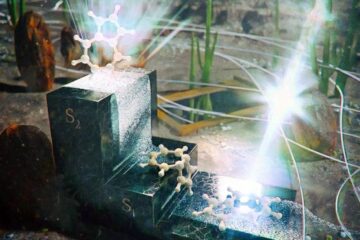 A mysterious blue molecule will help make better use of light energy
Researchers at IOCB Prague are the first to describe the causes of the behavior of one of the fundamental aromatic molecules, which fascinates the scientific world not only with its…
Let it flow: recreating water flow for virtual reality
The physical laws of everyday water flow were established two centuries ago. However, scientists today struggle to simulate disrupted water flow virtually, e.g., when a hand or object alters its…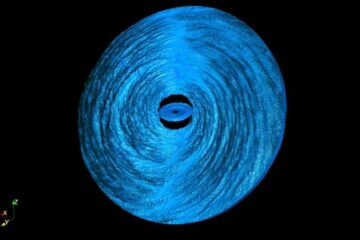 Black holes eat faster than previously expected
New finding might explain why quasars flare and fade so quickly. A new Northwestern University-led study is changing the way astrophysicists understand the eating habits of supermassive black holes. While…