IVAM High-Tech Summit shows "New Developments for a Digital World"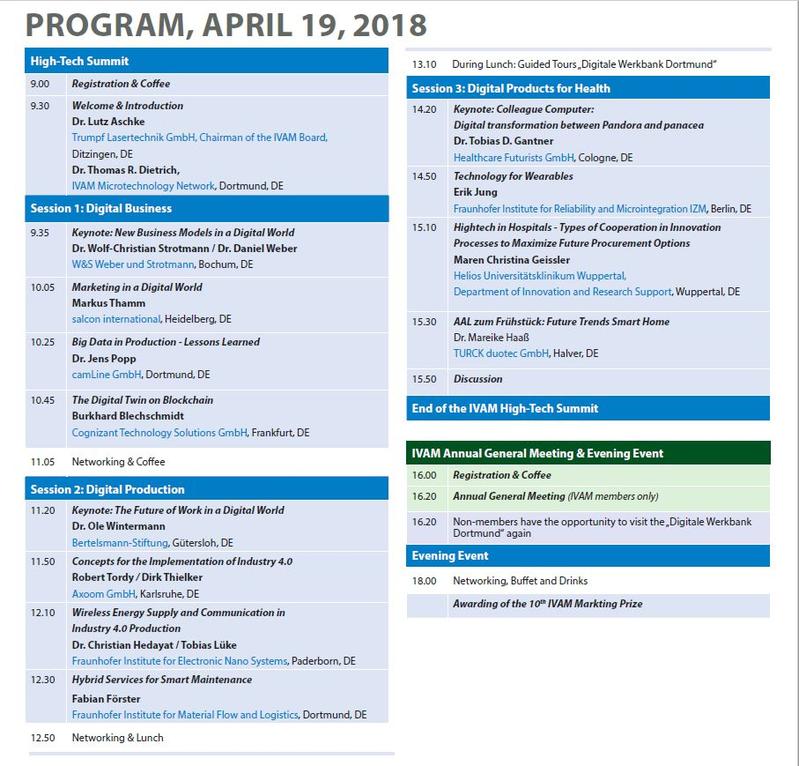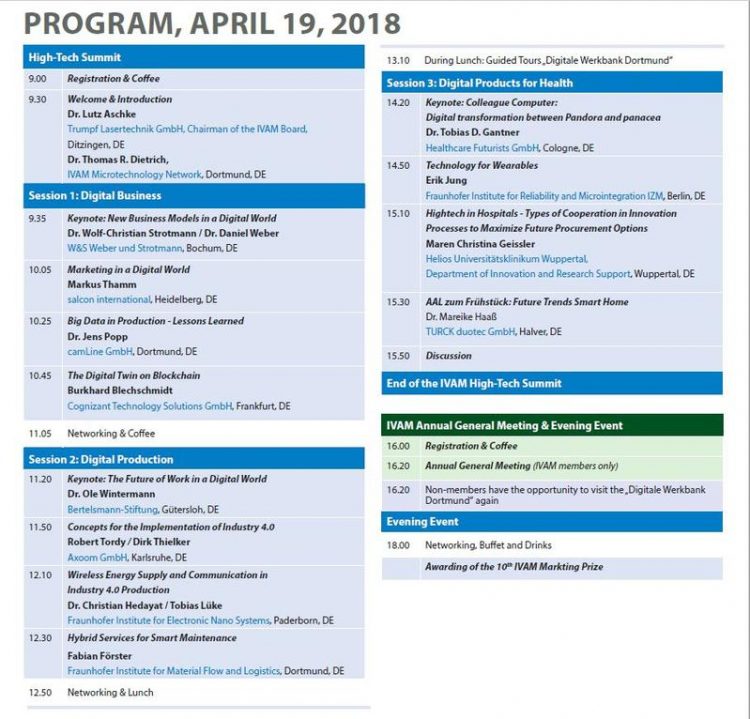 This conference brings together the leading experts from the high-tech field on an annual basis to tackle current challenges and discuss trailblazing solutions.
The success of digitalization strongly depends on whether it is possible to integrate the new concepts into products and production processes. This year, the conference will present concrete examples to show how such integration can work in practice and how new business models can be developed from this.
Three sessions focus on new business models, the digitalization of production and digital applications in the field of medicine and lifestyle. Participants are invited to talk to the experts about their specific requirements and problems. The conference language will be English.
In addition to the program, the participants have the opportunity to visit the "digital workbench" – an interactive exhibition on the topic of the digital workplace – during the networking breaks.
The complete conference program, further information and the registration documents can be found at the IVAM-website. Inga Goltermann can be contacted at +49 231 9742 7090 or at go@ivam.de for further questions on participation and the program.
http://www.ivam.de/events/ivam_high_tech_summit_2018?lang=en
Media Contact
Mona Okroy-Hellweg
idw - Informationsdienst Wissenschaft
Alle Nachrichten aus der Kategorie: Event News
Zurück zur Startseite
Neueste Beiträge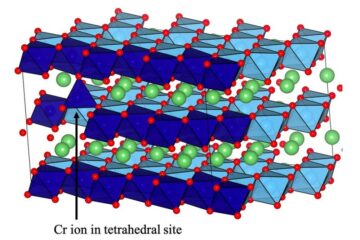 Argonne targets lithium-rich materials as key to more sustainable cost-effective batteries
Next-generation batteries using lithium-rich materials could be more sustainable and cost-effective, according to a team of researchers with the U.S. Department of Energy's (DOE) Argonne National Laboratory. The pivotal discovery,…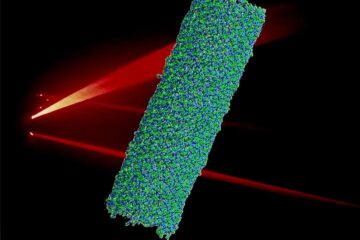 Why disordered light-harvesting systems produce ordered outcomes
Scientists typically prefer to work with ordered systems. However, a diverse team of physicists and biophysicists from the University of Groningen found that individual light-harvesting nanotubes with disordered molecular structures…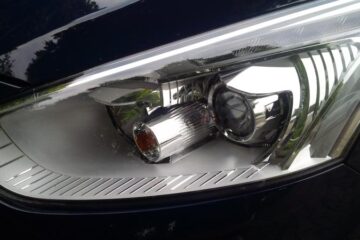 RadarGlass – from vehicle headlight to radar transceiver
As a result of modern Advanced Driver Assistance Systems, the use of radar technology has become indispensable for the automotive sector. With the installation of a large and growing number…