All Ecosystems Equally Productive Under Drought Conditions
Under drought conditions, tropical forests can be as efficient at using water as desert ecosystems, researchers report
When push comes to shove, all ecosystems have the same maximum rain-use efficiency, a measure of total plant growth per unit of precipitation.
The finding indicates there's an upper limit to ecosystems' productivity, said Travis E. Huxman, a plant physiological ecologist at the University of Arizona in Tucson. He and a team of researchers calculated the upper limit, which they call RUEmax (maximum rain-use efficiency).
Life depends on the productivity of plants, Huxman pointed out, adding, "RUEmax defines the limits of that production."
However, the research indicates that under drought conditions, high-productivity systems like grasslands and forests grow even less than expected. Most of the climate-change scenarios for the next century predict an increase in extreme events, including more droughts.
Huxman said, "We originally expected drought to impact grasslands to some degree, but this finding says that if we get extreme variability, there will be even less plant growth than we originally thought."
Huxman, first author of the research report, led the research team along with Melinda D. Smith of Yale University. The team's article, "Convergence across biomes to a common rain-use efficiency," will be published in the June 10 issue of the journal Nature. A complete list of authors and their affiliations is at the end of this article.
The work sheds light on what Huxman called "one of the oldest ecological questions on the face of the planet: how does water affect how an ecosystem works?"
Although it seems a simple question, it turns out to be a toughie, he said. "My wife can answer it for her garden, but you can't take the information that my wife knows for her garden and apply it to many different biomes around the world."
In the early 1970s, ecologists tried to answer the question by fanning out over the globe and by taking lots and lots of ecological measurements in a variety of ecosystems during a single year. The project, called the International Biological Program (IBP), couldn't answer that fundamental question: ecologists realized that they needed data collected in many different ecosystems over many years.
But one outcome of IBP was the establishment of many long-term study sites, including the network of Long-Term Ecological Research sites maintained by the National Science Foundation.The study sites represent a range of the world's biomes, from the Mojave desert in Nevada to the wet tropical forest of Panama's Barro Colorado Island to cold grass-shrub steppe of Patagonia in Argentina. Year after year, researchers at those sites collect data on the annual precipitation and annual total plant growth.
Fourteen of the sites had at least six years of such growth and precipitation data. So Huxman and his colleagues finally had the information needed to answer the question of how water affects various ecosystems.
Team member Michael Loik of the University of California, Santa Cruz, spearheaded the effort to win the funding for a series of workshops held at the National Center for Ecological Analysis and Synthesis at the University of California, Santa Barbara.
At the workshops, the scientists studied and analyzed the data.
What they found surprised them.
One hypothesis was that ecosystems that have great variabilty in precipitation, such as grasslands, would be the most responsive to rainfall. More predictable regions, such as deserts or wet tropical forests, would not respond much to variations in precipitation.
Not so. The low-precipitation regions such as deserts were much more sensitive to changes in precipitation than the group expected.
Moreover, the team found that in drought conditions, all ecosystems were equally productive.
"That's kind of shocking," Huxman said. "In a drought year, Harvard Forest is as efficient at using water as the most arid desert is all the time."
The finding has implications for how various ecosystems will behave under future climate change, he said.
Huxman said, "For any ecosystem, if rain falls below historical minimums, our model predicts pretty substantial reductions in productivity."
Plants won't buffer the effect of climate change on ecosystems, but rather exacerbate it, making the world a more uncertain place, he said.
"There's enhanced variability in ecosystem processes with increased variability in precipitation," Huxman said.
He said the finding suggests that ecologists should be doing experiments to see how various types of ecosystems respond to different levels of precipitation. Huxman is doing so by simulating different-sized rain events on sites in southern Arizona and seeing how grassland and mesquite savanna ecosystems respond.
Huxman's coauthors on the June 10 Nature paper are Melinda D. Smith of Yale University; Philip A. Fay of the Natural Resources Research Institute, Duluth, Minn.; Alan K. Knapp of Colorado State University in Fort Collins; M. Rebecca Shaw of the Carnegie Institution of Washington in Stanford, Calif.; Michael E. Loik of the University of California, Santa Cruz; Stanley D. Smith of the University of Nevada, Las Vegas; David T. Tissue and John C. Zak of Texas Tech University in Lubbock; Jake F. Weltzin of the University of Tennessee in Knoxville; William T. Pockman of the University of New Mexico in Albuquerque; Osvaldo E. Sala of the University of Buenos Aires in Argentina; Brent M. Haddad of the University of California, Santa Cruz; John Harte of the University of California, Berkeley; George W. Koch of Northern Arizona University in Flagstaff; Susan Schwinning of Biosphere 2 Center, Columbia University, Oracle, Ariz.; Eric E. Small of the University of Colorado at Boulder; and David G. Williams of the University of Wyoming in Laramie. The research was funded by the National Science Foundation, the U.S. Department of Agriculture, the U.S. Department of Energy and the National Park Service.
Media Contact
Mari N. Jensen
University of Arizona
All latest news from the category: Ecology, The Environment and Conservation
This complex theme deals primarily with interactions between organisms and the environmental factors that impact them, but to a greater extent between individual inanimate environmental factors.
innovations-report offers informative reports and articles on topics such as climate protection, landscape conservation, ecological systems, wildlife and nature parks and ecosystem efficiency and balance.
Back to home
Newest articles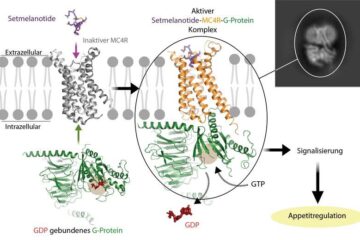 Hungry or full: It comes down to the atomic details
Insight into the molecular structure of an appetite-regulating cell receptor A protein – measuring just a few nanometers in size – acts as a molecular switch with a crucial role…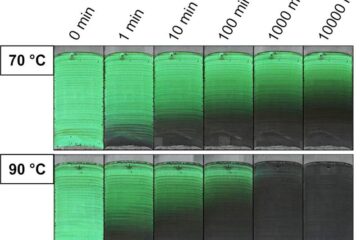 Artificial opals measure temperature and time
Researchers in Bayreuth discover novel sensors. Due to their iridescent colors, opals have been considered particularly precious gemstones since antiquity. The way these stones shimmer is caused by their nanostructures….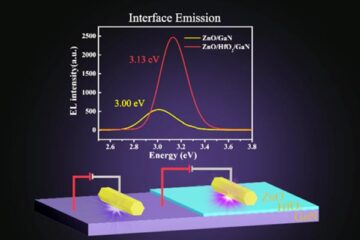 Ultrathin electronic barrier layer to control interface luminescence
In a new publication from Opto-Electronic Advances; DOI 10.29026/oea.2021.200064, Researchers led by Professor Xu Chunxiang, Southeast University, Nanjing, China discuss nano-buffer controlled electron tunneling to regulate heterojunctional interface emission. Light emitting…