Satellite Movie Shows U.S. Tornado Outbreak from Space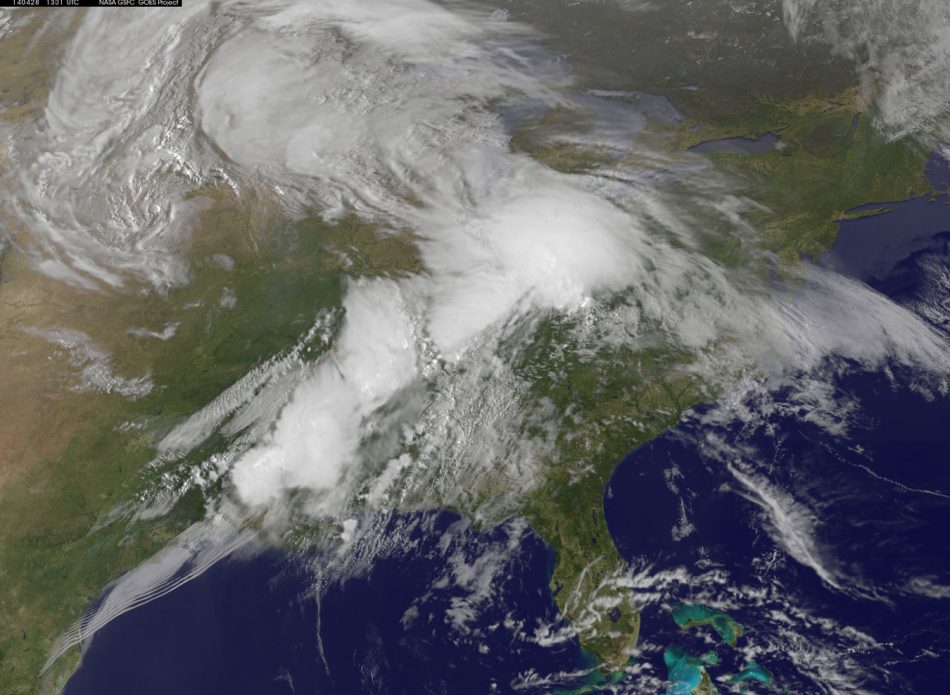 This storm system generated reports of tornadoes from Nebraska, Kansas, Iowa, Oklahoma, Arkansas, Louisiana, and Mississippi.
Coupled with local weather observations, soundings, and computer models, data from satellites like NOAA's Geostationary Operational Environmental Satellite or GOES-East (also known as GOES-13) gives forecasters information about developing weather situations. In real-time, the NOAA's GOES-East satellite data in animated form showed forecasters how the area of severe weather was developing and moving.
NOAA's GOES-East satellite sits in a fixed orbit in space capturing visible and infrared imagery of weather over the eastern U.S. and Atlantic Ocean. The GOES-East satellite is operated by the National Oceanic and Atmospheric Administration. NASA/NOAA's GOES Project at the NASA Goddard Space Flight Center in Greenbelt, Md. created the animation of GOES-East satellite data that covered the period during the tornado outbreak.
The GOES-East animation of visible and infrared imagery runs 31 seconds. The animation begins on April 27 at 00:15 UTC (April 26 at 8:15 p.m. EDT) and runs through April 28 at 14:15 UTC/10:15 a.m. EDT. By 14:45 UTC/10:45 a.m. EDT on April 27 the animation shows the squall line of thunderstorms developing.
To create the video and imagery, NASA/NOAA's GOES Project takes the cloud data from NOAA's GOES-East satellite and overlays it on a true-color image of land and ocean created by data from the Moderate Resolution Imaging Spectroradiometer (MODIS) instrument that flies aboard NASA's Aqua and Terra satellites. Together, those data created the entire picture of the storm system and show its movement.
A NASA satellite also captured an image of the storm, collecting infrared data on it as it passed overhead on April 27. At NASA's Jet Propulsion Laboratory (JPL) in Pasadena, Calif. a false-colored image was created of the storm system using data gathered by the Atmospheric Infrared Sounder (AIRS) instrument that flies aboard NASA's Aqua satellite on April 27 at 18:59 UTC (1:59 p.m. CDT). The AIRS image showed very cold cloud top temperatures indicating that the thunderstorms had strong uplift that pushed cloud tops to the top of the troposphere. Some of those thunderstorms had cloud tops as cold as 200 kelvin (-99.6 F/-73.1C). Temperatures drop to just under 220 degrees kelvin at the top of the troposphere (and where the tropopause begins).
"AIRS data shows spatial extent of strong convection [rapidly rising air that condenses and forms clouds] in the slow-moving severe storm system that spawned tornadoes in Arkansas, Oklahoma and Iowa," said Ed Olsen, creator of the AIRS image at NASA JPL. The AIRS image showed the thunderstorms with coldest cloud top temperatures stretched from eastern Nebraska, through western Iowa, western Missouri, northern Arkansas and southeast into northern Mississippi and Alabama.
According to the Examiner.com, the National Weather Service's Storm Prediction Center counted 31 tornadoes on Sunday, April 27, however, that number is being refined as reports are analyzed.    
CBS News reported that one tornado touched down 10 miles west of Little Rock, Arkansas around 7 p.m. CDT (at around 22:02 UTC in the GOES animation) and stayed on the ground for about 80 miles passing near several suburbs north of the city. That tornado was reported to be one-half mile wide.
The same system that spawned these tornadoes is expected to bring the possibility for severe weather further east on April 28 from Cincinnati, Ohio to New Orleans, La. For more information about current risks for severe weather, visit NOAA's Storm Prediction Center at: http://www.spc.noaa.gov.
GOES satellites provide the kind of continuous monitoring necessary for intensive data analysis. Geostationary describes an orbit in which a satellite is always in the same position with respect to the rotating Earth. This allows GOES to hover continuously over one position on Earth's surface, appearing stationary. As a result, GOES provide a constant vigil for the atmospheric "triggers" for severe weather conditions such as tornadoes, flash floods, hail storms and hurricanes.
To download the GOES animation:  http://goes.gsfc.nasa.gov/pub/goes/QTmovies/140427-8_tornados.mov
For updated information about the storm system, visit NOAA's NWS website:  www.weather.gov
For more information about GOES satellites, visit: www.goes.noaa.gov/ or goes.gsfc.nasa.gov/
---
Following is a list of (preliminary) tornado reports from NOAA's Storm Prediction Center for April 27, 2014 (1200 UTC – 1159 UTC)
Time             Location        County          State            Lat     Lon     Comments
1929             1 N UPLAND           FRANKLIN    NE      4033   9890   TORNADO ON THE GROUND FROM ABOUT 226 TO 229. (GID)
2000             1 N FLORIS DAVIS          IA                 4088   9233   OBSERVER SAW A BRIEF TOUCHDOWN IN A FIELD. THERE WAS NO DAMAGE. (DMX)
2000             LOVILIA       MONROE     IA                 4114   9291   TORNADO TOUCHDOWN OBSERVED. HOUSE ROOFS TORN OFF. TREES SNAPPED OFF. (DMX)
2012             1 N FLORIS DAVIS          IA                 4088   9233   OBSERVER REPORTS GUSTNADO AT 312 PM JUST AHEAD OF STORM ARRIVAL. DIRT KICKED UP IN FIELD PRIOR TO HEAVY RAIN. (DMX)
2141             2 NE MOUNT VERNON     LINN   IA       4194   9140   SPOTTERS REPORTED TORNADO ON GROUND NEAR LINN RIDGE ROAD AND HIGHWAY 1. IT WAS LIFTING BACK UP BY 442 PM. RELAYED BY EMERGENCY MANAGEMENT. (DVN)
2142             5 N BRADSHAW     YORK           NE      4096   9775   BRIEF TOUCHDOWN NEAR INTERSECTION OF ROADS 18/H THAT LASTED FOR 30-45 SECONDS. WILL PROVIDE VIDEO FOR VERIFICATION. NICKLE HAIL ONGOING AT 448 PM. (GID)
2142             SPRINGVILLE        LINN   IA                 4206   9144   TORNADO TOUCHDOWN JUST SOUTH OF SPRINGVILLE. (DVN)
2218             5 W OSCEOLA       POLK           NE                4118   9764   BRIEF TOUCHDOWN LASTED APPROXIMATELY 1 MINUTE. VISUAL CONFIRMATION VIA LIVE STREAM. (GID)
2218             8 WNW OSCEOLA POLK           NE                4122   9769   THIS IS A CORRECTED … APPROXIMATE TORNADO LOCATION BASED ON STORM CHASER VIDEO AND RADAR DATA THAT SHOWS TORNADO WEST OF HIGHWAY 39. BRIEF TOUCHDOWN LASTED APPROXIMATEL (GID)
2232             QUAPAW     OTTAWA      OK               3695   9479   FIRE STATION DESTROYED. NORTH END OF TOWN SUSTAINED HEAVY DAMAGE. (TSA)
2239             BAXTER SPRINGS CHEROKEE KS      3702   9474   *** 25 INJ *** A TORNADO DAMAGED OR DESTROYED NUMEROUS HOMES AND SEVERAL BUILDINGS IN DOWNTOWN BAXTER SPRINGS. EMERGENCY MANAGEMENT REPORTED 25 INJURIES WITH 9 OF THOSE (SGF)
2240             HAMMOND   BOURBON   KS                3794   9469   A TORNADO PRODUCED AN INTERMITTENT DAMAGE PATH TO THE NORTHEAST OF HAMMOND AFTER DAMAGING A GRAIN ELEVATOR AND OVERTURNING A RAIL CAR. (SGF)
2249             3 ESE PRESCOTT LINN   KS                3804   9465   TORNADO SEEN FROM VIDEO SHOT BY BROADCAST MEDIA. (EAX)
2259             5 ENE MARKS        QUITMAN     MS     3428   9019   TORNADO REPORTED MOVING FROM QUITMAN COUNTY INTO PANOLA COUNTY NEAR HOOD ROAD. WAS MOVING INTO FORESTED AREA. (MEG)
2300             3 WNW HUME        LINN   KS                3811   9463   TORNADO WAS STILL ONGOING AT THIS TIME BUT BEGINNING TO ROPE OUT PER BROADCAST MEDIA VIDEO. (EAX)
0025             ROLAND      PULASKI      AR                3490   9250   TORNADO IS REPORTED ON THE GROUND … AND CONFIRMED BY STATE POLICE. (LZK)
0034             1 SE MAYFLOWER FAULKNER AR      3496   9241   TORNADO HAS CROSSED INTERSTATE 40 AT MILE MARKER 140. SPOTTER ESTIMATED HALF A MILE WIDE. (LZK)
0039             SALTILLO     FAULKNER   AR                3503   9233   SEVERAL HOUSES DAMAGED IN SALTILLO. (LZK)
0042             2 E MAYFLOWER   FAULKNER   AR      3497   9238   ARKANSAS GAME AND FISH HEADQUARTERS EAST OF MAYFLOWER HAS BEEN HEAVILY DAMAGED. (LZK)
0050             VILONIA       FAULKNER   AR                3508   9221   NUMEROUS HOUSES AND FAST FOOD RESTAURANT DAMAGED … ALONG WITH NUMEROUS TREES DOWN. (LZK)
0050             DENMARK    WHITE         AR                3548   9158   STATE POLICE ARE REPORTING A TORNADO AT DENMARK. (LZK)
0050             PLEASANT PLAINS          INDEPENDENCE    AR      3555   9163          THERE IS A REPORT OF A TORNADO JUST SOUTHEAST OF PLEASANT PLAINS. (LZK)
0101             1 N EL PASO          WHITE         AR      3513   9208   STORM SPOTTERS HAVE CONFIRMED TORNADO AT HIGHWAY 64 AND HIGHWAY 5. (LZK)
0120             6 W SEARCY          WHITE         AR      3524   9184   HOUSE WAS DAMAGED ON BLOODWORTH ROAD. A POWER LINE WAS DOWN ON TANNER ROAD. NUMEROUS TREES WERE UPROOTED. (LZK)
0135             STEPROCK WHITE         AR                3543   9169   TIN ON THE GROUND AND POWER LINES DOWN. (LZK)
0150             DENMARK    WHITE         AR                3548   9158   STATE POLICE ARE REPORTING A TORNADO AT DENMARK. (LZK)
0150             PLEASANT PLAINS, INDEPENDENCE   AR      3555   9163   THERE IS A REPORT OF A TORNADO JUST SOUTHEAST OF PLEASANT PLAINS. (LZK)
0205             MACKS        JACKSON     AR                3562   9137   A TORNADO IS REPORTED NEAR MACKS. (LZK)
0205             3 E OIL TROUGH INDEPENDENCE      AR      3563   9141   POWER LINES WERE DOWNED A FEW MILES EAST OF OIL TROUGH. (LZK)
0210             JACKSONPORT     JACKSON     AR      3564   9131   A TORNADO WAS REPORTED AT JACKSONPORT. (LZK)
0224             3 W CAMPBELL STATION JACKSON    AR      3567   9131   SHERIFF HAS THREE DEPUTIES REPORTED TORNADO ON THE GROUND ON HIGHWAY 17. (LZK)
0813             5 ENE HOSSTON   BOSSIER     LA      3291   9381   *** 1 INJ *** HOME DAMAGED ON BUCKSHOT RD (SHV)
Alle Nachrichten aus der Kategorie: Earth Sciences
Earth Sciences (also referred to as Geosciences), which deals with basic issues surrounding our planet, plays a vital role in the area of energy and raw materials supply.
Earth Sciences comprises subjects such as geology, geography, geological informatics, paleontology, mineralogy, petrography, crystallography, geophysics, geodesy, glaciology, cartography, photogrammetry, meteorology and seismology, early-warning systems, earthquake research and polar research.
Zurück zur Startseite
Neueste Beiträge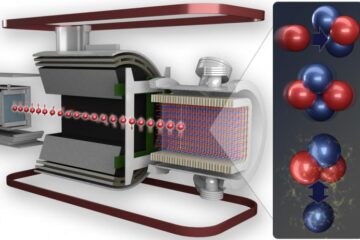 Scientists achieve higher precision weak force measurement between protons, neutrons
Through a one-of-a-kind experiment at the Department of Energy's Oak Ridge National Laboratory, nuclear physicists have precisely measured the weak interaction between protons and neutrons. The result quantifies the weak…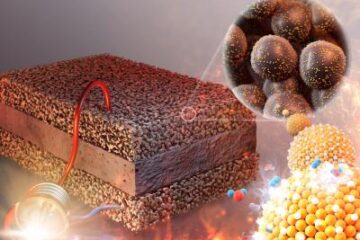 High-performance single-atom catalysts for high-temperature fuel cells
Individual Pt atoms participate in catalytic reaction to faciitate the electrode process by up to 10 times. Single-atom Pt catalysts are stable at 700 degrees Celsius and expected to stimulate…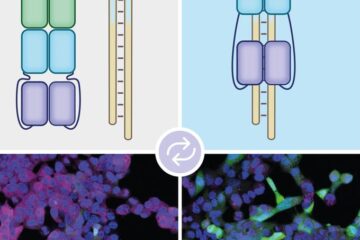 New method allows precise gene control by light
A novel optical switch makes it possible to precisely control the lifespan of genetic "copies". These are used by the cell as building instructions for the production of proteins. The…