The Science Of Ball Lightning
A spectacular phenomenon
This theme issue of Philosophical Transactions A (a Royal Society journal) deals with the phenomenon of ball lightning, a rarely seen and slow-moving luminous phenomenon usually associated with thunderstorms. A collection of previously unpublished sightings is presented, including close-up encounters describing the detailed internal structure of the balls. Many of these observations are from scientifically or technically trained people, probably doubling the number of such observations available in the literature.
A particularly spectacular image of a 100 metre diameter ball observed over five minutes at night in the Australian outback is presented and available for media use.
In addition, for the first time, sufficient believable evidence from a number of high energy observations has been put together to demonstrate that ball lightning, distinctly uncoupled from any normal lightning, can be energetic enough to boil away large quantities of water.
Competing theories
The issue goes on to focus on theories to explain the phenomena; theories where the energy of the ball is tapped from the electricity of a storm and stored by chemical means to be released during the lifetime of the ball.
The issue is edited by Dr. John Abrahamson of Canterbury University in New Zealand. "Different but strongly held theories of ball lightning are a feature of this theme collection," says Dr. Abrahamson. "All can relate to the wide range of properties ascribed to ball lightning and make stimulating reading. The three main theorists, all who have also done experimental work, are David Turner (an English physical chemist based in the US), Vladimir Bychkov (a Russian physicist based in Moscow) and myself (a chemical engineer). We have all seen each other`s contributions and have commented on them to each other, with the comments sometimes inserted into the papers in this collection. This critical confrontation has forced us all to broaden our thinking and some new insights have come up in the process."
The different models presented consider hydrated ions/ water droplets, polymer threads and metal nanoparticle chains as components of ball lightning. The corresponding energy releases are through ion reactions, surface electrical discharge, and surface oxidation of metal nanoparticles.
Discussed separately are a limited number of balls which showed high energy impact on their surroundings – above that traditionally expected from chemical energy storage. These observations and others where ball lightning passed through walls and window glass have been given new interpretations consistent with the nanoparticle model. This metal oxidation model also relates closely to recently made self-heating luminous metal materials with fine porous structure, which are the topic of one of the papers.
A penetration of ball lightning into flesh with metal particle oxidation may be the explanation for observed charred limbs, and also a potential explanation for the weird "human combustion" phenomenon.
Make your own `ball lightning`
Small bodies (less than 10 mm diameter) with the properties of ball lightning can be routinely made in the laboratory. Careful laboratory observations of these from lightning-like discharges confined within eroding walls are presented. These discharges reproducibly produce freely floating and bouncing small plasmodial balls with many of the properties seen with natural ball lightning.
"The experimental work described in this issue indicate that some of the conditions necessary for production of ball lightning are understood," concludes Dr. Abrahamson. "But larger `natural-sized` laboratory examples are still being sought. I, like the other authors in this collection, am frustrated at not being able to reproduce the full phenomenon in the lab, realising that this is the acid test of any theory. In spite of this, we all regard our theories as explaining most, if not all, natural ball lightning observations, in sometimes conflicting ways!"
Media Contact
Tim Reynolds
alphagalileo
All latest news from the category: Earth Sciences
Earth Sciences (also referred to as Geosciences), which deals with basic issues surrounding our planet, plays a vital role in the area of energy and raw materials supply.
Earth Sciences comprises subjects such as geology, geography, geological informatics, paleontology, mineralogy, petrography, crystallography, geophysics, geodesy, glaciology, cartography, photogrammetry, meteorology and seismology, early-warning systems, earthquake research and polar research.
Back to home
Newest articles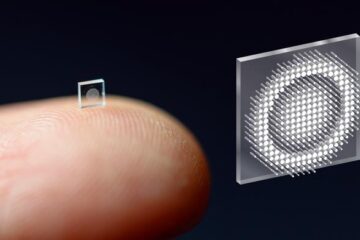 Researchers shrink camera to the size of a salt grain
Micro-sized cameras have great potential to spot problems in the human body and enable sensing for super-small robots, but past approaches captured fuzzy, distorted images with limited fields of view….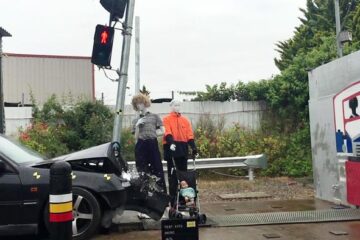 World-first product will be a lifesaving traffic stopper
Game-changing technology to design traffic lights that absorb kinetic energy, stopping them from crumpling when hit by a vehicle, will prevent thousands of fatalities and injuries each year and make…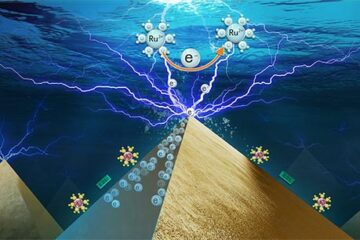 Scientists capture electron transfer image in electrocatalysis process
The involvement between electron transfer (ET) and catalytic reaction at electrocatalyst surface makes electrochemical process challenging to understand and control. How to experimentally determine ET process occurring at nanoscale is…