NASA research shows heavy smoke 'chokes' clouds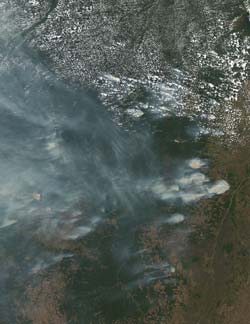 Using data from NASA's Aqua satellite, agency scientists found heavy smoke from burning vegetation inhibits cloud formation. The research suggests the cooling of global climate by pollutant particles, called "aerosols," may be smaller than previously estimated.
During the August-October 2002 burning season in South America's Amazon River basin, scientists observed cloud cover decreased from about 40 percent in clean-air conditions to zero in smoky air.
Until recently, scientists thought aerosols such as smoke particles mainly served to cool the planet by shading the surface, either directly, by reflecting sunlight back toward space, or indirectly, by making clouds more reflective. Certain aerosols make clouds' droplets smaller and more numerous, thereby making the clouds more reflective while reducing the amount of sunlight reaching the surface.
However, this new study proves smoke aerosols have a "semi-direct" effect on climate, causing a reduction in cloud cover and warming the surface. In the morning, smoke absorbs incoming solar radiation and heats the atmosphere while cooling the surface. Since there is less upward transport of warmth and moisture in such conditions, clouds are less likely to form. Then, in the afternoon, since there is less cloud cover, more sunlight passes through the atmosphere and warms the surface.
"This instantaneous warming is important and can dramatically affect the people and the Amazonian ecosystem," said Ilan Koren, research scientist at NASA's Goddard Space Flight Center in Greenbelt, Md.
Koren is lead author of a paper in the current issue of Science. Using Aqua data, Koren and his NASA co-authors measured the total amount of light reflected through the top of the atmosphere. From those data they determined how much area was covered by clouds and how much by smoke. They also estimated the smoke's "optical thickness," a measure of how much sunlight the smoke prevented from traveling down through a column of atmosphere.
The team found the smoke and clouds together would ordinarily reflect solar energy equal to one 28-watt light bulb per square meter back up into space (i.e., a cooling effect). With the reduction in cloud cover, however, solar energy equal to one eight-watt light bulb per square meter is absorbed within Earth's climate system (i.e., a warming effect).
The team consulted other weather data to make sure the differences in cloud patterns were not due to regional differences in meteorology. Once team members proved the meteorological conditions were the same in the smoky regions as they were in the cloudy regions, they knew the smoke had to be the reason average cloud cover dropped from 40 percent to zero in the presence of heavy smoke.
"We used to think of smoke mainly as a reflector, reflecting sunlight back to space, but here we show that, due to absorption, it chokes off cloud formation," Koren said.
According to Koren, smoke inhibition of cloud formation is not unique to the Amazon area. His team has seen similar examples in other parts of the world, including over parts of Africa during the burning season, and over Canada during major boreal forest wildfires. When added up over the entire globe, the warming influence of smoke and other absorbing aerosols suggests the global cooling influence of these particles is much smaller than current models predict.
Smoke and aerosol inhibition of cloud formation was first proposed in two previous NASA studies based upon results of computer model experiments. However, this study documents the first time this effect of smoke on clouds has been measured in Earth's environment. The research was funded by NASA's Earth Science Enterprise. The Enterprise is dedicated to understanding the Earth as an integrated system and applying Earth system science to improve predication of climate, weather and natural hazards using the unique vantage point of space.
Alle Nachrichten aus der Kategorie: Earth Sciences
Earth Sciences (also referred to as Geosciences), which deals with basic issues surrounding our planet, plays a vital role in the area of energy and raw materials supply.
Earth Sciences comprises subjects such as geology, geography, geological informatics, paleontology, mineralogy, petrography, crystallography, geophysics, geodesy, glaciology, cartography, photogrammetry, meteorology and seismology, early-warning systems, earthquake research and polar research.
Zurück zur Startseite
Neueste Beiträge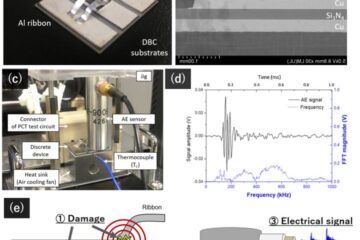 Detecting early-stage failure in electric power conversion devices
Researchers from Osaka University use non-destructive acoustic monitoring to identify the earliest stages of failure in silicon carbide power electronics, which will help in the design of more-durable power devices….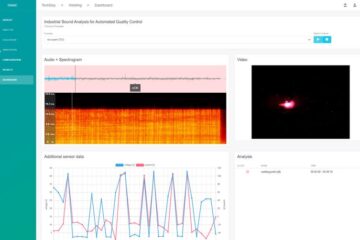 Build your own AI with ISAAC for error detection in production
Fraunhofer IDMT has developed a software tool for quality inspectors based on Artificial Intelligence (AI), which automates and simplifies the analysis of industrial sounds, for example in welding processes. Thanks…
BEAT-COVID – advanced therapy strategies against the pandemic
The present SARS-coronavirus-2 pandemic with all its effects on society – both health and economic – highlights the urgency of developing new therapies for COVID-19 treatment. At the same time,…