Ph.D. student develops spinning heat shield for future spacecraft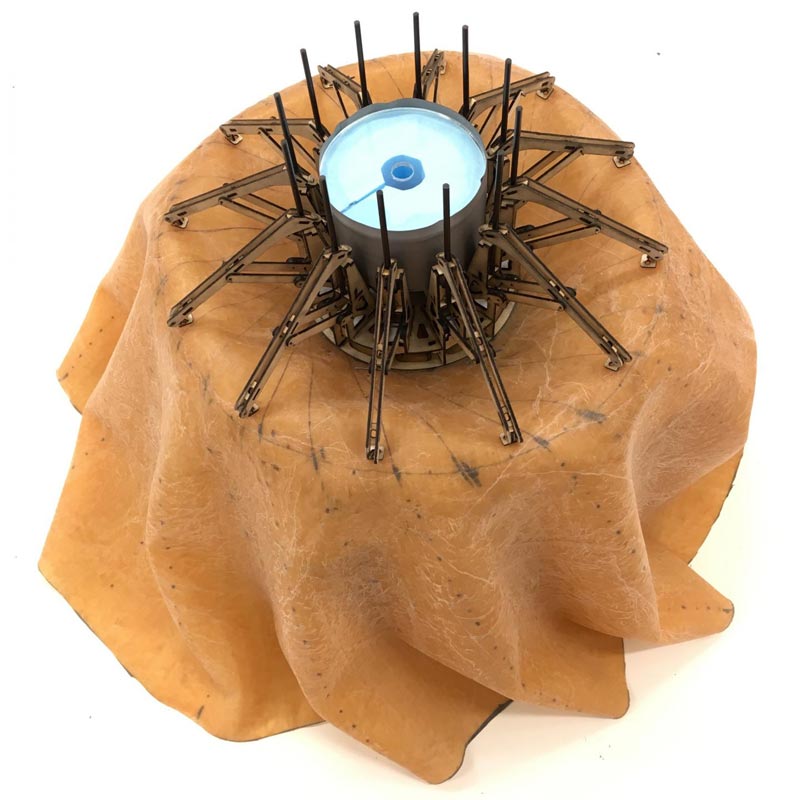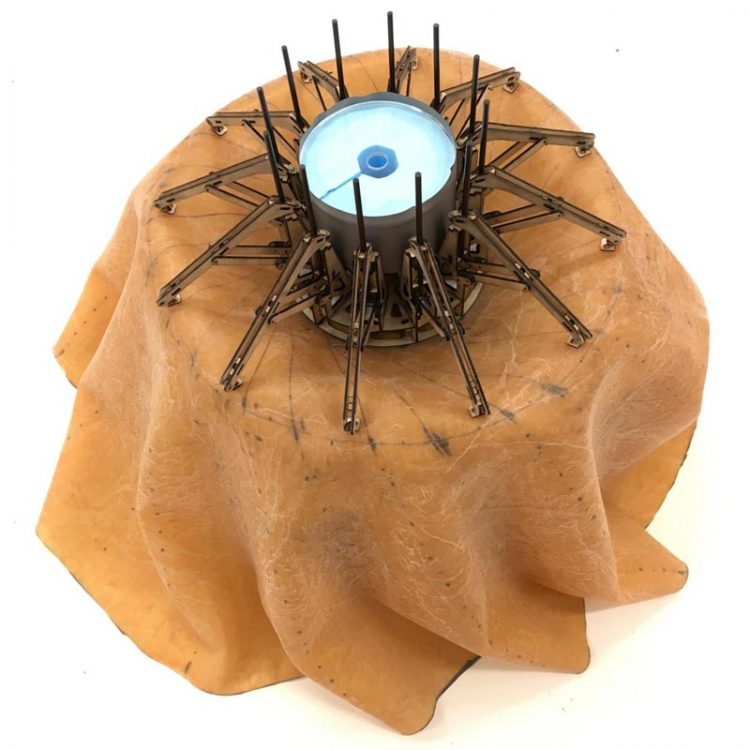 Heat shields are essentially used as the brakes to stop spacecraft burning up and crashing on entry and re-entry into a planet's atmosphere. This design is the first in the world to utilise centrifugal forces that stiffen lightweight materials to prevent burnup.
Current spacecraft heat shield methods include huge inflatables and mechanically deployed structures that are often heavy and complicated to use.
Rui Wu, from Manchester's School of Mechanical, Aerospace and Civil Engineering, says as well as being lightweight in design is prototype is also "self-regulating". This means there is no need for any additional machinery, reducing the weight of spacecraft even further and allowing for low-cost scientific research and recovery of rocket parts.
He says: "Spacecraft for future missions must be larger and heavier than ever before, meaning that heat shields will become increasingly too large to manage."
To address this demand Wu and his team have developed a flexible heat shield that is shaped like a skirt and spins like a sycamore seed. Planets with atmospheres, such as Earth and Mars, allow spacecraft to utilise aerodynamic drag to slow down and the prototype's design uses this to enable atmospheric entry.
"This is similar to high board diving, where the drag from water decelerates your body before you reach the bottom of the swimming pool," Wu explains.
The fast entry into Earth's atmosphere generates so much heat – over 10,000 ?C – that the air around the spacecraft can burn into plasma. For safe atmospheric entry, spacecraft need a front end, or shield, that tolerates high heat as well as an aerodynamic shape that generates drag.
However, Unlike Earth, the Martian atmosphere is very thin. "If Earth re-entry is like diving into thick honey, Mars entry would be like diving into water," Wu says.
To carry heavy equipment and astronauts, a high drag area is needed. When entering Earth's or Mars' atmospheres, spacecraft require highly designed shields to avoid burnup, generate drag, and support heavy loads.
Wu's design potentially solves both issues.
The prototype is made of a flexible material that allows for easy storage on board spacecraft. This material, while foldable, is strong and has a high temperature tolerance.
The shield is also stitched along a special pattern that allows it to spin up during flight, inducing centrifugal force.
Wu sees his design helping with space-based scientific research and rescue missions in the future. He adds: "More and more research is being conducted in space, but this is usually very expensive and the equipment has to share a ride with other vehicles.
"Since this prototype is lightweight and flexible enough for use on smaller satellites, research could be made easier and cheaper. The heat shield would also help save cost in recovery missions, as its high induced drag reduces the amount of fuel burned upon re-entry."
###
Notes to Editor
For media enquiries please contact Jordan Kenny on 0161 275 8257 or jordan.kenny@manchester.ac.uk
Download images https://www.dropbox.com/s/z0nhs21rkn5nmxb/photos_27Jul.zip?dl=0
Videos
* Raw on-board video: https://www.youtube.com/watch?v=L5cmUipPwm8
* Computer processed onboard video: https://www.youtube.com/watch?v=OHpOBQcd6dA
* Another test video: https://youtu.be/9UFUBVUvVEc
* A preliminary demonstrator for a mechanically deployed 1st stage, which unpacks the shield and enlarge the initial diameter to assist deployment: https://www.youtube.com/watch?v=XsMM1L9nss0
Reference: The paper 'Flexible heat shields deployed by centrifugal force the journal was published in the journal Acta Astronautica Rui Wua, Peter C.E.Roberts a Constantinos Soutis (b) Carl Diver (a) School of Mechanical, Aerospace and Civil Engineering, UK
(b) The University of Manchester Aerospace Research Institute, UK https://doi.org/10.1016/j.actaastro.2018.06.021
About The University of Manchester
The University of Manchester, a member of the prestigious Russell Group, is the UK's largest single-site university with more than 40,000 students – including more than 10,000 from overseas.It is consistently ranked among the world's elite for graduate employability.
The University is also one of the country's major research institutions, rated fifth in the UK in terms of 'research power' (REF 2014). World-class research is carried out across a diverse range of fields including cancer, advanced materials, global inequalities, energy and industrial biotechnology.
No fewer than 25 Nobel laureates have either worked or studied here.
It is the only UK university to have social responsibility among its core strategic objectives, with staff and students alike dedicated to making a positive difference in communities around the world.
Manchester is ranked 29th in the world in the QS World University Rankings 2018 and 6th in the UK.
Visit http://www.manchester.ac.uk for further information.
Facts and figures: http://www.manchester.ac.uk/discover/facts-figures/
Research Beacons: http://www.manchester.ac.uk/research/beacons/
News and media contacts: http://www.manchester.ac.uk/discover/news/
All latest news from the category: Physics and Astronomy
This area deals with the fundamental laws and building blocks of nature and how they interact, the properties and the behavior of matter, and research into space and time and their structures.
innovations-report provides in-depth reports and articles on subjects such as astrophysics, laser technologies, nuclear, quantum, particle and solid-state physics, nanotechnologies, planetary research and findings (Mars, Venus) and developments related to the Hubble Telescope.
Back to home
Newest articles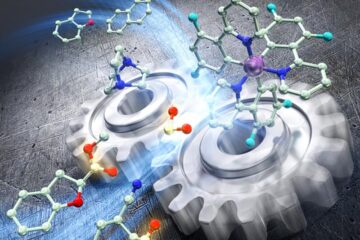 It takes two: cooperating catalysts provide new route for utilizing formate salts
Two catalysts working in tandem enable inexpensive formate salts to perform difficult dearomative reactions, giving products potentially useful for drug development. Researchers at the Institute for Chemical Reaction Design and…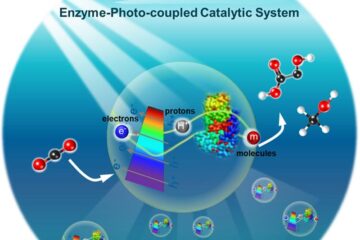 Molecule-electron-proton transfer in enzyme-photo-coupled catalytic system
The harmonious coexistence between the human society and the nature has prompted the rapid development of advanced manufacturing. Typically, green biomanufacturing, which uses renewable resources as raw materials and enzymes…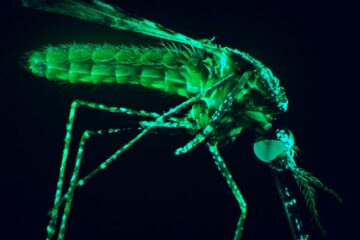 Funding backs world-first test to detect 'insidious' malaria infections
Research to develop and deploy a world-first diagnostic test that could accelerate malaria eradication has been bolstered with over $1.3 million in new funding from the National Health and Medical…