Astronomers Create Array of Earth-Like Planet Models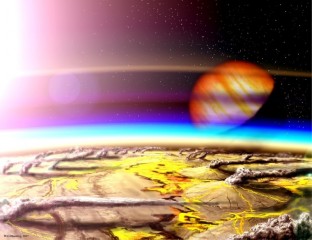 "Depending on the intensity, ultraviolet radiation can be both useful and harmful to the origin of life," says Lisa Kaltenegger, Cornell associate professor of astronomy and the director of Cornell's new Carl Sagan Institute: Pale Blue Dot and Beyond. "We are trying to ascertain how much radiation other young Earths would get and what that could mean for the possibility for life."
The study, "UV Surface Environment of Earth-like Planets Orbiting FGKM Stars Through Geological Evolution," was prepared by lead author Sarah Rugheimer, Cornell research associate at the Carl Sagan Institute; Antigona Segura of Universidad Nacional Autonoma de Mexico; Dimitar Sasselov of the Harvard Smithsonian Center for Astrophysics; and Kaltenegger.
"We're going to see all kinds of planets in all kinds of stages in their own evolution, but we wanted to take four kinds of epochs from Earth history, as samples of what we might see," said Rugheimer. "With the next generation of missions, we expect to observe a wide diversity of extrasolar planets."
Borrowing from deep into Earth's history, Rugheimer and co-authors modeled the first epoch, a pre-biotic world with a carbon dioxide-dominated atmosphere, similar to early Earth 3.9 billion years ago. The second epoch – about 2 billion years ago – spawned the first whiff of oxygen, an active biosphere and the process of biosynthesis. Oxygen started to rise from the first cyanobacteria to the 1 percent concentration of current levels.
"It's not just the amount of ultraviolet radiation, but also the specific types of ultraviolet radiation which will impact biology," Rugheimer said. "We consider which wavelengths are most damaging to DNA and other biomolecules in addition to just looking at the total amount of radiation."
Multicellular life started about 800 million years ago, and the group modeled a third epoch, where oxygen rose to about 10 percent of today's levels. The fourth epoch corresponds to modern Earth, where the atmosphere features a carbon dioxide ratio of about 355 parts per million with current oxygen levels.
The researchers noted that for all epochs after the rise of oxygen the hottest and coolest stars have less biologically effective radiation. For the hottest stars, this is due to increased ozone shielding from higher UV environments, and for the coolest stars this is due to less absolute UV flux.
Rugheimer, who conducted the research while she was a doctoral student at Harvard University, explained that astrobiology draws researchers across disciplines and noted: "This work provides a link from the astrophysical conditions we expect to find on other planets to the origin-of-life experiments happening on here on Earth."
The Simons Foundation provided funding for this research.
Cornell University has television, ISDN and dedicated Skype/Google+ Hangout studios available for media interviews.
Contact Information
Melissa Osgood
Media Relations Specialist
mmo59@cornell.edu
Phone: 607-255-2059
Mobile: 716-860-0587
Alle Nachrichten aus der Kategorie: Physics and Astronomy
This area deals with the fundamental laws and building blocks of nature and how they interact, the properties and the behavior of matter, and research into space and time and their structures.
innovations-report provides in-depth reports and articles on subjects such as astrophysics, laser technologies, nuclear, quantum, particle and solid-state physics, nanotechnologies, planetary research and findings (Mars, Venus) and developments related to the Hubble Telescope.
Zurück zur Startseite
Neueste Beiträge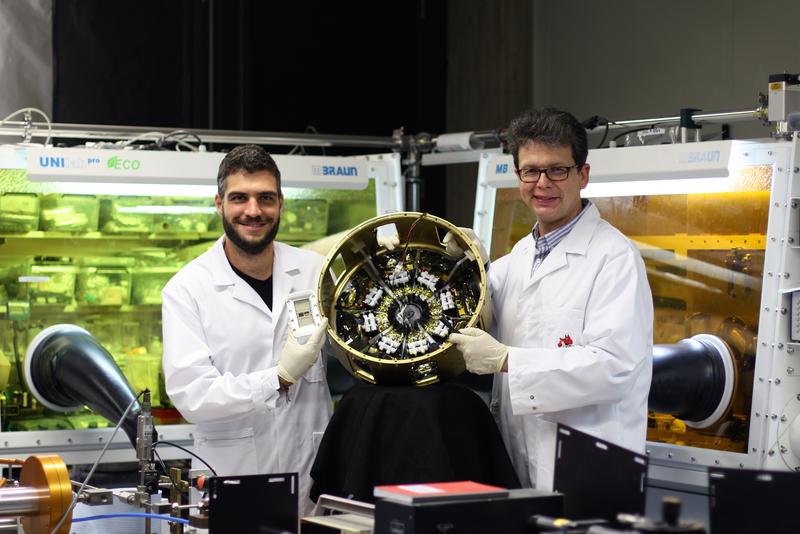 New solar cells for space
Almost all satellites are powered by solar cells – but solar cells are heavy. While conventional high-performance cells reach up to three watts of electricity per gram, perovskite and organic…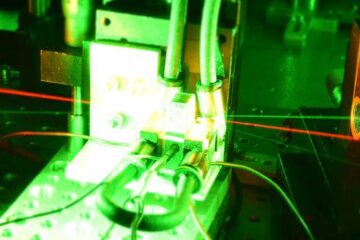 Development of a novel membrane laser module for spectral measurement methods
The Fraunhofer Institute for Applied Solid State Physics IAF has partnered up with the start-up "Twenty-One Semiconductors" (21s) from Stuttgart to bring their unique laser concept from lab to practice….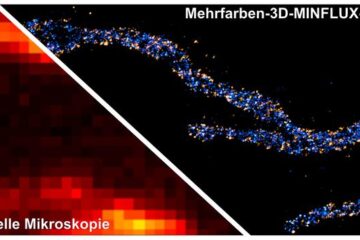 Dissecting protein assemblies
Super-resolution MINFLUX nanoscopy, developed by Nobel laureate Stefan Hell and his team, is able to discern fluorescent molecules that are only a few nanometers apart. In an initial application of…