New from Leica Microsystems – the World's Most Compact Neurosurgical Microscope with Horizontal Optics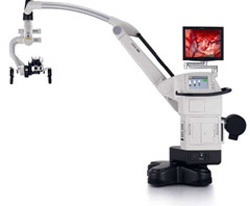 Whatever the position of the patient, even sitting upright, operations can be performed without arm, back or neck strain. The microscope allows hours of fatigue-free work.
A significant increase in working space with variable focus provides free access to the operating area, greater instrument maneuverability and an optimal view. The Leica M720 OH5 supports the surgeon as he works; he can see more and see better, work even more safely and generally benefit from the perfect ergonomics.
Individually adjustable components for optimal cooperation No two people are the same. Thanks to individually adjustable components, the Leica M720 surgical microscope provides optimal ergonomic conditions for concentrated and precise work and an excellent view. The two binocular tubes have a swivel range of 115° and feature the innovative butterfly techniq ue, which enables the eyepieces to be swung to a second viewing plane with a simple hand movement. If desired, the tube can be locked in one of five defined positions simply by pressing the ErgoLock™ button. This improves the ergonomics and the stability, which is a particular advantage when using a mouth switch. The microscope can therefore be matched optimally to both the surgeon and his assistant, irrespective of body height, position of the operating area or the microscope.
Fast, confident and precise focusing Thanks to the SpeedSpot™ feature, a simple hand movement focuses the microscope – there is no need to follow the movement through the eyepiece. If the two laser spots overlay, the surgeon can be sure of a razor-sharp image. As a focusing reference, SpeedSpot™ guarantees a brilliant image at all ports (surgeon, assistant, documentation).
Innovative optics combined with superb illumination
The Leica M720 OH5 surgical microscope ideally combines original Leica APO OptiChrome™ Optics and a 300 Watt xenon illumination system to give the surgeon a steady clear and sharply focused image for the entire duration of the operation.
As working distance decreases, the maximum possible light intensity value is reduced: The working distance-controlled BrightCare™ feature ensures that the light intensity does not surpass safety levels.
The magnification-controlled illumination diameter AutoIris™ automatically matches the illuminated area to the field of view. This prevents heating of tissue outside the surgeon's field of observation.
Mobile and modular – today and tomorrow The patented mobility concept of the Leica OH5 stand is based on the proven OH4 system. Thanks to its magnificent reach, it offers the surgeon and the whole operating team a level of maneuverability unattained by competitor products. The system is remarkable for its precise and harmonious balance of maneuverability and extremely easy movement.
Operating techniques change – who knows what the future may bring? Leica Microsystems' principle of OpenArchitecture™ and modular design provides the latitude for unforeseen adaptations and new accessories.
Leica M720 OH5 at a glance
· Leica APO OptiChrome™ optics with xenon illumination
· Ultra compact thanks to horizontal optics
· Increased working space
· Patented mobility concept and greatest overhead maneuverability
· Flexibility due to OpenArchitecture™
· Optional integrated digital video system
· AgProtect™ antimicrobial coating
Media Contact
Mylène Alt
Leica Microsystems (Schweiz) AG
All latest news from the category: Medical Engineering
The development of medical equipment, products and technical procedures is characterized by high research and development costs in a variety of fields related to the study of human medicine.
innovations-report provides informative and stimulating reports and articles on topics ranging from imaging processes, cell and tissue techniques, optical techniques, implants, orthopedic aids, clinical and medical office equipment, dialysis systems and x-ray/radiation monitoring devices to endoscopy, ultrasound, surgical techniques, and dental materials.
Back to home
Newest articles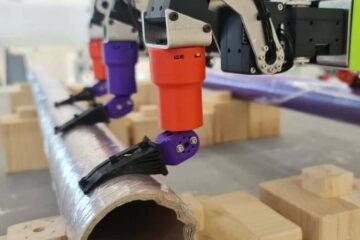 Insects help robots gain better grip
An international research team of biomechanics optimizes robotic movements inspired by insects. A whole generation of gripping robots has been developed using a design concept originally known from fish fins….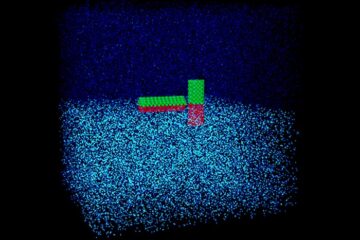 Simulations shed significant light on janus particles
Interfacial diffusion of nanoparticles strongly affected by their shape and surface coating. Named for a Roman god, Janus particles refer to nanoparticles that possess surfaces with two or more distinct…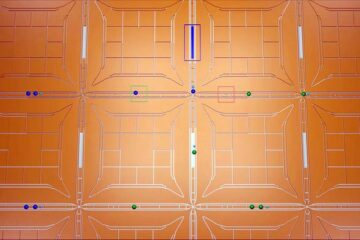 How big does your quantum computer need to be?
What size will a quantum computer need to be to break Bitcoin encryption or simulate molecules? Quantum computers are expected to be disruptive and potentially impact many industry sectors. So…