Scientists unraveling lice genome to halt blood-sucking pest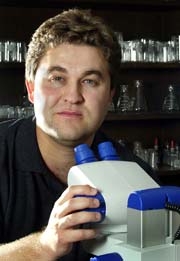 Research aimed at understanding how lice feed off humans may lead to new methods to control the blood-sucking pest that can transmit fatal diseases.
In the November issue of the journal Insect Biochemistry & Molecular Biology, Purdue and Harvard university researchers report finding lice genes that control the breakdown of their human blood meal into energy and waste. They also identified the first gene in lice that may impact the insects' ability to fight off bacterial infections. The study is currently on the journal's Web site.
"This research eventually may lead to long-term human health benefits for people throughout the world," said Barry Pittendrigh, assistant professor of entomology and senior author of the study. "We need to develop novel strategies for controlling these pests. Body lice raise significant health concerns in developing countries, and head lice afflict children in North America and elsewhere."
Previously only three genes for body and head lice had been described, said Pittendrigh, who also is associated with the Indiana Center for Insect Genomics (ICIG). The researchers screened 1,152 clones of lice genes.
"We found a defensin gene, which is most likely involved with the insect's immune response to bacterial infections, Pittendrigh said. "Additionally, we found several genes that make proteins, which may cause allergic responses in humans.
"If you have no gene sequences, it's very difficult to do the next level of experiments to understand interactions between lice and the host."
The scientists used frozen, ground up, engorged body lice to identify genes expressed in lice. Pittendrigh said current knowledge of the insects indicates that body lice and head lice are genetically similar.
The grain-of-rice sized adult body louse is six-legged and usually yellow to white in color. They are found most often on people who don't practice good hygiene. The lice hide and lay eggs on people's clothing when not feeding daily on blood.
Head lice are virtually indistinguishable from body lice, but they use hook-like claws to attach themselves to hair shafts on the head. A third type of louse that feeds on humans is the pubic louse.
Body lice inject saliva into the infested person, often causing itching and usually a rash or red bumps on the skin. Scratching the rash can cause infected sores. In certain areas of the world, body lice may transmit fatal diseases such as louse-borne typhus.
Pittendrigh and the lead researcher on the project, Joao Pedra, said understanding lice at the genetic level is critical to developing new methods to prevent infestation. It's especially important to know the genes and proteins involved in digesting their blood meal and also those genes that provide disease and pesticide resistance.
"This study is the first step in understanding the molecular biology of digestive processes of a medically important pest insect," said Pedra, entomology graduate research assistant.
Other genes Pittendrigh and his team identified are involved in detoxification, iron metabolism and the breakdown of protein within cells.
According to the Centers for Disease Control and Prevention, body lice rarely are found in the United States and other western nations except sometimes on people who don't have access to bathing facilities. However, they are a major problem in war zones, refugee camps and in areas of natural disasters – anywhere that lacks sanitary conditions and is crowded. These areas also are where outbreaks of lice-borne diseases, such as typhus, relapsing fever and trench fever, are most likely to occur.
Head lice are still a problem throughout the world and are usually found on children rather than adults. They also more frequently infest Caucasians than other races, and more often women than men. Usually only a dozen or fewer active adult head lice are on one person at a time, according to Richard Pollack, of the Harvard University School of Public Health, Department of Immunology and Infectious Diseases and a study co-author.
He said all three types of human lice sometimes can be found on facial hair, and they can all be treated with insecticides, including shampoos containing pyrethroids.
Other species of lice attack animals, such as dogs and cats, but house pets don't maintain or transmit human lice.
"Current methods of controlling lice are fine, but understanding the molecular biology of lice may lead to novel pest control strategies that may be more cost-effective and cause fewer concerns," Pittendrigh said. "Ten or 15 years from now it would be wonderful if a vaccine is developed to control head lice, resulting in no more head lice problems in schools."
The other Purdue researchers involved in this study are: Amanda Brandt and Hong-Mei Li, of the Department of Entomology; Rick Westerman, of the Purdue Computational Genomics Center (PCGC); Jeanne Romero-Severson, of the PCGC, ICIG and assistant professor in the Department of Forestry and Natural Resources; Larry Murdock, of the Purdue Molecular Plant Resistance and Nematode Team and professor in the Department of Entomology.
Indiana's 21st Century Research and Technology Fund and the Indiana Center for Insect Genomics provided funding for this research.
Writer: Susan A. Steeves, (765) 496-7481, ssteeves@purdue.edu
Source: Barry Pittendrigh, (765) 494-0535, barry_Pittendrigh@entm.purdue.edu
Media Contact
Susan A. Steeves
Purdue News
All news from this category: Life Sciences and Chemistry
Articles and reports from the Life Sciences and chemistry area deal with applied and basic research into modern biology, chemistry and human medicine.
Valuable information can be found on a range of life sciences fields including bacteriology, biochemistry, bionics, bioinformatics, biophysics, biotechnology, genetics, geobotany, human biology, marine biology, microbiology, molecular biology, cellular biology, zoology, bioinorganic chemistry, microchemistry and environmental chemistry.
Back to the Homepage
Latest posts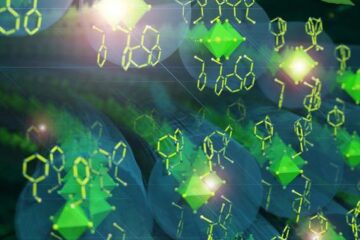 Just a few atoms thick: New functional materials developed
Using the smallest "construction set" in the world, a research team from the universities of Marburg, Giessen and Paderborn is designing new materials for computer chips, light-emitting diodes and solar…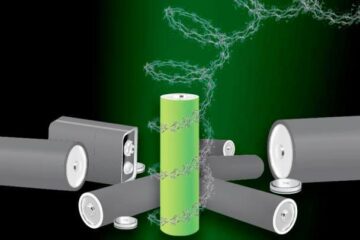 Researchers develop new metal-free, recyclable polypeptide battery
– that degrades on demand … This could result in battery production moving away from strategic elements like cobalt. The introduction of lithium-ion (Li-ion) batteries has revolutionized technology as a…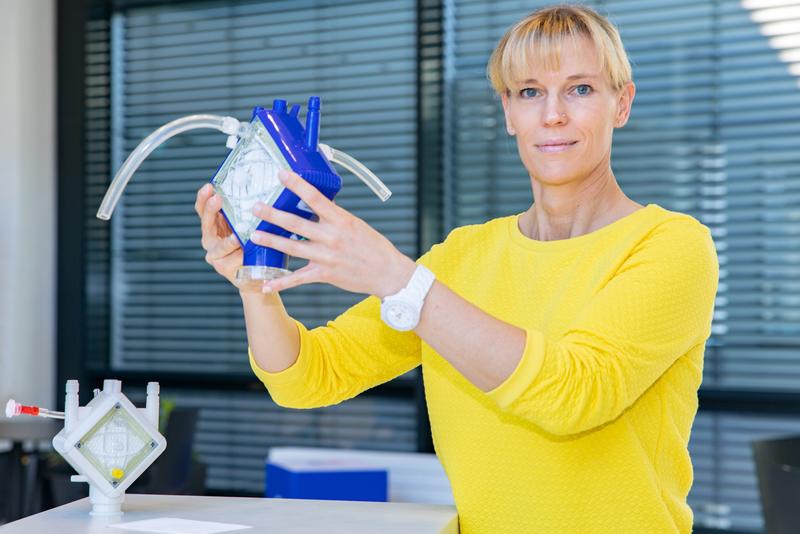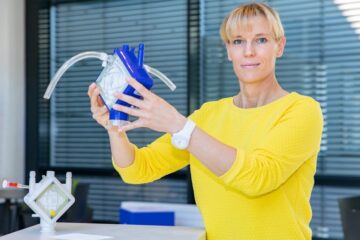 Artificial lungs as organ replacement
DFG priority program funds four MHH projects with 1.6 million euros. For people with severe lung diseases, transplantation of a healthy organ is often the only chance of survival. But…