Giving premature babies better chances in life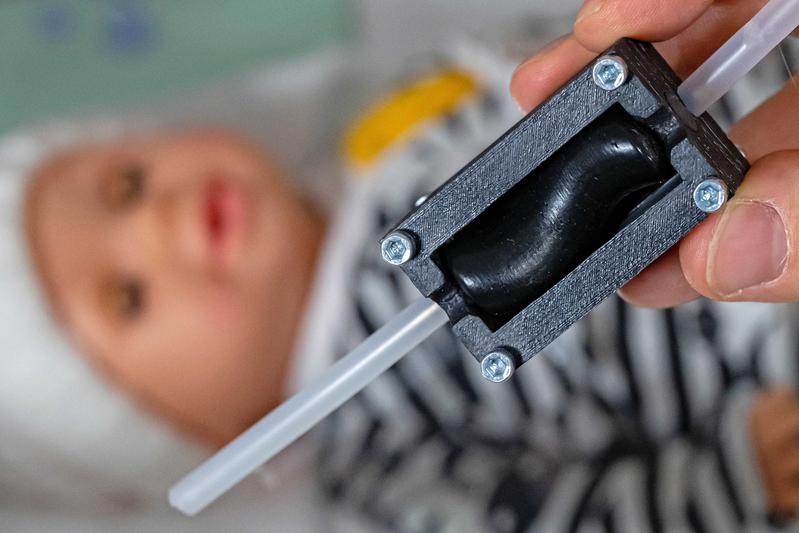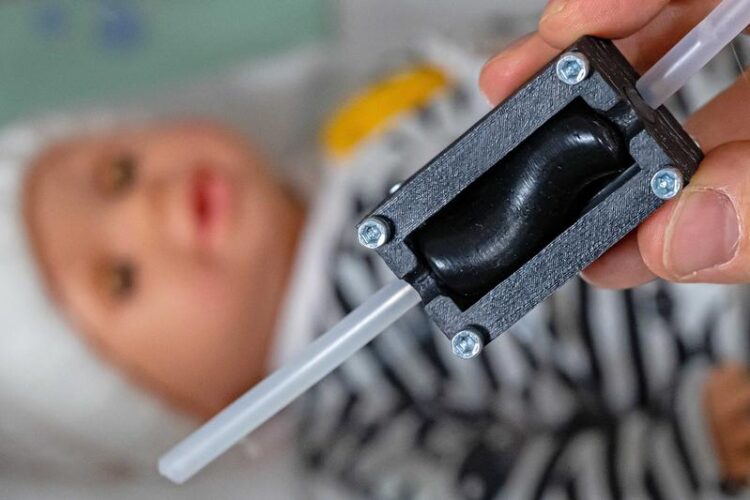 Jena cooperation project "INTACT" develops new innovative approach for therapy and diagnostics in premature babies with intestinal disorders.
In Germany, doctors have to feed some 200 out of 800 very premature babies every year – mostly due to an infection – by diverting stool out of the body through an artificial intestinal stoma and returning the intestinal contents (chyme) at another stoma, in order to relieve the intestine. Currently, this can only be done manually, which does not guarantee a continuous transfer, requires very intensive care and impairs the babies' development.
Therefore, an interdisciplinary team from Friedrich Schiller University Jena and Jena University Hospital (UKJ), coordinated by the University of Applied Sciences Jena (EAH) wants to develop a miniaturised transport system including ultrasound and photonics-based sensor technology to enable both continuous transfer and analysis of the chyme from one stoma to the other. Thus, for the first time, the researchers will invent a controlled continuous external transfer of the chyme by simultaneously recording its composition in real time. This will create a completely new database that will make it possible to offer better medical treatment options for premature babies in the future. The Carl Zeiss-Stiftung (Carl Zeiss Foundation) is funding the "INTACT" project for two years for a total of 750,000 euros.
"In some premature babies weighing less than 1,500 grams, an inflammation weakens the intestine, which is still very small and immature, hinders the passage of the chyme and sometimes even causes the intestine to perforate," says Prof. Hans Proquitté, head of Neonatology at Jena University Hospital. This medical problem has concerned him for more than 30 years. "Antibiotics help fight the infection, and two artificial intestinal outlets, known as stomata, usually have to be created to relieve the intestine." The chyme – the semi-liquid food pulp that is already mixed with digestive secretions – is currently collected in a pouch over a period of hours. Afterwards, a syringe is used to insert the chyme into the second stoma to continue digestion. The post-stomatic intestine is thus used for digestion to prevent secondary atrophy. The infant continues to receive important nutrients from the food, such as calcium, bicarbonate, proteins, lipids and carbohydrates. Although the transfer of the chyme is extremely important for the infant's overall development, the procedure, which can currently only be performed manually, poses a number of problems.
"Because we have not yet been able to guarantee a continuous transfer outside the body, the digestive process is interrupted for an extended period of time. In addition, the attached plastic pouch irritates the skin, sometimes very severely, and infections can develop as a result," says Proquitté.
Pump system the size of a matchbox
Prof. Proquitté, together with medical engineer Prof. Iwan Schie from the EAH and environmental chemist Dr Patrick Bräutigam from the University of Jena, is therefore now developing a miniaturised, regulated transport system that provides an external connection between the two intestinal areas and thus transfers the intestinal contents continuously and physiologically.
"This therapeutic approach is completely new and could make it much easier for these tiny patients to grow and thrive in this critical phase. To this end, we plan to develop a 3D-printed miniaturised pump design that weighs a maximum of 50 grams and is not much bigger than a matchbox," explains Patrick Bräutigam. "We then use contactless ultrasound spectroscopy, through which the system independently detects when the chyme enters the tube and at what speed it is transferred, to control the pump." In addition, the ultrasound can be used to measure further information, such as viscosity and water and solids content. In order to create an environment as close as possible to real life during research on the device, Bräutigam is developing a special simulant that resembles the food pulp in composition and ingredients, but is available in larger quantities.
Diagnostics where they were previously not possible
Another innovation is to provide access to information that was previously unavailable. "We want to screen the chyme using multimodal spectroscopic analysis methods, such as UV/VIS/IR absorption spectroscopy, and thereby build up a completely new database on the chemical composition. Because until now, there has been no way to examine the entire chyme in real time and determine its composition," says Iwan Schie. "For example, we want to determine the water content of the chyme, detect lipids and proteins, and perhaps even identify DNA residues or microhaemorrhages." Such data would provide information on how the infant patients utilise nutrients and which ones they particularly need, or whether internal injuries have occurred. This would allow statements to be made about the state of a premature baby's health, which could lead to targeted therapy options. Diagnostics would therefore become possible in a previously inaccessible area. "Continuous observation of such developmental parameters will help us promote the child's growth, even in the case of such an impairment, and simplify the later stoma reversal," says Hans Proquitté.
Iwan Schie and his team, which will also include students, first want to determine the most suitable spectroscopy methods for the analysis module. The next step is to integrate these into a comprehensive system. The three researchers are optimistic that they will be able to present a first prototype by the end of the funding period, which can then be brought to market maturity with a partner from industry or perhaps even through a spin-off.
About the Carl-Zeiss-Stiftung
The Carl-Zeiss-Stiftung's mission is to create an open environment for scientific breakthroughs. As a partner of excellence in science, it supports basic research, as well as applied sciences in the STEM subject areas (science, technology, engineering and mathematics). Founded in 1889 by the physicist and mathematician Ernst Abbe, the Carl-Zeiss-Stiftung is one of the oldest and largest private science funding institutions in Germany. It is the sole owner of Carl Zeiss AG and SCHOTT AG. Its projects are financed from the dividend distributions of the two foundation companies.
[Joint press release from Friedrich Schiller University, Jena University Hospital and the University of Applied Sciences Jena]
Wissenschaftliche Ansprechpartner:
Dr Patrick Bräutigam
AG Advanced water technology
Institute for Technical Chemistry and Environmental Chemistry at the University of Jena
Tel.: +49 (0)3641 / 948458
E-mail: patrick.braeutigam@uni-jena.de
Prof. Hans Proquitté
Acting Director of the Clinic for Paediatrics and Adolescent Medicine
Head of the Section Neonatology / Paediatric Intensive Care Medicine
Jena University Hospital
Tel.: +49 (0)3641 / 9329600
E-mail: hans.proquitte@med.uni-jena.de
Prof. Iwan Schie
Department of Medical Technology and Biotechnology
Ernst Abbe University of Applied Sciences Jena
Tel.: +49 (0)3641 / 205637
E-mail: iwan.schie@eah-jena.de
Media Contact
Sebastian Hollstein Abteilung Hochschulkommunikation/Bereich Presse und Information
Friedrich-Schiller-Universität Jena
All latest news from the category: Interdisciplinary Research
News and developments from the field of interdisciplinary research.
Among other topics, you can find stimulating reports and articles related to microsystems, emotions research, futures research and stratospheric research.
Back to home
Newest articles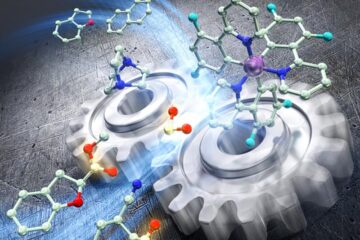 It takes two: cooperating catalysts provide new route for utilizing formate salts
Two catalysts working in tandem enable inexpensive formate salts to perform difficult dearomative reactions, giving products potentially useful for drug development. Researchers at the Institute for Chemical Reaction Design and…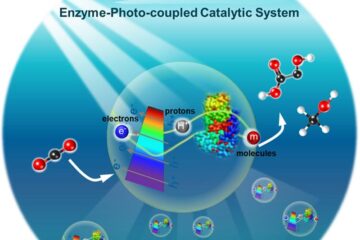 Molecule-electron-proton transfer in enzyme-photo-coupled catalytic system
The harmonious coexistence between the human society and the nature has prompted the rapid development of advanced manufacturing. Typically, green biomanufacturing, which uses renewable resources as raw materials and enzymes…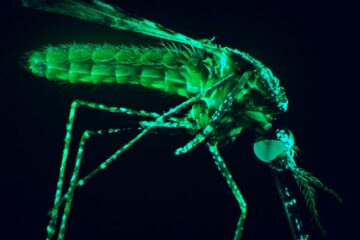 Funding backs world-first test to detect 'insidious' malaria infections
Research to develop and deploy a world-first diagnostic test that could accelerate malaria eradication has been bolstered with over $1.3 million in new funding from the National Health and Medical…