Deschamps' MOBI-MAT covers new ground in complete safety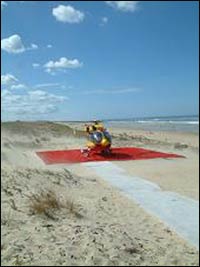 MOBI-MAT is an extremely tough, ultra-light, non-slip ground matting developed by Deschamps of France that gives temporary and safe access to users across unstable, natural surfaces (covered with sand, mud or snow). MOBI-MAT ground cover has applications in a huge range of areas. It can be used by: holidaymakers on the beach; yachting enthusiasts and lifeguards as a boat-ramp; walkers as pathways to help protect sensitive environments; work crews as a temporary roadway; helicopter crews as a helipad etc. Deschamps specialises in the manufacture of technical textiles and is present in many countries, including the USA, where the company has a subsidiary.
MOBI-MAT can be left in place permanently on unstable grounds such as sand, grass, snow, gravel and dirt. Or it can be moved for special events, as needed. Its permeable structure allows vegetation to grow through it, so it won't damage sensitive surfaces such as sand dunes, hill paths or sports turf. And because it is so easily removed, Mobi-Mat complies with environmental regulations, meaning Mobi-Mat can go where other surfacing materials cannot. Just three of the many types of Mobi-Mat are detailed below.
MOBI-MAT TOPX – Some of the great advantages of the innovative TOPX matting patented by Deschamps are its very lightweight woven structure, its inert, extremely tough surface and the fact that it can be installed rapidly by two people without any special equipment over sand, grass, snow, gravel, dirt etc
Consisting of a non-slip, tri-dimensional polyester structure, MOBI-MAT TOPX provides safety and comfort to all users, whether pedestrians, cyclists, wheelchair-users, children in pushchairs, etc. With no risks of cuts or perforation, it is a safe surface for pedestrians to stroll on barefoot.
MOBI-MAT TOPX has great mechanical strength and can be laid out on any type of flat or sloping ground with minimum preparation. It follows ground irregularities perfectly and requires no changes to the surrounding site. It can be dismantled at the end of the season and stored away without any particular requirements. Available in blue and white stripes only, the patented matting is supplied in ready-to-use kits consisting of rolls that are 25m (82') long or more. The three standard widths are 1.4m (4'6″), 2.1m (6'9″) and 2.8m (9'2″).
MOBI-MAT BOAT RAMP – It is used by yacht clubs, sailing schools and lifeguard stations. Its tri-dimensional surface is rigid enough to allow boats to be towed in and out of the water by motor vehicles, without sinking into the sand.
Easy to install on any type of ground with a minimum of preparation, it is light, durable and available in ready-to-use kits in the following sizes: 2.1m in width x 15m in length (9'2″ x 49'); 2.1m x 25m (9'2'' x 82'); and 4.2m x 25m (13'9″ x 82'). This product is available in white or 'NATO' green.
MOBI-MAT HELIPAD – It is made of red MOBI-MAT A2X, and can be installed over sandy, muddy or snowy surfaces to form a temporary helicopter landing area enabling the rapid access of emergency services. Its use prevents the projection of stones and other particles, which avoids the resulting blade corrosion that may affect the aircraft. The patented matting can be removed at the end of the season and re-used for many years. The surface area of the helipad required depends on the type of helicopter being used.
Media Contact
Kate Ambler
FTPB - Pressestelle
All latest news from the category: Innovative Products
Back to home
Newest articles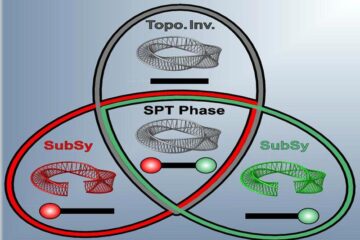 Topological phase protection reams to sub-symmetry
An international research team makes a breakthrough in physics. An international team led by researchers at Nankai University in China and at University of Zagreb in Croatia, along with team…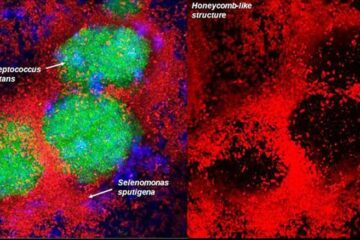 New bacterial species involved in tooth decay
Large study in children reveals Selenomonas sputigena as a key partner of Streptococcus in cavity formation. Collaborating researchers from the University of Pennsylvania School of Dental Medicine and the Adams…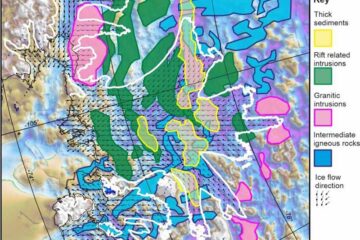 Ground beneath Antarctica's most vulnerable glacier mapped for first time
The ground beneath Antarctica's most vulnerable glacier has been mapped for the first time, by a team that includes a Swansea expert, helping scientists to better understand how it is…