New gene therapy tool successfully treats mice with hemophilia A
Scientists at the University of North Carolina have successfully treated mice with hemophilia A using a new approach to gene therapy – RNA trans-splicing. The experimental procedure repairs a mutated section of the gene responsible for hemophilia A, a hereditary bleeding disorder.
Dr. Hengjun Chao, a research assistant professor at the UNC School of Medicine, Gene Therapy Center will present the new research Saturday June 8 in Boston at the Presidential Symposium of the American Society of Gene Therapy Annual Meeting.
Hemophilia A is a sex-linked congenital disease, occurring in one out of 5,000 to 10,000 live males in all populations and is caused by a defect in coagulation factor VIII. The mutation renders the factor VIII gene non-functional resulting in recurrent, non-predictable, spontaneous bleeding into major joints and soft tissues. Currently, the disorder is treated with injections of factor VIII protein in response to bleeding incidents. Conventional approaches to gene therapy have not proven successful against hemophilia A, partially due to difficulties involved in packaging and delivering the large factor VIII gene.
This new study in mice with hemophilia A was conducted in collaboration with scientists from Intronn Inc., Rockville, Maryland, where RNA trans-splicing was pioneered. A "pre-trans-splicing molecule" (PTM) was injected into some of the mice. The molecule, or "cassette," is designed to produce RNA that binds and splices onto the existing faulty RNA, correcting it. The corrected RNA then encodes for the normal factor VIII protein.
"Preliminary data using the hemophilia A mice is very encouraging," said Dr. Hengjun Chao, "After injecting hemophilia A mice with the PTM cassette, factor VIII levels in the blood rose from lower than 1% to a maximum of 20 % of normal factor VIII activity. These levels of activity corrected the bleeding tendency of the hemophilia A mice, thus protecting the mice from a trauma challenge, which is usually lethal to untreated hemophilia A mice.
"If the technology is proven effective in humans, it would provide a more permanent treatment for hemophilia A."
According to Dr. Christopher Walsh, Assistant Professor of Medicine at UNC and principal investigator of the study, RNA trans-splicing offers several advantages over conventional DNA gene therapy. "Among these, only a mutated segment of the gene is repaired rather than the entire gene. Also, very large pieces of DNA cannot be effectively packaged and delivered using conventional DNA viral vector therapy. This new gene therapy tool will help treat hemophilia A as well as a host of other genetic diseases such as cystic fibrosis, sickle cell anemia, muscular dystrophy and some forms of cancer."
Note: Contact Chao at (919) 966-9117, hchao@med.unc.edu. From June 6-9, contact Chao at the Boston Marriott Copley Place, 617-236-5800.
School of Medicine contact: Les Lang at (919) 843-9687, llang@med.unc.edu
Media Contact
Leslie H. Lang
EurekAlert
All latest news from the category: Health and Medicine
This subject area encompasses research and studies in the field of human medicine.
Among the wide-ranging list of topics covered here are anesthesiology, anatomy, surgery, human genetics, hygiene and environmental medicine, internal medicine, neurology, pharmacology, physiology, urology and dental medicine.
Back to home
Newest articles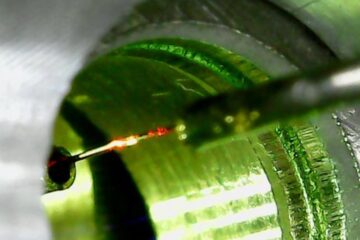 Single ions in nano-sized particles
A new platform for quantum information processing. Processing quantum information relies on interacting qubits – the basic building blocks of quantum information – to perform computational tasks. Scientists are searching…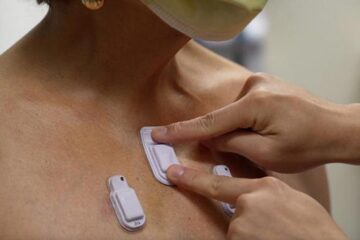 First-of-their-kind wearables capture body sounds to continuously monitor health
New devices were tested on a range of patients, from premature babies to the elderly. During even the most routine visits, physicians listen to sounds inside their patients' bodies —…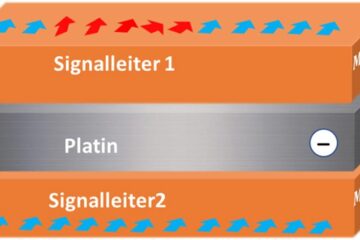 New study shows how heat can be used in computing
Physicists at Martin Luther University Halle-Wittenberg (MLU) and Central South University in China have demonstrated that, combining specific materials, heat in technical devices can be used in computing. Their discovery…