In the spotlight: Tiny "heroes" in the depths of the Baltic and Black Sea
Oxygen is also a vital element under water. In the world's oceans, however, the development of oxygen-minimum zones is an increasing trend. Among the most prominent representatives of this phenomenon are the so-called "dead zones" in the Baltic and Black Sea, where regularly—and in the case of the Black Sea even permanently— an oxygen deficiency accompanied by the occurrence of toxic hydrogen sulfide (sulfide) has been determined at the sea floor.
Furthermore, in maritime regions of enormous importance to the global fishing industry, such as the nutrient-rich upwelling off the southwest coast of Africa, oxygen minimum zones also occur.
Due to the severe economic damage posed by these phenomena and their postulated—and to some extent already observed—increase, biogeochemists and microbiologists throughout the world have been working with physical oceanographers to investigate the causative mechanisms. That the spread of sulfides can be prevented by bacteria has been known for some time, but, it was unclear how this process exactly works, as little was known about the organisms involved.
The microbiologists of the IOW have succeeded, for the first time, in isolating a bacterium that is a major player in sulfide detoxification in oxygen minimum zones. They have also been able to cultivate it and thus to study its physiology. In addition, together with colleagues at the Max Planck Institute for Marine Microbiology in Bremen, they were able to produce a detailed genetic map of the bacterium.
"Sulfurimonas gotlandica" is the provisional designation of the representative of the so-called Epsilonproteobacteria that the Warnemünde scientists found in high abundance at the boundary layer between oxygen-containing (oxic) and oxygen-free (anoxic) water in the Gotland Basin in the central Baltic Sea. It possesses remarkable properties in that its choice of energy sources is not restricted to sulfide but is extremely flexible, allowing the bacterium to inhabit oxic as well as anoxic waters. Genetic analysis showed that "S. gotlandica" is equipped with environmental sensors and a high mobility, allowing it to actively seek out environments that energetically are the most favorable. Moreover, along with its ecologically very important ability of sulfide detoxification "S. gotlandica" possesses two other very important characteristics: it is capable of reducing nitrate to elemental nitrogen (so-called denitrification), thereby ridding eutrophic waters of excess nitrogen, and can use the resulting energy to fix CO2 in the dark in order to build up biomass.
With "S. gotlandica," the Warnemünde microbiologists now have a model organism that is both representative of a group of relatively uncommon bacteria and which allows important processes, such as sulfide detoxification, to be studied in the laboratory. This will facilitate research by the greater scientific community that is aimed at understanding marine "dead zones" and possibly even allow active influence of their development. The working group led by Klaus Jürgens has proven once again that the Baltic Sea, with its highly changeable environmental conditions and strong gradients, is an ideal "model ocean" for the investigation of processes occurring worldwide.
The work described was carried out with support from the Deutsche Forschungsgemeinschaft and the Federal Ministry for Education and Research. The results have been published in:
Grote, J., Schott, T. Bruckner, C.G., Glöckner, F.O., Jost, G., Teeling, H., Labrenz, M., Jürgens, K. (2012): Genome and physiology of a model for responsible Epsilonproteobacterium sulfide detoxification in marine oxygen depletion zones. PNAS 109: 506-510.
For further information, contact:
Prof. Dr. Klaus Jürgens, 0381 / 5197 250, Department Biological Oceanography, IOW
Dr. Barbara Hentzsch, 0381 / 5197 102, Public Relations, IOW
The IOW is a member of the Leibniz Association, which currently includes 87 research institutes and a scientific infrastructure for research. The Leibniz Institutes' fields range from the natural sciences, engineering and environmental sciences, business, social sciences and space sciences to the humanities. Federal and state governments together support the Institute. In total, the Leibniz Institute has 16 800 employees, of which approximately are 7,800 scientists, and of those 3300 young scientists. The total budget of the Institute is more than 1.4 billion Euros. Third-party funds amount to approximately € 330 million per year.(www.leibniz-gemeinschaft.de)
All news from this category: Life Sciences
Articles and reports from the Life Sciences area deal with applied and basic research into modern biology, chemistry and human medicine.
Valuable information can be found on a range of life sciences fields including bacteriology, biochemistry, bionics, bioinformatics, biophysics, biotechnology, genetics, geobotany, human biology, marine biology, microbiology, molecular biology, cellular biology, zoology, bioinorganic chemistry, microchemistry and environmental chemistry.
Back to the Homepage
Latest posts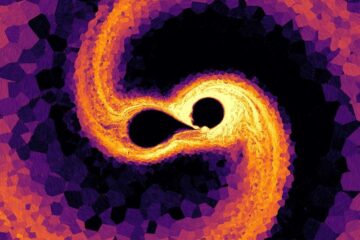 Exploring the evolution of stars
Fabian Schneider leads the new research group "Stellar Evolution Theory" (SET) at the Heidelberg Institute for Theoretical Studies (HITS). The astrophysicist explores the turbulent life of massive binary stars and…
Sustainable insulating material for shipping temperature-sensitive products
Researchers at the Institute of Natural Products Engineering at TU Dresden have developed an insulating material made from recycled paper for shipping temperature-sensitive foods and medicines. As part of a…
Helium nuclei at the surface of heavy nuclei discovered
Research team confirms a new nuclear property predicted by theory Scientists are able to selectively knockout nucleons and preformed nuclear clusters from atomic nuclei using high-energy proton beams. In an…