Millipedes as an example: 'Good Vibrations' lead to mating possibilities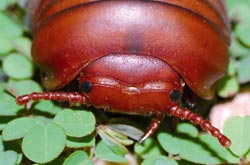 A special group of millipedes is capable of coiling themselves into a perfect ball when disturbed, like a hedgehog or an armadillo, and are therefore called 'pill millipedes' or Sphaerotheriida (Latin for 'Ball Animals'). This mechanism helps them to defend themselves against potential predators, but makes mating attempts problematic.
Since the animals coil into a perfect ball when touched, it becomes impossible for the male to induce the female to open-up again, if it does not give a special signal. Therefore, males of some species rub special ribs on the last pair of legs across nubs on their body shield to produce sounds, similar to cicada songs, which they then broadcast to the female. This way, the female can detect that the disturbance came from a suitable partner of the same species and can, if willing, decide to unroll so that the mating can begin.
These complex mating mechanisms were described in the journal Naturwissenschaften by a team of researchers from Germany (Bonn, Darmstadt and Frankfurt) and Belgium (Tervuren). The scientists could clarify the mechanism of sound production, as well as demonstrate that each giant pill-millipede species produces a different sound. Mix-ups between species are therefore impossible. Astonishingly, giant pill-millipedes are not even capable of hearing. The signal which induces the females to open-up is the species-specific vibration pattern alone – 'good vibrations' in the literal sense!
Almost as interesting as the vibrating millipedes is the history of its discovery. In 1972 Dr. Haacker, a 33-year old Zoologist, travelled with his student Stefan Fuchs to South Africa to take recordings and study the mating of giant pill-millipedes. They collected a striking number of animals and numerous recordings of their sounds. Unfortunately, Dr. Haacker died of a rare form of leukaemia only a few weeks after he returned to Germany, and his material was left unstudied. His student packed all the animal samples, recordings, and lab book into a large box which he carried with him during his whole life as a researcher, storing it in several cellars and attics, always wondering if he should get rid of the box.
More than 30 years after his South African expedition with Dr. Haacker, Stefan Fuchs stumbled upon the work of the then-student Thomas Wesener, who published an article on newly discovered species of giant pill-millipedes from Madagascar. Fuchs wrote a note to Wesener, who is now a curator at the Museum Koenig in Bonn, Germany, describing the work he had done in South Africa and the box filled with history. Intrigued by the note, Wesener met with Fuchs to examine the contents of the box. Inside the box they found a hand-written field diary and Dr. Haacker's lab book, as well as 80 baby food jars filled with conserved millipedes. It was a welcome surprise that most animals were still well-conserved after 30 years of storage; even the labels were still readable, but disintegrated when touched.
Even with the renewed interest in the project, it took a while longer until scientific work on the material became possible. The specimens of the Haacker-collection could not be determined until 2002, when Didier van den Spiegel from the Africa Museum in Tervuren, Belgium and several colleagues published a taxonomic revision of the giant pill-millipedes from South Africa. The analysis of the old sound files, whose quality was mixed, made the introduction of Jörn Köhler from the Hessenian State Museum Darmstadt necessary, who had some experience in the analysis of frog calls.
This long history of the research to understand the function of the sounds produced by millipedes is a good example of how important the precise documentation of scientific data is for future generations, and that many scientific riddles can only be solved through cooperation.
Publication:
Wesener, T., J. Köhler, S. Fuchs & D. van den Spiegel (2011): How to uncoil your partner – "mating songs" in giant pill-millipedes (Diplopoda: Sphaerotheriida). Naturwissenschaften 98 (11): 967–975.
Download files:
Black&White low quality video from 1972, showing mating attempts of giant pill-millipedes
www.zfmk.de/_downloads/ZFMKwesener_GiantPillMillipede_mating.AVI
Sound files of different giant pill-millipede species
www.zfmk.de/_downloads/ZFMKwesener_S_punctulatum_demo.wav
www.zfmk.de/_downloads/FMKwesener_S_punctulatum_dorsale.wav
www.zfmk.de/_downloads/ZFMKwesener_S_punctulatum_stridulation.wav
www.zfmk.de/_downloads/ZFMKwesener_S_similare_stridulation.wav
Contact: Dr. Thomas Wesener, Zoologisches Forschungsmuseum Alexander Koenig, Adenauerallee 160, 53113 Bonn
Tel.: +49 (0)228 9122 425
Fax: +49 (0)228 9122 212
E-Mail: twesener@uni-bonn.de
All news from this category: Life Sciences and Chemistry
Articles and reports from the Life Sciences and chemistry area deal with applied and basic research into modern biology, chemistry and human medicine.
Valuable information can be found on a range of life sciences fields including bacteriology, biochemistry, bionics, bioinformatics, biophysics, biotechnology, genetics, geobotany, human biology, marine biology, microbiology, molecular biology, cellular biology, zoology, bioinorganic chemistry, microchemistry and environmental chemistry.
Back to the Homepage
Latest posts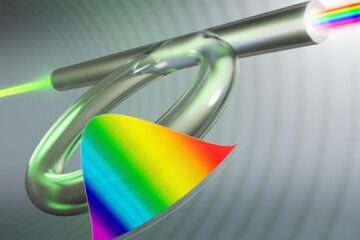 Novel chirped pulses defy 'conventional wisdom'
University of Rochester researchers describe first highly chirped pulses created by a using a spectral filter in a Kerr resonator. The 2018 Nobel Prize in Physics was shared by researchers…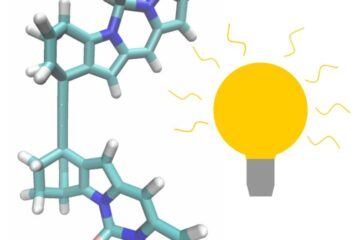 Scientists design superfast molecular motor
Light-driven molecular motors have been around for over twenty years. These motors typically take microseconds to nanoseconds for one revolution. Thomas Jansen, associate professor of physics at the University of…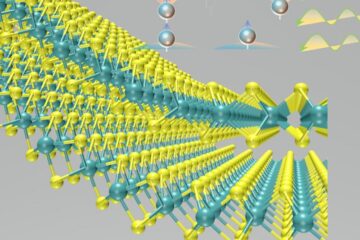 Changing a 2D material's symmetry can unlock its promise
Jian Shi Research Group engineers material into promising optoelectronic. Optoelectronic materials that are capable of converting the energy of light into electricity, and electricity into light, have promising applications as…