A new biomarker of brain inflammation in early-stage Alzheimer's disease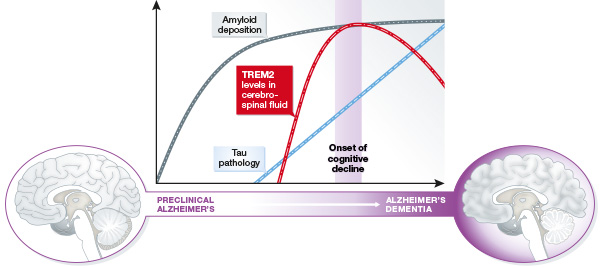 Alzheimer's disease, an increasing problem in today's aging populations, is characterized by amyloid peptide plaques and tau protein aggregates in nerve cells. Understanding its molecular causes and risk factors has been challenging because most cases develop sporadically without inherited genetic mutations, and because of the gradual progression of symptoms over the course of disease.
Recognizing affected individuals early would be important for increasing treatment options and facilitating clinical trials of new therapeutics. However, the currently available preclinical diagnostics based on amyloid peptide and tau protein forms in the cerebrospinal fluid are not sufficiently specific, as individuals exhibiting them may still retain normal cognitive capabilities for years before developing dementia.
In the present work, the teams led by Michael Ewers (ISD) and EMBO Member Christian Haass (DZNE) focussed on the TREM2 protein, which functions in specialized brain immune cells called microglia that clear toxic material resulting from nerve cell injury. Microglia are activated during Alzheimer's disease progression and may mediate an initially protective inflammatory response, a notion that is also supported by epidemiological studies linking mutations in the TREM2 gene to increased risk of Alzheimer's and other neurodegenerative diseases.
Conducting a cross-sectional study of a large cohort of patients with different levels of cognitive impairment and different disease stages, the researchers found that the amounts of a TREM2 fragment in the cerebrospinal fluid were highest during early stages characterized by mild cognitive impairment symptoms.
Its levels declined again in late-stage patients with full dementia, closely mirroring the pattern of microglia activity during the course of the disease. Together, these findings indicate that microglia-mediated brain inflammation may demarcate the transition from preclinical Alzheimer's disease to full dementia.
"We now have the first marker for the capacity of brain immune cells to remove toxic materials," says Haass, "and its increase long before full Alzheimer's dementia shows that there is early neuronal injury that does not yet affect memory, but already triggers a microglia response." And Ewers adds, "If this response is indeed protective, then therapeutically modulating the activity of microglia could be beneficial in late-stage Alzheimer's patients as well as other brain disorders."
Read the article:
sTREM2 cerebrospinal fluid levels are a potential biomarker for microglia activity in early-stage Alzheimer's Disease and associate with neuronal injury markers
Suárez-Calvet M, Kleinberger G, Caballero MA, Brendel M, Rominger A, Alcolea D, Fortea J, Lleó A, Blesa R, Gispert JD, Sánchez-Valle R, Antonell A, Rami L, Molinuevo JL, Brosseron F, Traschütz A, Heneka MT, Struyfs H, Engelborghs S, Sleegers K, Van Broeckhoven C, Zetterberg H, Nellgård B, Blennow K, Crispin A, Ewers M, Haass C
doi: 10.15252/emmm.201506123
http://embomolmed.embopress.org/content/early/2016/03/03/emmm.201506123
http://www.embo.org/news/research-news/research-news-2016/a-new-biomarker-of-bra…
Media Contact
Yvonne Kaul
idw - Informationsdienst Wissenschaft
Alle Nachrichten aus der Kategorie: Life Sciences
Articles and reports from the Life Sciences area deal with applied and basic research into modern biology, chemistry and human medicine.
Valuable information can be found on a range of life sciences fields including bacteriology, biochemistry, bionics, bioinformatics, biophysics, biotechnology, genetics, geobotany, human biology, marine biology, microbiology, molecular biology, cellular biology, zoology, bioinorganic chemistry, microchemistry and environmental chemistry.
Zurück zur Startseite
Neueste Beiträge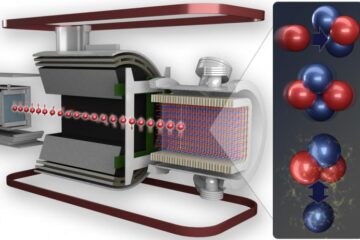 Scientists achieve higher precision weak force measurement between protons, neutrons
Through a one-of-a-kind experiment at the Department of Energy's Oak Ridge National Laboratory, nuclear physicists have precisely measured the weak interaction between protons and neutrons. The result quantifies the weak…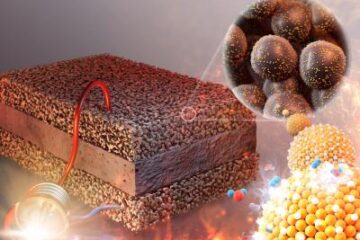 High-performance single-atom catalysts for high-temperature fuel cells
Individual Pt atoms participate in catalytic reaction to faciitate the electrode process by up to 10 times. Single-atom Pt catalysts are stable at 700 degrees Celsius and expected to stimulate…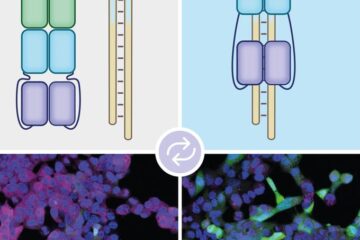 New method allows precise gene control by light
A novel optical switch makes it possible to precisely control the lifespan of genetic "copies". These are used by the cell as building instructions for the production of proteins. The…