New protein provides clue to diabetes
Although cases of adult-onset diabetes have skyrocketed in the United States, researchers still don't know much about the biological processes that predispose so many people to the disease. But in research that will be published in the Oct. 16 issue of the journal Nature, scientists say they've found a protein that plays an essential role in regulating a cell's ability to absorb glucose, an important step toward gaining a better understanding of the underlying causes of diabetes.
Now that researchers know how this crucial protein reacts in normal cells, they can study how it functions in diabetic patients. The findings ultimately may lead to new drug targets for diabetes medications, says Harvey Lodish, a scientist at Whitehead Institute for Biomedical Research and co-author of the new study.
The researchers discovered the protein – which they call TUG – following a five-year search for molecules that control a glucose transporter named GLUT4, according to Jonathan Bogan, lead author on the paper and former scientist in both Lodish's laboratory and the Diabetes Unit at Massachusetts General Hospital.
"This discovery has all the attributes of being extremely important to understanding, and maybe treating, Type 2 diabetes," says Lodish.
Nearly 17 million Americans have Type 2 (adult-onset) diabetes, a disorder in which cells lose their ability to absorb glucose from the blood stream. This is different from Type 1 (juvenile onset) diabetes, in which the immune system attacks insulin-producing cells. Normally, when blood sugar levels rise, the pancreas secretes the hormone insulin, which travels through the blood and interacts with "receptors" on the surface of cells in muscle and fat, instructing the cells to absorb and store the excess glucose.
But in Type 2 diabetes, the cells become deaf to insulin's signals, a condition known as insulin resistance. "No one really knows what causes it," says Bogan, who now is an assistant professor at Yale University School of Medicine. "We don't even know very much about how the process works in normal cells. Learning the normal process is the first step in learning more about insulin resistance."
Key to this are glucose transporters, a class of proteins that shuttles glucose molecules through the membrane and into the body of the cell. The first glucose transporter was discovered in 1985 in Lodish's lab. Several others, including GLUT4, have been discovered since then. While most glucose transporters reside at the cell surface, GLUT4 is usually deep inside the cell, only moving to the surface when insulin sends a signal. It is the only transporter that responds exclusively to the presence of insulin.
For the study, Bogan engineered GLUT4 proteins so that they contained two distinct fluorescent tags, and studied them in cultured fat cells. One tag glowed only when GLUT4 appeared at the cell surface. The other was detectable at any location in the cell, enabling Bogan to measure GLUT4 distribution within the cells. He then tested a collection of approximately 2.4 million proteins to see which ones had an effect on GLUT4 distribution.
"By using the tags," Bogan says, "we were able to sift through all the cells and find this needle in a haystack."
Bogan found that one protein, TUG, had a significant effect on GLUT4, acting as a tether that binds GLUT4 inside the cell. When insulin reaches the cell surface, it signals TUG to release GLUT4, which then moves to the cell surface to allow glucose absorption. These study results suggest that excess tethering may somehow contribute to insulin resistance.
Lodish proposes that discovering this key component of the GLUT4 pathway is a significant clue for possibly identifying a diabetes drug target. "Insulin shots just overwhelm the cell and hopefully make it respond to insulin," he says. "But so far, there aren't any drugs that act directly on this pathway. Now we can begin to speculate, for example, that a drug which blocks TUG might enhance a cell's ability to absorb glucose. It's an hypothesis, but an easy one to test."
Joseph Avruch, professor at Harvard Medical School and chief of the diabetes unit at Massachusetts General Hospital, is no stranger to the world of diabetes research. "This is probably the most important discovery in the insulin glucose transport field that's come along in years," he says. "This is a big step in understanding how insulin resistance works, and opens the way to possibly getting around the impediments that exist in Type 2 diabetes."
While Lodish continues to explore other molecular mechanisms of diabetes, Bogan is continuing the TUG research in his laboratory at Yale, identifying other proteins that interact with TUG and studying mice in which TUG has been genetically altered or deleted. Whitehead Institute and Massachusetts General Hospital own the patent for the technology used to discover TUG and are licensing it to pharmaceutical companies who are employing it in the search for diabetes drug targets.
Says Avruch, "TUG might turn out to be a target, or it might be the key that opens the door to understanding how the system works. Either way, this is still a very important step forward."
Media Contact
David Cameron
EurekAlert!
All news from this category: Health and Medicine
This subject area encompasses research and studies in the field of human medicine.
Among the wide-ranging list of topics covered here are anesthesiology, anatomy, surgery, human genetics, hygiene and environmental medicine, internal medicine, neurology, pharmacology, physiology, urology and dental medicine.
Back to the Homepage
Latest posts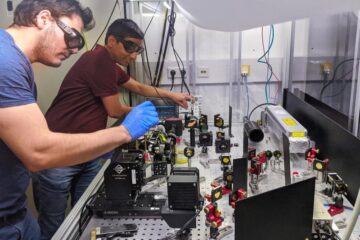 Innovations through hair-thin optical fibres
Scientists at the University of Bonn have built hair-thin optical fibre filters in a very simple way. They are not only extremely compact and stable, but also colour-tunable. This means…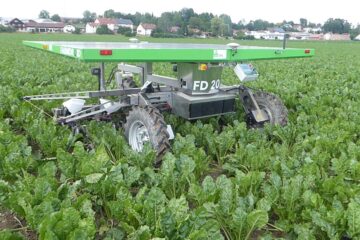 Artificial intelligence for sustainable agriculture
ZIM cooperation network on AI-based agricultural robotics launched The recently approved ZIM cooperation network "DeepFarmbots" met virtually for its official kick-off on November 25. The central goal of the network…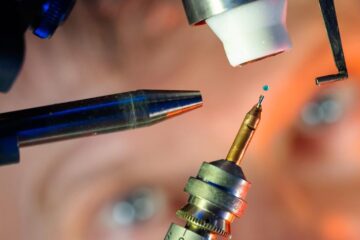 Teamwork in a molecule
Chemists at the University of Jena harness synergy effect of gallium Chemists at Friedrich Schiller University Jena have demonstrated the value of "teamwork" by successfully harnessing the interaction between two…