Starburst Galaxy Showers The Universe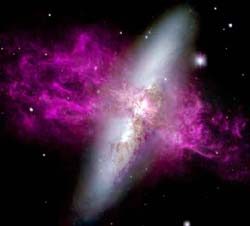 When a galaxy known as M82 had a near-miss with its neighbour, it set off an explosive burst of star formation that sent plumes of hot gas tens of thousands of light years into space. Now a team of UK and American astronomers has discovered that these gas clouds are like the jets from a high pressure shower head.
M82 – which astronomers call a "starburst galaxy" – is located at a distance of a bit more than 10 million light years from our own Milky Way. Dr. Linda Smith, from the Department of Physics and Astronomy, UCL, explains: "M82 shows intense star formation packed in dense star clusters. This powers plumes of hot gas that extend for tens of thousands of light years above and below the starry plane of the galaxy. This cosmic hurricane is traveling at more than a million miles an hour into intergalactic space."
Dr. Smith and her postgraduate student Mark Westmoquette, together with Jay Gallagher from the University of Wisconsin-Madison, have combined images taken with the ground-based WIYN Telescope on Kitt Peak, Arizona, and pictures from the Hubble Space Telescope in near Earth orbit. This enabled them to produce a unique view of M82. "This approach allows us to combine the strength of WIYN to measure very faint diffuse emission with the superb sharpness of Hubble to obtain a full picture of the superwind emerging from M82," says Professor Gallagher.
"Our problem was how to visualize data covering a huge range in brightness and spatial scale," explains Westmoquette. "We solved this by overlaying the sharp images from the Hubble that cover the inner part of the galaxy, where resolving key details is critical, on top of WIYN data that show the extended wind."
As a result, Dr. Smith and her colleagues can trace the outer wind back to the point in the centre of the galaxy where it is being produced, like following the cloud of smoke from a power plant back to the individual chimney that produced it. Many of the stars that are formed in the M82 starburst end their short lives with a supernova explosion. That means the winds they produce are laden with chemicals known as heavy elements. "Our goal here is to understand the structure of the wind's plumes, which are key factors in the evolution of this galaxy and the eventual pollution of nearby intergalactic space with new chemical elements," says Dr. Smith.
All latest news from the category: Physics and Astronomy
This area deals with the fundamental laws and building blocks of nature and how they interact, the properties and the behavior of matter, and research into space and time and their structures.
innovations-report provides in-depth reports and articles on subjects such as astrophysics, laser technologies, nuclear, quantum, particle and solid-state physics, nanotechnologies, planetary research and findings (Mars, Venus) and developments related to the Hubble Telescope.
Back to home
Newest articles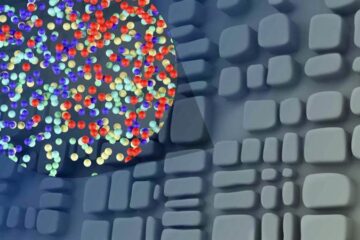 Better magnets for green energy
Researchers use multicomponent alloys to make strong and ductile soft magnetic materials. Latest results now published in the journal Nature. Soft magnetic materials (SMMs) applied in electric engines transform energy…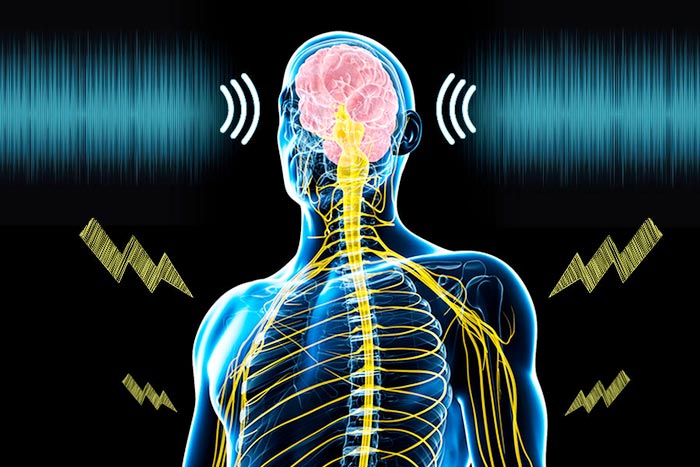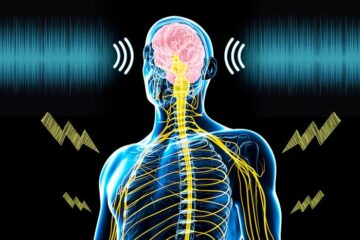 Sound plus electrical body stimulation has potential to treat chronic pain
New technique could relieve pain for individuals with various chronic and neurological conditions. A University of Minnesota Twin Cities-led team has found that electrical stimulation of the body combined with…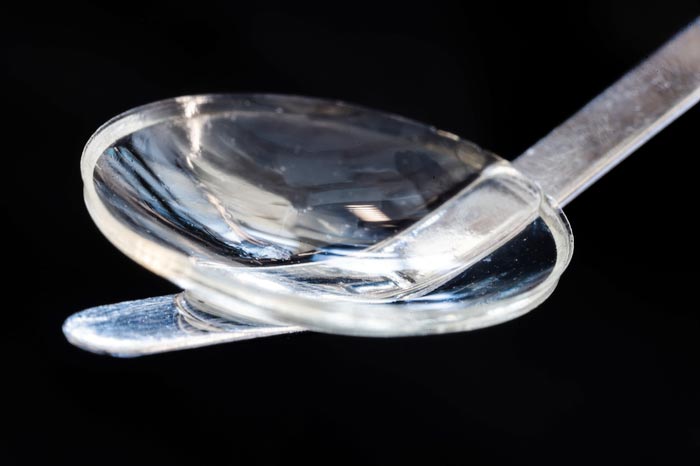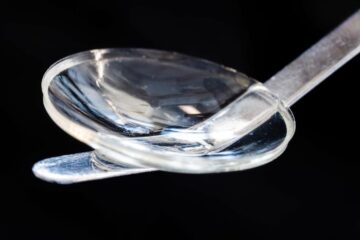 Bioengineered cornea can restore sight to the blind and visually impaired
Bioengineered corneal tissue for minimally invasive vision restoration in advanced keratoconus in two clinical cohorts. Researchers and entrepreneurs have developed an implant made of collagen protein from pig's skin, which…