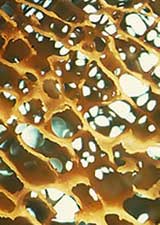 Programmed molecules build themselves into a bone-mimic.
Scientists in the United States have made self-assembling synthetic bone1. Carefully designed building-blocks join up to mimic bone's complex molecular-scale architecture, bringing better prosthetics a step closer.
Materials engineers are keen to emulate the strength and toughness of biominerals such as bone, tooth and shell. Mollusc shells, for example, a composite of the mineral calcium carbonate and sheets of organic tissue, are much tougher than an equivalent slab of the mineral alone. So, like a biomineral, the bone-mimic is a blend of hard mineral-like substances and soft organic ones.
Bone is a composite of the calcium-containing mineral hydroxyapatite and the protein collagen, the tough fibrous component of tendons and ligaments. Collagen fibres provide a scaffold on which hydroxyapatite crystals gather, conferring hardness.
Each collagen fibre is itself a delicately wrought cable of several string-like protein molecules. The fibres assemble spontaneously like pre-programmed girders. These hold the hydroxyapatite crystals together and govern the orientation of the stacked sheets of atoms in the crystals, enhancing the material's strength.
Sam Stupp and colleagues of Northwestern University in Illinois have tailor-made small protein-like molecules called peptides. To each peptide they attached a tail that was insoluble in water, encouraging them to assemble into cylindrical columns with their tails pointing inwards, shielded from water.
These long, flexible columns formed a tangle of worm-like fibres. Stupp's team fixed the fibres in place by bonding adjacent peptides on their surfaces. Similar bonds link collagen fibres into the connective tissue between cells.
The team also included molecular groups such as those that promote hydroxyapatite crystal formation in natural proteins. Finally, they added groups that make proteins stick to cells. These, they reasoned, would allow the self-assembling web to harbour living cells.
The researchers put this matrix in a solution of ions – primarily calcium and phosphate. Hydroxyapatite crystals grew on the scaffold; their atomic layers aligned with the fibres, just as they do on the collagen scaffold of bone.
References
Hartgerink, J. D., Beniash, E. & Stupp, S. I. Self-assembly and mineralization of peptide-amphiphile nanofibers. Science, Published online 22 November (2001).
Media Contact
PHILIP BALL
© Nature News Service
All latest news from the category: Materials Sciences
Materials management deals with the research, development, manufacturing and processing of raw and industrial materials. Key aspects here are biological and medical issues, which play an increasingly important role in this field.
innovations-report offers in-depth articles related to the development and application of materials and the structure and properties of new materials.
Back to home
Newest articles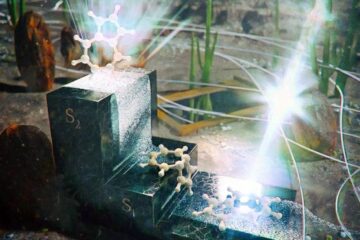 A mysterious blue molecule will help make better use of light energy
Researchers at IOCB Prague are the first to describe the causes of the behavior of one of the fundamental aromatic molecules, which fascinates the scientific world not only with its…
Let it flow: recreating water flow for virtual reality
The physical laws of everyday water flow were established two centuries ago. However, scientists today struggle to simulate disrupted water flow virtually, e.g., when a hand or object alters its…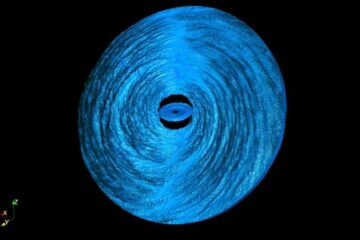 Black holes eat faster than previously expected
New finding might explain why quasars flare and fade so quickly. A new Northwestern University-led study is changing the way astrophysicists understand the eating habits of supermassive black holes. While…