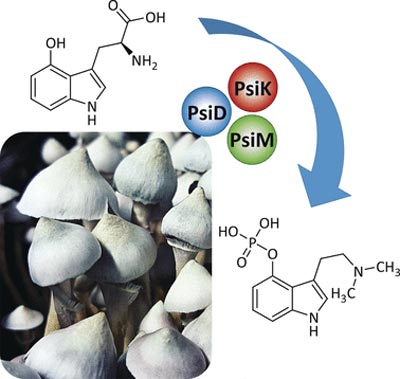 Little fungi pack a punch: "Magic mushrooms" of the Psilocybe species produce psychoactive compounds that alter perception when ingested. Recently, the effects on the neuronal system caused by their ingredient psilocybin have attracted the interest of pharmacologists.
German scientists have now identified four of the enzymes responsible for the biosynthesis of psilocybin. In the journal Angewandte Chemie, they describe the biosynthetic pathway and introduce a synthetic route that could form the basis of biotechnological production.
For centuries, Central American cultures considered Psilocybe mushrooms to be divine and used them for spiritual purposes. More recently, they have been called magic mushrooms and used for their hallucinogenic effects. These mushroom drugs may soon also be in use as pharmaceuticals that treat the existential anxiety of advanced-stage cancer patients, depression, and nicotine addiction.
Their effects stem from tryptamines, which are chemical derivatives of the amino acid L-tryptophan and structural relatives of the neurotransmitters serotonin and melatonin. Among these, psilocybin is the primary chemical mushroom component. Psilocybin is an inactive precursor that is rapidly activated when consumed: splitting off a phosphate group results in the actual active ingredient, psilocin.
Although the structure of psilocybin has been known for about 60 years, it has not been possible to decode the enzymatic basis of its biosynthesis. Researchers working with Dirk Hoffmeister at the Friedrich Schiller University of Jena have now figured this out.
They have identified the four enzymes that transform the amino acidy L-tryptophan into psilocybin. Using genetic technology, the researchers were able to produce the enzymes in bacterial and mould fungi cultures and characterize them.
Based on this knowledge, they were also able to clarify the biosynthetic production route, which is different than previously supposed. In the first step of the biosynthesis, an unsusual type of tryptophan decarboxylase splits the carboxyl group off of the amino acid L-tryptophan.
A monooxygenase then introduces an alcohol group, to which a kinase subsequently adds a phosphate group. Finally, a methyl transferase adds two methyl groups stepwise to the amino group.
Starting with 4-hydroxy-L-tryptophan and using three of the four fungal enzymes, the scientists were able to enzymatically synthesize psilocybin by a simple method in a combined reaction. Given the pharmaceutical industry's renewed interest in psilocybin, these results may lay the foundation for its biotechnological production.
Dirk Hoffmeister is Full Professor of Pharmaceutical Microbiology at the University of Jena and the Leibniz Institute for Natural Product Research and Infection Biology (Hans-Knöll-Institute) in Jena. His research focuses on the genetic and biochemical bases of bioactive component synthesis in fungi.
Author: Dirk Hoffmeister, Friedrich-Schiller-Universität Jena (Germany), http://www.pharmazie.uni-jena.de/Institut/Pharmazeutische+Mikrobiologie/Prof_+Dr_+Dirk+Hoffmeister.html
Title: Enzymatic Synthesis of Psilocybin
Angewandte Chemie International Edition
Permalink to the original article: https://doi.org/10.1002/anie.201705489 – Please use in your news piece to make sure altmetric.com picks it up and a link to your piece is shown on the journal's website.
Copy free of charge. We would appreciate a transcript of your article or a reference to it.
The original article is available from our online pressroom at http://pressroom.angewandte.org.
Contact: Editorial office: angewandte@wiley-vch.de
To be removed from this list, please e-mail us.
Angewandte Chemie is a journal of the Gesellschaft Deutscher Chemiker (German Chemical Society, GDCh) and is published by Wiley-VCH. It is one of the prime chemistry journals in the world. Celebrate the society's 150th anniversary with us and eminent speakers, among them four Nobel Laureates.
Angewandte Chemie International Edition, Postfach 101161, 69451 Weinheim, Germany.
Media Contact
Dirk Hoffmeister
Gesellschaft Deutscher Chemiker e.V.
Alle Nachrichten aus der Kategorie: Life Sciences
Articles and reports from the Life Sciences area deal with applied and basic research into modern biology, chemistry and human medicine.
Valuable information can be found on a range of life sciences fields including bacteriology, biochemistry, bionics, bioinformatics, biophysics, biotechnology, genetics, geobotany, human biology, marine biology, microbiology, molecular biology, cellular biology, zoology, bioinorganic chemistry, microchemistry and environmental chemistry.
Zurück zur Startseite
Neueste Beiträge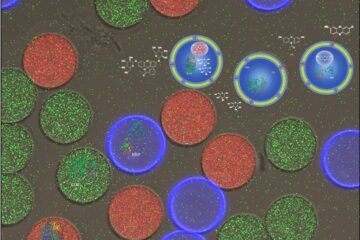 An artificial cell on a chip
Researchers at the University of Basel have developed a precisely controllable system for mimicking biochemical reaction cascades in cells. Using microfluidic technology, they produce miniature polymeric reaction containers equipped with…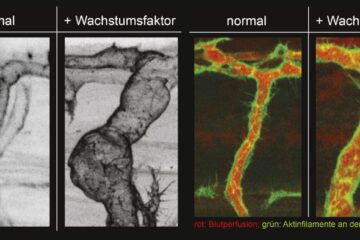 Specific and rapid expansion of blood vessels
Nature Communications: KIT researchers identify a new mechanism to control endothelial cell size and arterial caliber – basis for better treatment of heart infarct and stroke. Upon a heart infarct…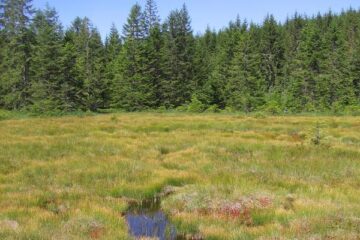 Climate change drives plants to extinction in the Black Forest in Germany
Climate change is leaving its mark on the bog complexes of the German Black Forest. Due to rising temperatures and longer dry periods, two plant species have already gone extinct…