Ohio State designs robotic truck that will race across the desert — with no driver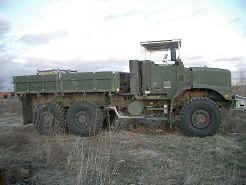 At 2.5 tons and 9 feet high, the truck that Ohio State University engineers are about to race across the Mojave Desert could literally crush the competition.
And it would do so without a driver.
Of course, the truck won't be squashing its rivals — the purpose of the competition is to design vehicles that can drive autonomously and avoid obstacles, rather than run them over.
With no human intervention and only global positioning system and local sensing data to guide it, the truck must find its way across the desert as part of the Defense Advanced Research Projects Agency (DARPA) Grand Challenge, March 8-13.
Ohio State will soon send the truck, dubbed TerraMax, to the headquarters of corporate sponsor Oshkosh Truck Corp. in Wisconsin. There, it will be given a new paint job for the race. Then the truck will head to California, where a week of tests and qualifying rounds will culminate in a day-long race from Barstow, CA to Las Vegas.
DARPA, a research unit of the U.S. Department of Defense, hopes to use American engineers' competitive spirit to uncover next-generation military technology. The team whose vehicle is first to cross the finish line within 10 hours — while still performing certain tasks, such as passing under a bridge and avoiding collisions — will receive $1 million in research funding.
The six-wheeled truck is by far the largest vehicle in the race — others range in size from dune buggies to SUVs. In fact, the Ohio State team had to remove part of the truck's cab to meet DARPA's height restrictions.
But to Umit Ozguner, professor of electrical engineering and TRC Inc. Chair on Intelligent Transportation Systems, the truck's on-board computer and sensor system are what will really set it apart.
"We have a lot of experience developing technologies for the automated highway," Ozguner said, referring to Ohio State's extensive research into traffic control systems and intelligent vehicles. "Here we're leaving the highway entirely and going off-road, where anything can happen."
And while Ozguner would like to see his team return home with the $1 million prize, he's the first to say that winning isn't the point.
"It's not about who comes in first or second, it's about whether this can even be done," he said.
A ten-hour trek across the Mojave's Death Valley would be a difficult task even for an experienced human driver, he explained. Six on-board computers — each not too different from the hardware found in a standard desktop PC — will detect and map the rugged desert terrain ahead, and decide when to speed up, slow down, turn, and change gears.
Aside from providing the military-grade truck, Oshkosh is partnering with the Ohio State team on the technology to make it work, as are scientists from the Artificial Vision and Intelligent Systems Lab at the Universita Degli Studi di Parma, Italy. The system is being developed at OSU by a team that includes eleven graduate students. Keith Redmill, a research scientist with the Electrical and Computer Engineering Department is in charge of integration. Charles Toth from Ohio State's Center for Mapping is coordinating the mapping and route planning activity.
Sponsors on the project include the Transportation Research Center, Inc.; Bendix Commercial Vehicle Systems, LLC; the Bosch Group; Raytheon; and the Honda/OSU Partnership.
Ohio State was the first university to begin an intelligent transportation program, and has been participating in related research since the 1960s. Some automated car technologies first studied at the university are now making their way into luxury automobiles, which feature advanced cruise control and collision avoidance systems.
Ozguner feels that even more advanced technologies, such as those his team used in the TerraMax truck, could enter mainstream automobiles as soon as five or ten years from now.
"Although the demands of the final system are extremely high, individual technologies are available. This is not blue sky stuff," Ozguner said. "It is very much close to reality."
The engineers were hard-pressed to find terrain in the Ohio State campus area that could challenge the TerraMax truck. Tests in California during the week before the qualifying rounds will be necessary to show what the truck can really do.
Contact: Umit Ozguner (614) 292-5940; Ozguner.1@osu.edu
Written by Pam Frost Gorder, (614) 292-9475; Gorder.1@osu.edu
Alle Nachrichten aus der Kategorie: Transportation and Logistics
This field deals with all spatial and time-related activities involved in bridging the gap between goods and people, including their restructuring. This begins with the supplier and follows each stage of the operational value chain to product delivery and concludes with product disposal and recycling.
innovations-report provides informative reports and articles on such topics as traffic telematics, toll collection, traffic management systems, route planning, high-speed rail (Transrapid), traffic infrastructures, air safety, transport technologies, transport logistics, production logistics and mobility.
Zurück zur Startseite
Neueste Beiträge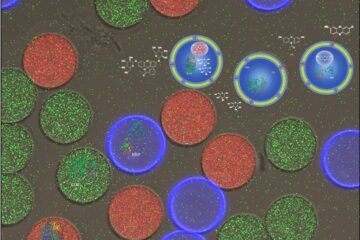 An artificial cell on a chip
Researchers at the University of Basel have developed a precisely controllable system for mimicking biochemical reaction cascades in cells. Using microfluidic technology, they produce miniature polymeric reaction containers equipped with…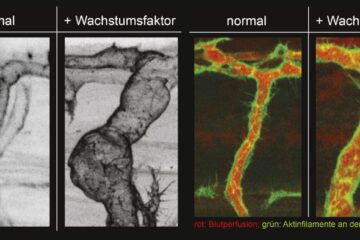 Specific and rapid expansion of blood vessels
Nature Communications: KIT researchers identify a new mechanism to control endothelial cell size and arterial caliber – basis for better treatment of heart infarct and stroke. Upon a heart infarct…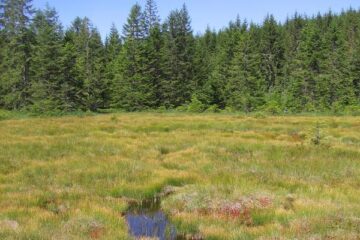 Climate change drives plants to extinction in the Black Forest in Germany
Climate change is leaving its mark on the bog complexes of the German Black Forest. Due to rising temperatures and longer dry periods, two plant species have already gone extinct…