New visual effects in DuPont™ Surlyn® 3D overmoulding technology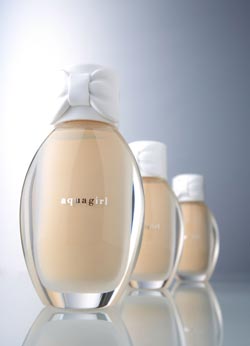 The foundation itself is enclosed within a translucent polypropylene container, the straight walls of which are magnified for an impression of depth by the curved, thick-walled and highly-transparent outerlayer which has been overmolded in Surlyn®.
The sparkling, perfect encapsulation of the 'Aquagirl' brand name below the outerlayer adds to the overall premium appearance of the cosmetic packaging and creates an impression of on-the-go luxury. The cosmetic container is produced using DuPont™ Surlyn® 3D overmolding technology by Yoshida Industries in Japan.
Surlyn® 3D technology involves the overmolding of a single or multilayer polymer inner container with glass-like transparent, highly-durable Surlyn® resins. Named Surlyn® 3D, the D's stand for Design, Decoration and Depth. Enhancements from DuPont include – on an aesthetic level – the creation of complementary and opposing shapes and colors for the inner and outer containers of perfume, personal care and make-up packaging. On a more practical level, the material combinations possible with Surlyn® 3D technology can lead to improved barrier properties and chemical resistance according to the cosmetics ingredients and application.
The final result is the creation of cosmetic and perfume packaging with glass-like transparency, luxury decorative effects and increased consumer safety and convenience that simultaneously reflect brand identity and achieve product differentiation. DuPont Cosmetic Solutions brings DuPont's "Miracles of Science" to the world of beauty and personal care by expanding the possibilities of its comprehensive range of materials and technologies, and by fostering partnerships focused on technology and consumer insight.
Its primary aim is to develop new and differentiated cosmetic solutions that meet brand owners' and designers' needs for innovation while enhancing the consumer experience and bring more fun, emotion and well-being. DuPont Packaging and Industrial Polymers is a world-class manufacturer of high-performance resins and films for a variety of packaging and industrial applications. Its best-known ethylene copolymer products include Surlyn® resins for packaging and industrial applications, Bynel® coextrudable adhesives, Selar® PA amorphous polyamide barrier resins, Nucrel® acid copolymers, Elvax® EVA copolymers, Elvaloy®, Elvaloy® AC, Entira™ , Biomax® PTT and Fusabond® modifiers.
DuPont (NYSE: DD) has been bringing world-class science and engineering to the global marketplace in the form of innovative products, materials, and services since 1802. The company believes that by collaborating with customers, governments, NGOs, and thought leaders we can help find solutions to such global challenges as providing enough healthy food for people everywhere, decreasing dependence on fossil fuels, and protecting life and the environment.
For additional information about DuPont and its commitment to inclusive innovation, please visit www.dupont.com. The DuPont Oval, DuPont™ and Surlyn® are registered trademarks or trademarks of E. I. du Pont de Nemours and Company or its affiliates.
DuPont Media Contact:
DuPont de Nemours (Deutschland) GmbH
Birgit Radlinger
Marketing Communications
Email: Birgit.Radlinger@dupont.com
Telephone: 0049 6102 182638
Alle Nachrichten aus der Kategorie: Trade Fair News
Zurück zur Startseite
Neueste Beiträge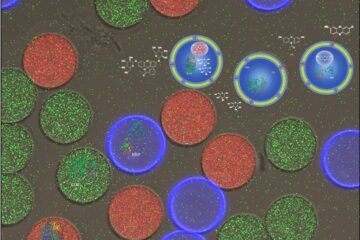 An artificial cell on a chip
Researchers at the University of Basel have developed a precisely controllable system for mimicking biochemical reaction cascades in cells. Using microfluidic technology, they produce miniature polymeric reaction containers equipped with…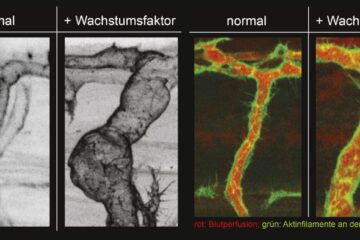 Specific and rapid expansion of blood vessels
Nature Communications: KIT researchers identify a new mechanism to control endothelial cell size and arterial caliber – basis for better treatment of heart infarct and stroke. Upon a heart infarct…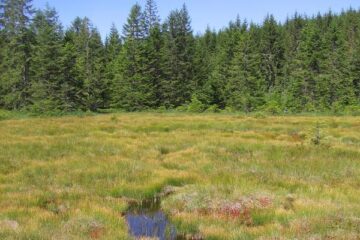 Climate change drives plants to extinction in the Black Forest in Germany
Climate change is leaving its mark on the bog complexes of the German Black Forest. Due to rising temperatures and longer dry periods, two plant species have already gone extinct…