New Process for Marker-free Cell Selection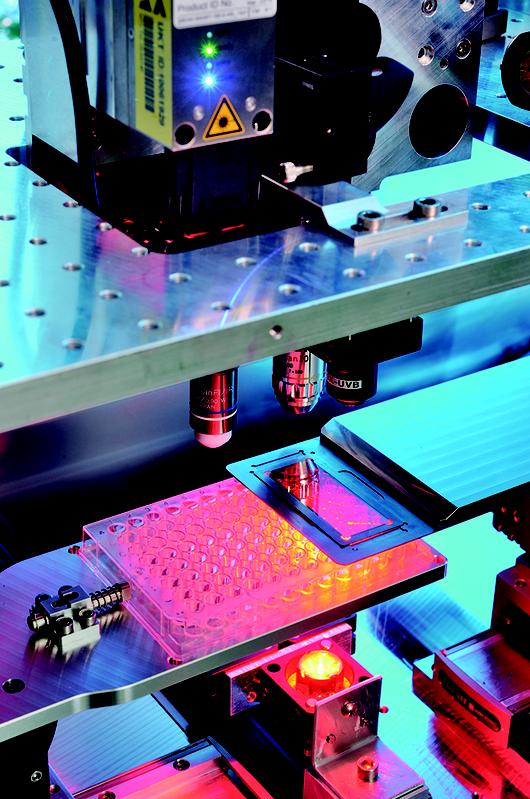 With some 35,000 visitors and over 1,200 exhibitors, and taking place in Munich every two years, analytica is the meeting point for companies and researchers from across the analytics sector. The trade fair will be opening its doors from April 10–13, 2018 and is celebrating its 50th anniversary this year.
At analytica, the Fraunhofer-Gesellschaft is presenting OptisCell, a special project from market-focused pre-competitive research. In the OptisCell process, cells are identified on a carrier, then transferred using a laser pulse, and finally analyzed on a second carrier to determine their protein production.
Teams from three Fraunhofer Institutes were involved in the development work: the Fraunhofer Institute for Laser Technology ILT in Aachen, the Fraunhofer Institute for Applied Information Technology FIT in Sankt Augustin and the Fraunhofer Institute for Interfacial Engineering and Biotechnology IGB in Stuttgart.
How does the process work?
In a first step, the cells are qualitatively analyzed via Raman spectroscopy to determine whether they produce a certain protein. To do this, the system uses neural networks to distinguish the spectra of producing and non-producing cells.
In a second step, a laser pulse conveys the producing cells to a microwell plate situated opposite. Laser-Induced Forward Transfer (LIFT) is the name of the technique, whereby a laser vaporizes an ultra-thin layer of titanium on the carrier. The resulting vapor bubble generates a jet of a medium such as hydrogel, which then transfers the selected cell to the receiver plate.
In this specially prepared microwell plate, the cells are further analyzed. SERS spectroscopy is used to determine how effectively the cell produces the desired protein. This makes it possible to quickly and automatically find high-producer cells and select them for further use.
The experts at Fraunhofer ILT have already been working on the LIFT process for well over a decade. This has allowed them to successfully optimize the individual laser parameters for various transfer materials. As a result, it is possible to transfer over 80% of the cells and to transfer cells individually.
Scientists at Fraunhofer FIT developed the data management, from the initial inspection to the evaluation of protein production. To do this, they precisely documented all process steps. The system is modular and can be easily modified for other applications.
The biologists at Fraunhofer IGB manufactured special production cell lines and used them to validate the OptisCell process. To this end, they recorded a variety of Raman spectra individually and compared them against the results of conventional methods.
Application of OptisCell
The OptisCell process works without any markers or contact and is designed for fully automated operation. To validate this, the project partners built both a cell line for the production of antibodies and a system for analysis and transferring. The corresponding demonstrator will be on display at the trade fair.
Tested in antibody searching, the process will help the pharmaceutical industry in future to design development processes much more efficiently than today's expensive, drawn-out affairs. This will reduce costs and complexity such that even SMEs will be able to carry out development work themselves.
Come and talk to experts in this field at the joint Fraunhofer Booth 524 in Hall A1 at the analytica trade fair.
Contact
Dr. Nadine Nottrodt
Biofabrication Group
Telephone +49 241 8906-605
nadine.nottrodt@ilt.fraunhofer.de
Dr. Andreas Pippow
Life Science Informatics
Telephone +49 2241 14-1524
andreas.pippow@fit.fraunhofer.de
Dr. Anke Burger-Kentischer
Molecular Biotechnology
Telephone +49 711 970-4023
anke.burger-kentischer@igb.fraunhofer.de
http://www.ilt.fraunhofer.de/en
http://www.analytica.de/index-2.html
Media Contact
Petra Nolis M.A.
Fraunhofer-Institut für Lasertechnik ILT
Alle Nachrichten aus der Kategorie: Trade Fair News
Zurück zur Startseite
Neueste Beiträge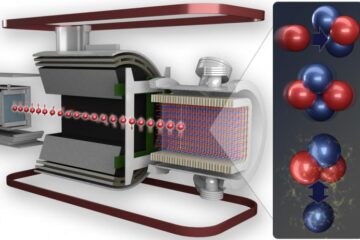 Scientists achieve higher precision weak force measurement between protons, neutrons
Through a one-of-a-kind experiment at the Department of Energy's Oak Ridge National Laboratory, nuclear physicists have precisely measured the weak interaction between protons and neutrons. The result quantifies the weak…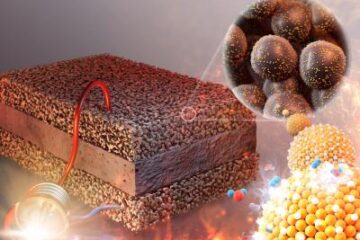 High-performance single-atom catalysts for high-temperature fuel cells
Individual Pt atoms participate in catalytic reaction to faciitate the electrode process by up to 10 times. Single-atom Pt catalysts are stable at 700 degrees Celsius and expected to stimulate…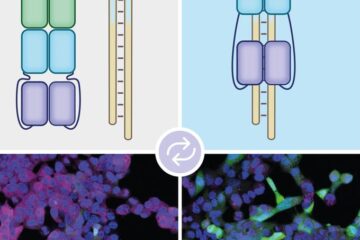 New method allows precise gene control by light
A novel optical switch makes it possible to precisely control the lifespan of genetic "copies". These are used by the cell as building instructions for the production of proteins. The…