Laser Welding of large Format Metal-Foam Sandwich Materials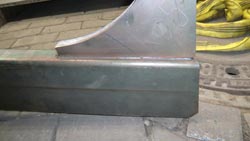 Promising results for lightweight shipbuilding constructions: The Laser Zentrum Hannover e.V. (LZH) and project partners have laser welded a demonstrator for marine gear unit foundations made of steel and aluminum foam sandwich material. The LZH will present results at the Hannover Messe 2012, from April 23rd to 27th.
Metal foams are highly porous, lightweight materials which, due to their cellular structure, can absorb energy in the form of vibrations and knocks, or noise. They are also heat resistant and provide insulation against electromagnetic waves. Metal foams, embedded in so-called sandwich constructions with aluminum or steel sheets, have a much higher bending stiffness than solid sheets, and due to their lower weight, are especially suitable for lightweight construction, or for highly stressed parts.
Large scale metal-foam sandwich materials are especially interesting for highly stressed ship structures such as foundations for machines, or for rudder structures, since weight reduction up to 20 % is possible. However, steel-aluminum lightweight structures are difficult to weld, due to inhomogeneity of the foam core, high stiffness, and the material thicknesses. One problem is, for example, the thermal effects of foaming the aluminum core in mixed sandwich materials, which can distort the material. Welding can also lead to intermetallic phases, causing cracks in the welding seam.
Scientists in the group "Joining and Cutting of Metals" have developed a process for laser welding large scale, metal-foam sandwich materials, in which intermetallic phases do not occur. Their investigations are in the framework of the joint project MESCHLAS. This process was recently tested on a gear unit foundation at Blohm + Voss Naval GmbH in Emden. It uses a transportable axis system and a mobile diode laser, which were provided by the companies Scientific and Efficient Technologies Ltd. (SET) und LASER on demand GmbH (LoD).
As the first step, mechanical preparation of the panel edges is necessary.
The aluminum foam which adheres to the steel top sheets (S235JR) is removed, thus preventing intermetallic phases. Then the components must be exactly positioned, forming a zero gap. Due to the size of the panels, this step is rather challenging. Following this, the sandwich panels are fixed using conventional spot welding. Laser welding of the butt welds and fillet welds then takes place, using a diode laser with a wavelength between 900 and 1030 nm and an output of 5 kW. Tests show that a gap of 0.6 mm can be bridged, and continuous weld seams are possible. Depending on the material thickness (up to 5 mm), speeds of 0.2 to 1.5 m/min. were possible.
The project MESCHLAS aims at providing lightweight construction using sandwich technology, including the processing necessary to accomplish this. The LZH is working together with the Fraunhofer Institute for Machine Tools and Forming Technology (IWU) and the companies Blohm + Voss Naval GmbH and Precitec Optronik GmbH to accomplish this goal. The project is financially supported by the Federal Ministry of Economics and Technology, based on a decision made by the German Parliament.
Be sure to visit us during the Hannover Messe, hall 17, stand C 55!
Contact:
Laser Zentrum Hannover e.V.
Michael Botts
Hollerithallee 8
D-30419 Hannover, Germany
Tel.: +49 511 2788-151
Fax: +49 511 2788-100
E-Mail: m.botts@lzh.de
The Laser Zentrum Hannover e.V. (LZH) carries out research and development in the field of laser technology and is supported by the Ministry of Economic Affairs, Labour and Transport of the State of Lower Saxony (Niedersächsisches Ministerium für Wirtschaft, Arbeit und Verkehr).
Alle Nachrichten aus der Kategorie: Trade Fair News
Zurück zur Startseite
Neueste Beiträge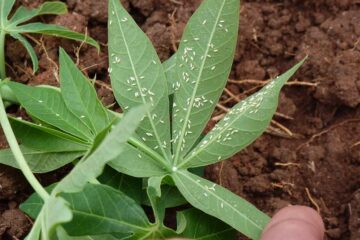 Surplus sugar helps whiteflies detoxify plant defenses
This pest insect uses sugar from its food to prevent the activation of the mustard oil bomb in cruciferous plants. Worldwide dreaded crop pest of hundreds of plant species Whiteflies…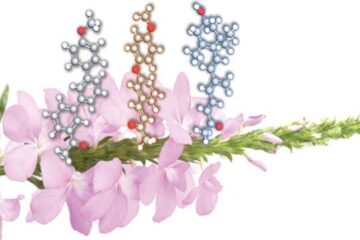 Copycat plant booster improves on nature
A molecule that can mimic the function of zaxinone, a natural growth-promoting plant metabolite, has been designed and fabricated by an international team led by KAUST and the University of…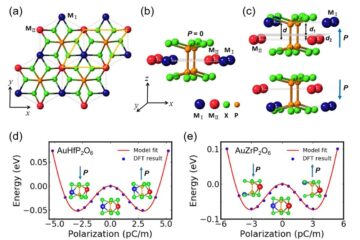 Discovery of large family of two-dimensional ferroelectric metals
It is usually believed that ferroelectricity can appear in insulating or semiconducting materials rather than in metals, because conducting electrons of metals always screen out the internal static electric field…