Edge-based 5G core networks for robot control in factories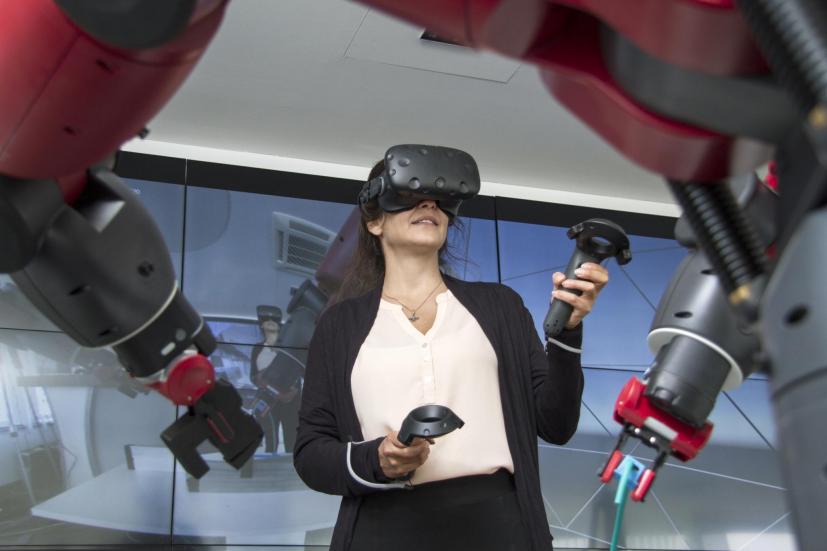 3.1 million* industrial robots are expected to be in use in factories worldwide next year. Their networking, control and maintenance present the industry with major challenges.
Local, private 5G networks in combination with edge computing enable secure, near-real-time communication networks that can be operated and used at the production site. Fraunhofer FOKUS and the German Edge Cloud (GEC) will present an application scenario at the Rittal stand during the Hanover Fair:
Using Virtual Reality (VR) glasses and two VR controllers, visitors can control a two-armed industrial robot connected to an Edge-based 5G core network. The task is to plug an enlarged replica of the Rittal conductor connection terminal onto a rail and insert a cable into the terminal and disconnect it again. An optical and acoustic signal immediately gives the stand visitors feedback as to whether the action was successful.
In order to grip and move objects with robot arms by remote control, people must be able to realistically estimate the depth and distance of objects and the robot arms.
FOKUS researchers in the Visual Computing business unit have developed an application that uses two fisheye cameras to stream the robot's 360° x 180° surround video in stereo 3D into the VR glasses.
Due to the stereo 3D property of the live video, the viewers can gain a realistic perspective of the robot. The FOKUS team of the Industrial IoT Center has integrated a Robot Operating System (ROS) as communication middleware for the remote control of the robot.
The mobile radio connection is converted via a 60 Ghz frequency with Small Cells, a small radio cell consisting of a base station with a mobile radio antenna. This ensures a smooth VR environment and delay-free remote robot control.
The Open5GCore of Fraunhofer FOKUS' Software-based Networks business unit is used for the network infrastructure. The Open5GCore is one of the world's first standards-based and manufacturer-independent 5G core networks that can cur-rently be used throughout Europe to set up local or regional 5G test networks, such as the Berlin 5G Playground.
The software-based implementation allows network functions to be dynamically combined into an individual, virtual special network – depending on the required latency time, security level and number of devices to be networked. In combination with Edge Computing, with which data can be processed directly on the production site in micro data centers, secure, real-time communication is possible.
"Our modular, virtualized core network software allows a flexible combination of network functions for optimized application support on edge clouds, such as the German Edge Cloud. Even during operation, the network functions can be dynamically adapted according to usage behavior.
The integration of different access network and backhaul technologies also allows us to adapt to local requirements," explains Prof. Dr. Manfred Hauswirth, Director of the Fraunhofer Institute FOKUS.
The German Edge Cloud (GEC) works amongst others in cooperation with Rittal, iNNOVO Cloud and the Fraunhofer Gesellschaft. The exhibit shown here is a first showcase of the cooperation between GEC and Fraunhofer.
Further information:
https://www.open5gcore.org/
http://www.5G-playground.org/
https://www.fokus.fraunhofer.de/viscom
https://www.iiot-center.org/go/de
https://de.statista.com/statistik/daten/studie/250212/umfrage/geschaetzter-besta…
Press contact:
Fraunhofer Institute for Open Communication Systems FOKUS
Mitra Motakef-Tratar
Corporate Communications
Telephone: +49 30 3463-7517
mitra.motakef-tratar@fokus.fraunhofer.de
Fraunhofer FOKUS
Fraunhofer FOKUS researches digital transformation and its impact on society, economics and technology. Since 1988 it supports commercial enterprises and public administration in the shaping and implementation of the digital transformation. For this purpose, Fraunhofer FOKUS offers research services ranging from requirements analysis to consulting, feasibility studies, technology development right up to prototypes and pilots in the business segments Digital Public Services, Future Applications and Media, Quality Engineering, Smart Mobility, Software-based Networks, Networked Security, Visual Computing und Analytics. With about 430 employees in Berlin and an annual budget of 30 million euros, Fraunhofer FOKUS is the largest ICT institute of the Fraunhofer Society. Around 70% of its budget is generated through projects from industry and the public domain.
https://owncloud.fokus.fraunhofer.de/index.php/s/lcWb2VEPyEhDq1O (Copyright: Marc Frommer/ Fraunhofer FOKUS. Caption: Hannover Messe 2019: Fraunhofer FOKUS will show together with the German Edge Cloud a VR remote control of an industrial robot based on an Edge-based 5G core network)
Media Contact
Christiane Peters
FOKUS - Fraunhofer-Institut für Offene Kommunikationssysteme
All latest news from the category: Trade Fair News
Back to home
Newest articles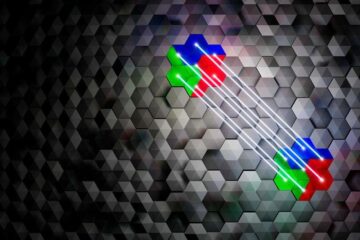 Error-Free Quantum Computing Gets Real
For quantum computers to be useful in practice, errors must be detected and corrected. At the University of Innsbruck, Austria, a team of experimental physicists has now implemented a universal…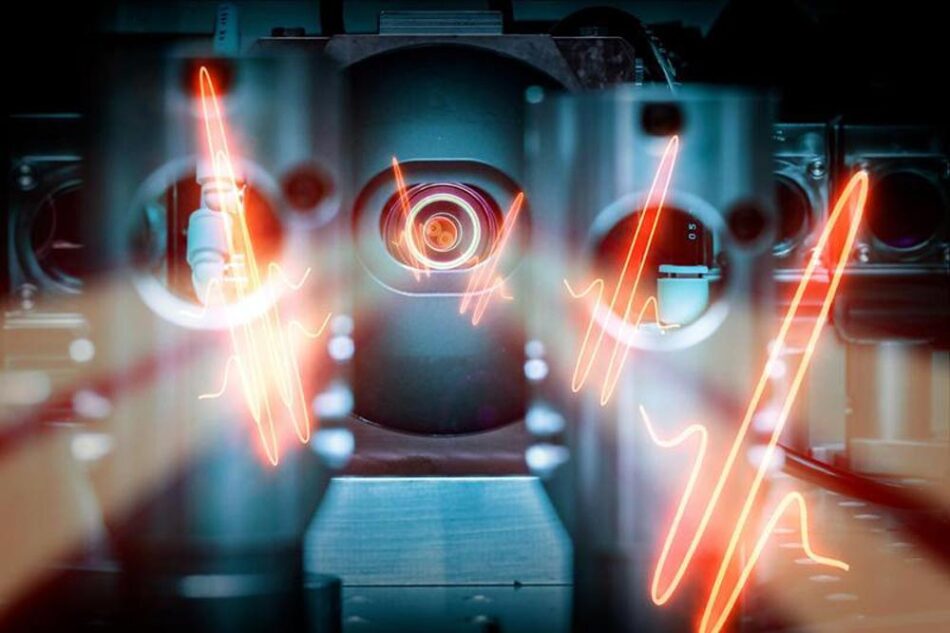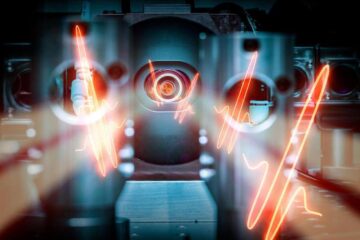 Most powerful dual-comb spectrometer developed
Scientists from Hamburg and Munich developed the world's most powerful dual-comb spectrometer that paves the way for many applications in atmospheric science and biomedical diagnostics, such as early cancer detection….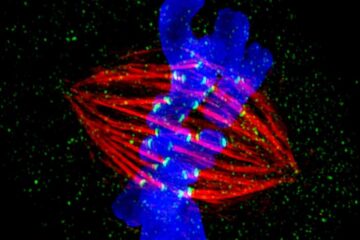 Role of cohesins in embryonic stem cell division
Study shows how meiotic cohesin complexes affect chromosome structure and genomic integrity – and the long-term implications of their effects on the stem cell genome. Chromosomes undergo precise structural changes…