Risk taking across the life span: The effects of hardship
The propensity to take risks in an everyday context decreases with age in most countries, including Germany, Russia, and the US. In these countries, men on average are also much more disposed to take risks than are women.
But in other countries, such as Nigeria, Mali, and Pakistan, risk behavior is higher, more stable across age, and more similar between the sexes. These findings are based on data from 77 countries in a study by researchers from the University of Basel and the Max Planck Institute for Human Development in Berlin.
After determining that the propensity to take risks does not differ equally as a function of age everywhere, the researchers compared the current standards of living in these countries, looking at, indicators of hardship, for instance, economic and social poverty, homicide rate, income per capita, and income inequality.
A clear connection emerged between the hardship in the country and its citizens' propensity to take risks. Whether people are willing to take risks in old age depends on external circumstances.
"We were able to show that in countries with great poverty and difficult living conditions, the propensity to take risks remains high even in old age," says Rui Mata, assistant professor and director of the Center for Cognitive and Decision Sciences at the University of Basel.
"One reason could be that citizens of countries in which resources are scarce have to compete with each other more fiercely than in wealthier countries." This holds for both men and women and may also account for the smaller differences between the sexes.
"The results highlight the fact that when studying human development, we need to take into account the interactions between cognition, behavior and environment," says Ralph Hertwig, co-author and director of the Center for Adaptive Rationality at the Max Planck Institute for Human Development.
"For research on decision making, this means that—unlike what many economists assume—individuals' risk propensity cannot be considered stable over time. Our study instead shows that across many cultures, people tend to take fewer risks as they grow older. At the same time, this adaptive process also depends on local living conditions and existential needs," he notes.
For their study, the researchers analyzed data from the World Values Survey (see box), an international survey that surveyed the values and views of people from all over the world. In doing so, they compared a total of 147,118 responses from people aged 15 to 99, 52% of whom were women, out of a total of 77 countries. The focus of their investigation was risk propensity. Participants were asked to indicate their similarity to someone who is adventurous and takes risks on a scale of one (very much like me) to six (not at all like me).
In further investigations, the researchers are using longitudinal data from the German Socio-economic Panel (SOEP). The goal is to trace age-related changes in risk propensity longitudinally over a time span of up to ten years. "This will be the first longitudinal study surveying adults of all ages over a long period of time in order to investigate individual changes in risk disposition in different life domains.
The focus is primarily on the areas of finance, health, career, leisure time, and social life," says Anika Josef, main author of the follow-up study and doctoral student at the Center for Adaptive Rationality, Max Planck Institute for Human Development.
The World Values Survey
Since 1981, international researchers in the social sciences have been collecting data on the sociocultural, moral, religious, and political values of different cultures in the world in the World Values Survey. It consists of national representative surveys from nearly 100 countries. These surveys are based on questionnaires. For the present study, data from 2008 to 2014 from 77 countries were used.
Original Publication
Mata, R., Josef, A. K., & Hertwig, R. (2016). Risk taking across the life span and around the globe. Psychological Science. Advance online publication. doi: 10.1177/0956797615617811
Max Planck Institute for Human Development
The Max Planck Institute for Human Development in Berlin was founded in 1963. It is an interdisciplinary research institution dedicated to the study of human development and education. The Institute belongs to the Max Planck Society for the Advancement of Science, one of the leading organizations for basic research in Europe.
Media Contact
Nicole Siller
Max-Planck-Institut für Bildungsforschung
All news from this category: Social Sciences
This area deals with the latest developments in the field of empirical and theoretical research as it relates to the structure and function of institutes and systems, their social interdependence and how such systems interact with individual behavior processes.
innovations-report offers informative reports and articles related to the social sciences field including demographic developments, family and career issues, geriatric research, conflict research, generational studies and criminology research.
Back to the Homepage
Latest posts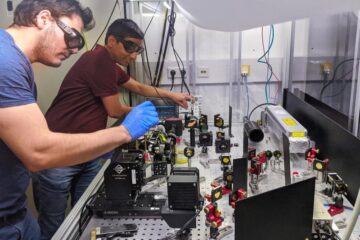 Innovations through hair-thin optical fibres
Scientists at the University of Bonn have built hair-thin optical fibre filters in a very simple way. They are not only extremely compact and stable, but also colour-tunable. This means…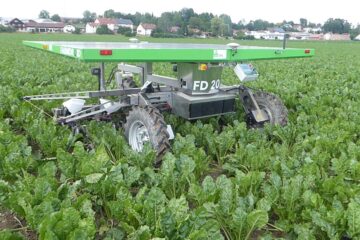 Artificial intelligence for sustainable agriculture
ZIM cooperation network on AI-based agricultural robotics launched The recently approved ZIM cooperation network "DeepFarmbots" met virtually for its official kick-off on November 25. The central goal of the network…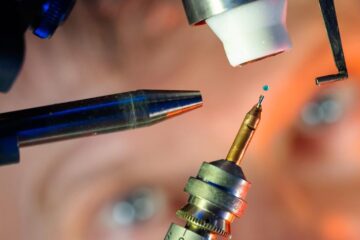 Teamwork in a molecule
Chemists at the University of Jena harness synergy effect of gallium Chemists at Friedrich Schiller University Jena have demonstrated the value of "teamwork" by successfully harnessing the interaction between two…