Human Brains Evolved For Social Competition
Why did human ancestors evolve such large brains? While humans have an unusual array of characteristics that distinguish us from other species, it is our cognitive abilities and open-ended thinking that are most remarkable. University of Missouri-Columbia researchers found that the ability to excel at social problem solving led human brains to surpass other species in size, developing ecological dominance 1.5 to 2 million years ago.
Mark Flinn and Carol Ward, associate professors of anthropology, along with psychology professor David Geary have integrated this new theory of human intelligence evolution with recent developments in the fields of paleoanthropology, cognitive psychology and neurobiology. Through testing fossils for brain size, body size and archaeological evidence of behavior, along with recent comparisons of our mental abilities to those of apes, the researchers have found support for a theory proposed by zoologist Richard Alexander that humans evolved large brains to negotiate and manipulate complex social relationships.
"Most traditional theories, including that of Charles Darwin, suggested some combination of tool use and hunting were the key selective pressures favoring big brains, but increasing evidence of hunting and tool use in other species such as chimpanzees indicates our ancestors were not unique in that regard," Flinn said. "The most exceptional of our mental gifts involves understanding what is going on in other people's minds by using skills such as empathy and self-awareness."
Ward says the hominid brain increased 250 percent in less than 3 million years, particularly in the neocortex area that controls cognitive development. She said scientific evidence says absolute, not relative, brain size is more closely tied to intelligence. She credits the increasing importance of complex social coalitions with the human brain's evolution.
"Great apes did have a lot of interaction with non-kin, seeking subordinate leverage and depending on the good graces of others, but hominids not only competed against other hominids, they competed against other groups much like sports teams do today," Ward said. "Eventually, competing against other hominids became the driving force and, at some point, became a factor in ecological dominance."
Geary said the ability to think ahead and mentally stimulate what others might do is another reason humans achieved dominance.
"As our ancestors gained control of other species, through hunting and other means, the most important impediment to their ability to survive, reproduce and thrive was the competing interests of other people," Geary said. "And so it remains."
The researchers hope their cross-disciplinary approach and results will re-invigorate the debate and encourage further study.
"A lot of scientists have most of the puzzle," Ward said. "We think this model explains the data better than any other model. The tests available, although not comprehensive, certainly support it and provide a better explanation than the other ideas out there."
Flinn, Geary and Ward's paper, "Ecological Dominance, Social Competition and Coalitionary Arms Races: Why Humans Evolved Extraordinary Intelligence," will be published later this year in the journal Evolution and Human Behavior. Geary also has authored a book on the subject. The Origin of Mind: Evolution of Brain, Cognition and General Intelligence will be published in October. Flinn and Ward have related papers on the links between an extended childhood and the evolution of intelligence that are being published in Origins of the social mind: Evolutionary psychology and child development and in Evolutionary perspectives on child development.
All latest news from the category: Social Sciences
This area deals with the latest developments in the field of empirical and theoretical research as it relates to the structure and function of institutes and systems, their social interdependence and how such systems interact with individual behavior processes.
innovations-report offers informative reports and articles related to the social sciences field including demographic developments, family and career issues, geriatric research, conflict research, generational studies and criminology research.
Back to home
Newest articles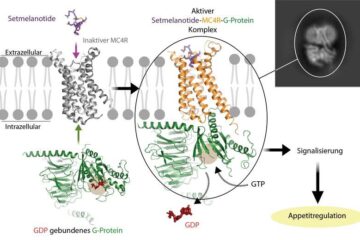 Hungry or full: It comes down to the atomic details
Insight into the molecular structure of an appetite-regulating cell receptor A protein – measuring just a few nanometers in size – acts as a molecular switch with a crucial role…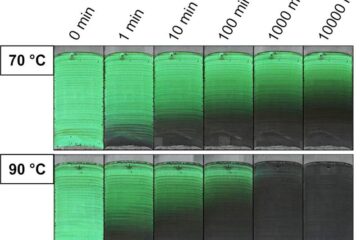 Artificial opals measure temperature and time
Researchers in Bayreuth discover novel sensors. Due to their iridescent colors, opals have been considered particularly precious gemstones since antiquity. The way these stones shimmer is caused by their nanostructures….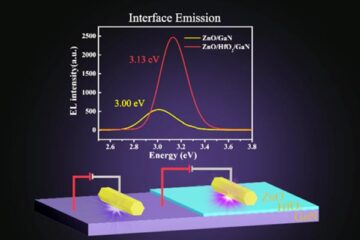 Ultrathin electronic barrier layer to control interface luminescence
In a new publication from Opto-Electronic Advances; DOI 10.29026/oea.2021.200064, Researchers led by Professor Xu Chunxiang, Southeast University, Nanjing, China discuss nano-buffer controlled electron tunneling to regulate heterojunctional interface emission. Light emitting…