Cebit 2018: Saarbrücken Start-up combines Tinkering and Programming for Elementary School Kids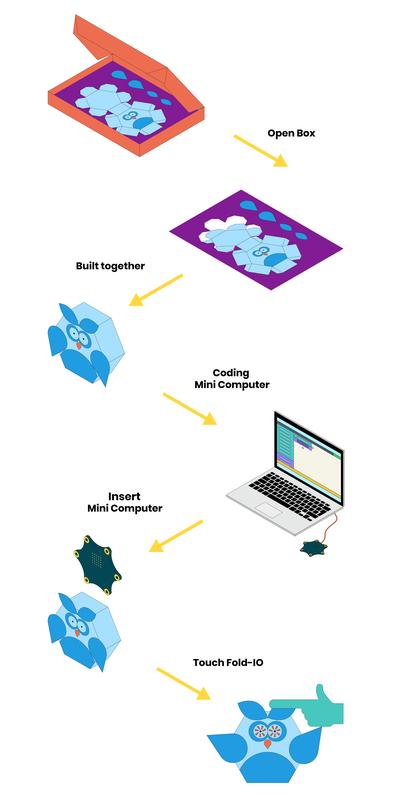 "The teaching materials available today are either overly complex, under-stimulating, or only appeal to children who already have a keen interest in programming. That is why we decided to work with a material that every child knows: paper," says Amir Baradaran, responsible for technical development at Fold-IO. He wants to encourage children to use a hands-on approach not just on the keyboard or touch pad, but to tinker around and construct these interactive 3-D objects themselves.
In practice, it works like this: The "fold-IO Box" contains a sheet of craft paper with an owl printed on it. First, the child cuts out the animal stencil and folds it into a three-dimensional figure, following the easy-to-understand instructions provided. These also include the following challenge:
The owl is sad and wants to be stroked. Kids can now code the command "If touched, then light up eyes" themselves with the self-explanatory software, which is either executed on a website or in the corresponding app. The short programme can then be stored on a special mini-computer like the "Calliope mini", specifically developed for primary school children, which then connects to the paper owl. Now the eyes of the paper bird will light up when the child touches the owl.
The idea was facilitated by the correspondent research project "Fold-IO", developed by Simon Olberding as part of his doctoral thesis within the research group for Human-Machine Interaction chaired by Professor Jürgen Steimle. His technology is now protected by a patent. The researchers' prototypes were based on projects in which sensors and simple screens were printed out using conductive ink.
But the highlight of Fold-IO is the special software that makes these foldable 3-D objects possible in the first place. It lets makers create their own objects on screen in 3-D, including the desired input and output sensors with their respective functionalities. The programme automatically compiles the construction sheet which is then imprinted with the electronics required.
"We are hoping to launch a market-ready product line by the end of the year", says Michael Kellermann, one of the other founders of the start-up, together with Lisa Brödlin. The craft kits will cost between five and 20 Euros and will also contain a Calliope mini computer. Boxes for school classes will contain up to 30 Fold-IO craft sheets and probably cost around 70 Euros.
Since April, not only the IT Incubator, a joint institution of Saarland University and Max Planck Innovation, is supporting the three young entrepreneurs, but also the German Federal Ministry for Economic Affairs and Energy, by way of the EXIST Business Start-up Grant.
Direct Inquiries to:
Michael Kellermann
Fold-IO
Saarland Informatics Campus
Saarland University
E-Mail: michael@foldio.co
Phone: +49 681 302 712 88
Editor:
Gordon Bolduan
Kompetenzzentrum Informatik
Tel. 0681 302-70741
bolduan@mmci.uni-saarland.de
Hinweis für Hörfunk-Journalisten: Sie können Telefoninterviews in Studioqualität mit Wissenschaftlern der Universität des Saarlandes führen, über Rundfunk-Codec (IP-Verbindung mit Direktanwahl oder über ARD-Sternpunkt 106813020001). Interviewwünsche bitte an die Pressestelle (0681 302-2601) richten.
Further Information: http://www.fold-io.com/
Media Contact
Gerhild Sieber
Universität des Saarlandes
All latest news from the category: Science Education
Back to home
Newest articles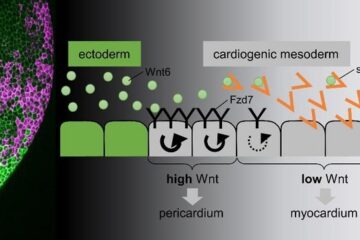 Future medical applications in drug design
Research team studies role morphogens play in tissue patterning in heart development. Morphogens are molecules that travel from biological cell to cell to pattern tissues in the embryo. These molecules…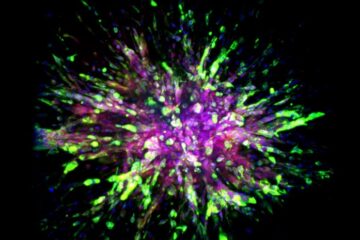 Scientists identify novel molecular biomarkers in cells
Studying a deadly type of breast cancer called triple negative, Johns Hopkins Medicine scientists say they have identified key molecular differences between cancer cells that cling to an initial tumor…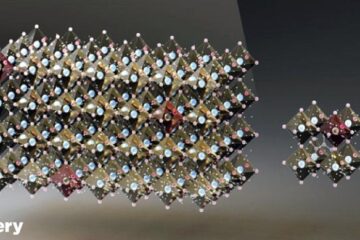 Getting more out of light
Tiny crystals, known as quantum dots, have enabled an international team to achieve a quantum efficiency exceeding 100 percent in the photocurrent generated in a hybrid inorganic-organic semiconductor. Perovskites are…