Pioneering research at Loughborough University could reduce mobile phone emissions into the body by up to 85%
Loughborough University's Centre for Mobile Communications Research (CMCR) has made some major breakthroughs in its antenna technology that could enable safer communication for all.
Using their work associated with GPS (Global Positioning System) technology, researchers have managed to reduce emissions into the body by as much as 85%. The CMCR achieved its breakthrough in antenna designs through innovative laser technology and super computing modelling techniques. This puts the University in an excellent position to be the leaders in low SAR (Specific Absorption Rate) solution providers in the UK for the Telecom industry. SAR is the parameter that measures the amount of radiation from mobile phone handsets absorbed by human tissue.
The Centre's vital research to develop the definite low SAR mobile phone antenna has been recognised with grants from the Engineering and Physical Sciences Research Council, and it has already gained over £1 million in contracts covering many aspects of mobile communications such as GSM, 3G and BluetoothTM.
Professor Yiannis Vardaxoglou, head of the CMCR, commented, "The issue of mobile phone health is escalating rapidly and mobile handsets are now required to clearly state their SAR rating. Therefore it's not surprising that a number of interested parties are examining ways of reducing SAR levels. For this reason we have made major investments in facilities such as super computers and a Dosimetric Assessment System which enables the radiation absorbed by a 'phantom head' to be accurately measured."
One company which is outsourcing research work to the CMCR is Wellingborough-based miniature antenna manufacturer Sarantel as the company's CEO, Barrie Foley, confirmed, "The CMCR at Loughborough University has some of the best super computer Radio Frequency modelling facilities in Europe. Design evaluations, which previously took many weeks, can now be completed in just a few days and so it makes a lot of sense for us to capitalise on their outstanding experience and facilities. This technology is real and can be delivered to the market, unlike many claims by various organisations in the past."
Sarantel and Loughborough have previously worked together on antenna designs for GPS handsets based on the company's PowerHelix™ technology. These antennas use helical copper tracks etched onto a ceramic puck and are finding wide acceptance with GPS handset and wireless location device manufacturers. They offer many technical benefits such as a low 'Near Field' which enables weak GPS satellite signals to be captured even when the equipment is in close proximity to buildings or the body of the user.
A possible by-product of the work done with Sarantel is the reduction of mobile phone antenna Near Fields in order to reduce the SAR rating of handsets. Professor Vardaxoglou explained, "If the near field could be reduced to a few millimetres with a high level of predictability, then a low SAR antenna could be a real possibility."A selection of quality, high resolution photographs of mobile phone antenna production at Sarantel exploiting CMCR research are available to down load from the Gallery at http://www.lboro.ac.uk/departments/el/research/cmcr
All latest news from the category: Process Engineering
This special field revolves around processes for modifying material properties (milling, cooling), composition (filtration, distillation) and type (oxidation, hydration).
Valuable information is available on a broad range of technologies including material separation, laser processes, measuring techniques and robot engineering in addition to testing methods and coating and materials analysis processes.
Back to home
Newest articles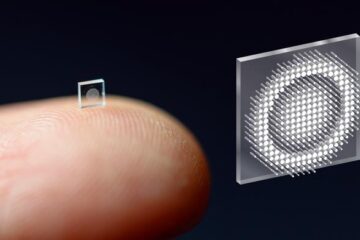 Researchers shrink camera to the size of a salt grain
Micro-sized cameras have great potential to spot problems in the human body and enable sensing for super-small robots, but past approaches captured fuzzy, distorted images with limited fields of view….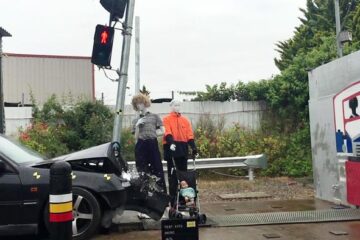 World-first product will be a lifesaving traffic stopper
Game-changing technology to design traffic lights that absorb kinetic energy, stopping them from crumpling when hit by a vehicle, will prevent thousands of fatalities and injuries each year and make…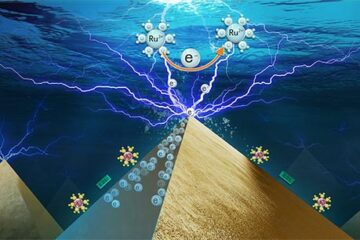 Scientists capture electron transfer image in electrocatalysis process
The involvement between electron transfer (ET) and catalytic reaction at electrocatalyst surface makes electrochemical process challenging to understand and control. How to experimentally determine ET process occurring at nanoscale is…