New from Carl Zeiss: DuraMax Scanning Measuring Machine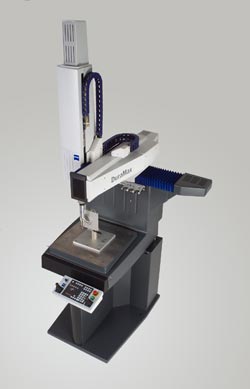 DuraMax is suited for process control on the production floor, for the quick in-between inspections of small workpieces and for volume parts. It replaces traditional measuring equipment such as height, ring and snap gages, form measuring machines and manual measuring machines.
Scanning is standard: the highly accurate VAST® XXT scanning sensor provides dimensional information on the part features. Whether gaps, angles or diameters, roundness or straightness, borehole patterns or curves – DuraMax can be utilized for practically all measuring tasks. DuraMax is extremely powerful when combined with CALYPSO® CAD-based software for all ZEISS CNC measuring machines.
DuraMax demonstrates its high stability over a broad temperature range – even in rough environments. The MPE values range from 2.4 + L/300 µm at 18-22° C and 2.9 + L/200 µm at 18-30° C. Passive vibration damping protects against vibrations. Precise linear guideways, rigid friction drives and bellow-protected glass ceramic length measuring systems on the three axes ensure precise measurements.
The measuring volume (500 x 500 x 500 mm) is very large for a measuring machine in this class. If needed, DuraMax can be quickly moved. Once connected to a power source it is immediately ready for action. This is possible because pressurized air is not required. Another important advantage in small spaces is that the workpiece can be clamped from four sides.
Alle Nachrichten aus der Kategorie: Press release
Zurück zur Startseite
Neueste Beiträge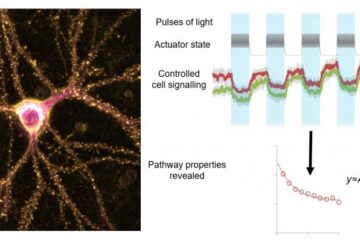 Simplified method to modify disease signaling with light
Most diseases are caused by aberrant cell signaling processes and basic research in cell signaling is needed to identify targets for future therapeutic approaches, especially in cases where no cures…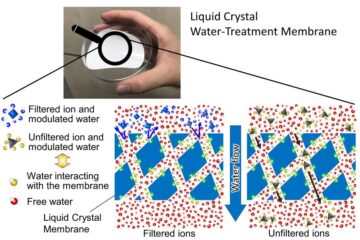 Highly selective membranes
Researchers discover how water can affect its own filtration. Membranes with microscopic pores are useful for water filtration. The effect of pore size on water filtration is well-understood, as is…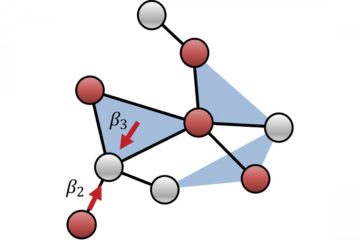 Interactions within larger social groups can cause tipping points in contagion flow
The distribution of group interactions in a social network affects the critical point at which explosive jumps in opinion, popularity, or disease spread occur. Contagion processes, such as opinion formation…