Project PV-Live: New solar irradiance data set published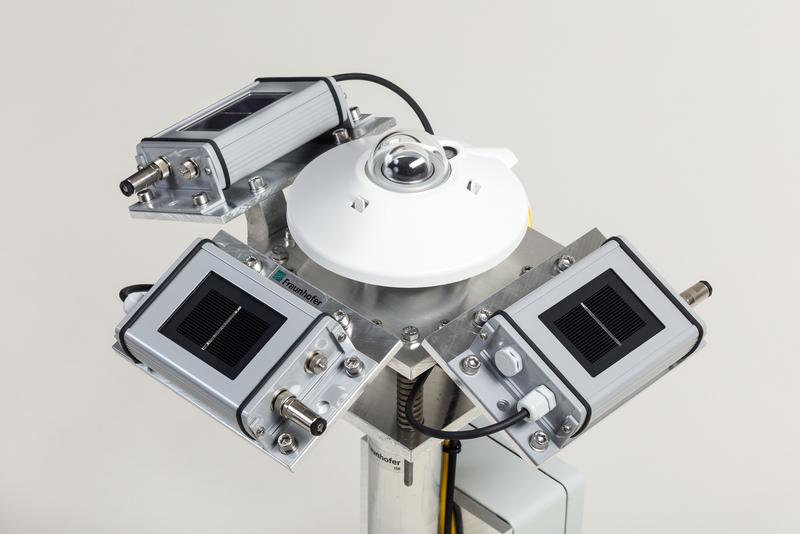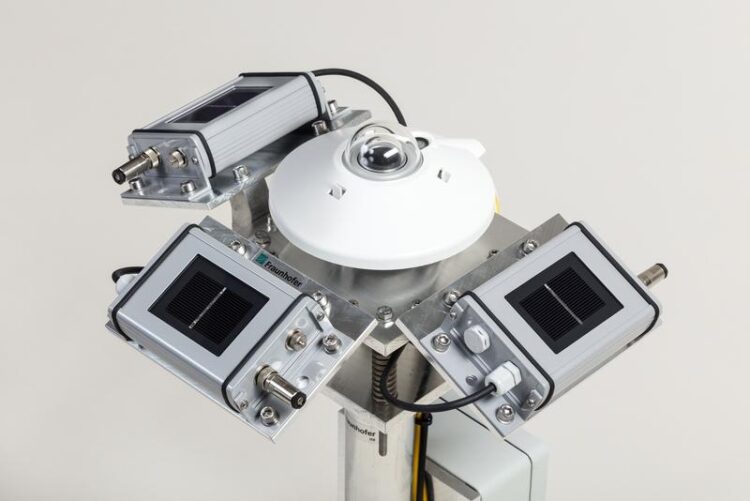 Reliable projections and forecasts of photovoltaic generation are becoming more and more important to maintain a stable power grid and for solar energy trading on the electric power exchange.
To improve such projections, the Fraunhofer Institute for Solar Energy Systems ISE and the transmission system operator TransnetBW have set up a network of measurement stations which record the current irradiance conditions in the control area on a minute-by-minute basis. These data are also extremely valuable for research in solar energy meteorology. The project partners have released the first quality-controlled data sets, thus making measurement data since September 2020, now publicly available.
The research team at Fraunhofer ISE developed a measurement station for the PV-Live project with pyranometers recording the global horizontal irradiance and temperature. In addition, three silicon reference cells with different orientations measure irradiance on tilted surfaces. These data provide a basis for simulated PV power values. By March 2019, a total of 40 measurement stations, spaced between 15 and 35 kilometers apart, had been installed in the control area of the transmission system operator TransnetBW in Baden-Württemberg.
The measurement stations are located at project partners' and company sites as well as municipal utilities in cities throughout Baden-Württemberg. The irradiance data are sent from the measurement stations in real time every minute and then undergo quality control at Fraunhofer ISE, where they are also converted into PV power and made available to TransnetBW. In combination with satellite-based irradiance values, the recorded data allows to create a high-resolution temporal and spatial image of the current PV generation and the resulting grid feed-in.
"The novel concept for the measurement stations and data acquisition was created in close cooperation by Fraunhofer ISE and TransnetBW," explains Dr. Florian Dinger, advisor for algorithms and prognose sat TransnetBW. "We believe that cooperation between industry, research and society is essential for the success of the energy transition. That's why we've decided to make this new high-resolution data publicly available to researchers in the field of solar energy meteorology."
Quality-controlled minute values of solar irradiance for different orientations
The data set, which comprises minute-by-minute measurement data since September 2020, has now been published. Before being published, the irradiance and temperature data undergo a quality-control check using algorithms specially designed for this data. The automatic real-time data processing and quality control were set up together with Mondas GmbH, a spin-off of Fraunhofer ISE. The data sets are available to researchers and other interested parties. Measurement data will continue to be recorded and checked and then published in monthly updates.
"For the first time, the solar energy meteorology research community has access to a high-resolution temporal data set for solar irradiance, which covers all of Baden-Württemberg. This makes it possible to investigate the spatial and temporal fluctuations and balancing effects, which are very important for the feed-in of solar power to the power grid," explains Dr. Elke Lorenz, Group Manager Energy Meteorology at Fraunhofer ISE.
Another unique feature of PV-Live is that solar irradiance is measured simultaneously using sensors with different orientations. While meteorological monitoring networks typically conduct horizontal measurements, these tilted sensors record solar irradiance on the same plane as the solar modules in real life, as they are installed on rooftops or as part of free-standing photovoltaic plants. This is for example useful for the development and validation of models for irradiance at the level of the solar module.
Wissenschaftliche Ansprechpartner:
Dr. Elke Lorenz: elke.lorenz@ise.fraunhofer.de
Weitere Informationen:
https://www.ise.fraunhofer.de/en/research-projects/finale.html Project Homepage
https://zenodo.org/record/4036728 Data sets
Media Contact
Karin Schneider Presse und Public Relations
Fraunhofer-Institut für Solare Energiesysteme ISE
All latest news from the category: Power and Electrical Engineering
This topic covers issues related to energy generation, conversion, transportation and consumption and how the industry is addressing the challenge of energy efficiency in general.
innovations-report provides in-depth and informative reports and articles on subjects ranging from wind energy, fuel cell technology, solar energy, geothermal energy, petroleum, gas, nuclear engineering, alternative energy and energy efficiency to fusion, hydrogen and superconductor technologies.
Back to home
Newest articles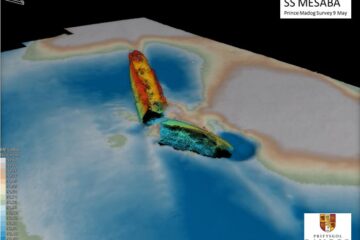 Finding the ship that sent out a warning to The Titanic
New powerful technology reveals lost seabed structures. The ship which sent an iceberg warning to the RMS Titanic, before the ocean-liner sank, has been identified lying in the Irish Sea….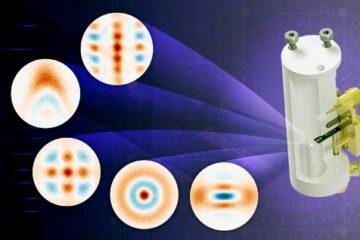 Quantum technology reaches unprecedented control over captured light
Researchers in quantum technology at Chalmers University of Technology have succeeded in developing a technique to control quantum states of light in a three-dimensional cavity. In addition to creating previously…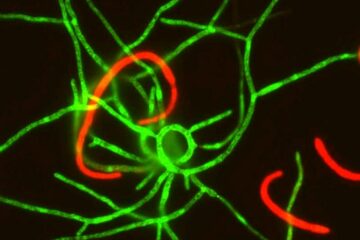 A master regulator controlling fungal infection of wheat
The fungus Zymoseptoria tritici causes Septoria tritici blotch, the most destructive fungal disease of wheat grown in temperate climates worldwide. This disease reduces wheat yields by 5-10% per year, causing…