Electronics: Graphene makes a magnetic switch
Researchers in Singapore have designed an electronic switch that responds to changes in a magnetic field. The device relies on graphene, a strong and flexible electricity-conducting layer of carbon atoms arranged in a honeycomb pattern.
Seng Ghee Tan of the A*STAR Data Storage Institute, along with colleagues at the National University of Singapore, used theoretical models to predict the properties of their proposed device, known as a magnetic field-effect transistor.
The transistor is based on two nanoribbons of graphene, each just a few tens of nanometers wide, which are joined end to end. The atoms along the edges of these nanoribbons are arranged in an 'armchair' configuration — a pattern that resembles the indented battlements of castle walls. If these edges were in a zigzag pattern, however, the material would have different electrical properties.
One of the nanoribbons in the team's transistor acts as a metallic conductor that allows electrons to flow freely; the other, slightly wider, nanoribbon is a semiconductor. Under normal conditions, electrons cannot travel from one nanoribbon to the other because their quantum wavefunctions — the probability of where electrons are found within the materials — do not overlap.
A magnetic field, however, warps the distribution of electrons, changing their wavefunctions until they overlap and allowing current to flow from one nanoribbon to the other. Using an external field to change the electrical resistance of a conductor in this way is known as a magnetoresistance effect.
The team calculated how electrons would travel in the nanoribbons under the influence of a 10-tesla magnetic field — the rough equivalent of that produced by a large superconducting magnet — at a range of different temperatures.
Tan and colleagues found that larger magnetic fields allowed more current to flow, and the effect was more pronounced at lower temperatures. At 150 kelvin, for example, the magnetic field induced a very large magnetoresistance effect and current flowed freely. At room temperature, the effect declined slightly but still allowed a considerable current. At 300 kelvin, the magnetoresistance effect was approximately half as strong.
The researchers also discovered that as the voltage across the nanoribbons increased, the electrons had enough energy to force their way through the switch and the magnetoresistance effect declined.
Other researchers recently produced graphene nanoribbons with atomically precise edges, similar to those in the proposed design. Tan and his colleagues suggest that if similar manufacturing techniques were used to build their device, its properties could come close to matching their theoretical predictions.
The A*STAR-affiliated researchers contributing to this research are from the Data Storage Institute
Journal information
Kumar, S. B., Jalil, M. B. A. & Tan, S. G. High magnetoresistance in graphene nanoribbon heterojunction. Applied Physics Letters 101, 183111 (2012).
Media Contact
A*STAR Research
Research asia research news
All latest news from the category: Power and Electrical Engineering
This topic covers issues related to energy generation, conversion, transportation and consumption and how the industry is addressing the challenge of energy efficiency in general.
innovations-report provides in-depth and informative reports and articles on subjects ranging from wind energy, fuel cell technology, solar energy, geothermal energy, petroleum, gas, nuclear engineering, alternative energy and energy efficiency to fusion, hydrogen and superconductor technologies.
Back to home
Newest articles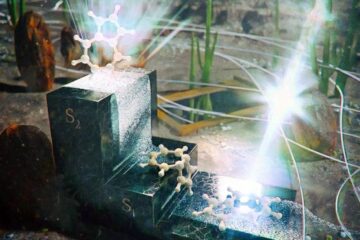 A mysterious blue molecule will help make better use of light energy
Researchers at IOCB Prague are the first to describe the causes of the behavior of one of the fundamental aromatic molecules, which fascinates the scientific world not only with its…
Let it flow: recreating water flow for virtual reality
The physical laws of everyday water flow were established two centuries ago. However, scientists today struggle to simulate disrupted water flow virtually, e.g., when a hand or object alters its…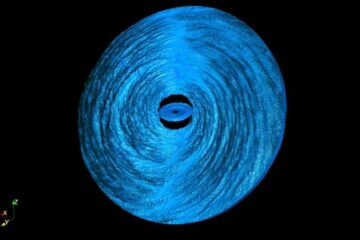 Black holes eat faster than previously expected
New finding might explain why quasars flare and fade so quickly. A new Northwestern University-led study is changing the way astrophysicists understand the eating habits of supermassive black holes. While…