Planet hunters pledge Eddington support
Belt tightening cloud could have silver-lining for Europe's planet hunters
European planet hunters are rallying round a beleaguered effort to launch the first spacecraft that might detect Earth-like planets beyond our own Solar System. Meeting in London last week they agreed that the low-cost, low-risk mission has a lot to offer.
The planet-spotting mission Eddington has been approved by the European Space Agency (ESA), but is currently on hold awaiting funds; unless they materialize it could be scrapped by the end of the year. "Everything is up in the air at the moment," says Ian Roxburgh, an astronomer at the University of London and joint-leader of the mission1.
The spacecraft, named after the 1930s British astronomer Arthur Eddington, will hover in an orbit between the Earth and the Sun for four years. It will train light sensors on a cluster of 500,000 nearby stars, hoping to detect the silhouettes of Earth-sized planets passing in front of them.
Star turn
This technique and others have spotted over 70 planets in our Galaxy outside our own Solar System. The planets seen so far have all been huge – at least as big as Jupiter. But interference from the atmosphere and the rotation of the Earth have made it impossible to see a star clearly enough for long enough to infer the presence of smaller, Earth-sized planets.
Astronomers hope that the Eddington mission will detect planets as small as Mars. By measuring how fast a planet is moving, it will also estimate how far away from its star a planet is orbiting, and therefore whether it is capable of supporting life. "We can calculate whether the planet lies in the habitable zone – neither too hot nor too cold for life," says Roxburgh.
Eddington's camera will also study stars' innards. By monitoring fluctuating light emissions, it will discern ripples on the surface on stars, which are evidence of inner shock waves. "The (wave) frequency we observe at the surface of stars is a direct probe of what is going on within," says Fabio Favata, Eddington's mission scientist at ESA.
This technique – called astroseismology – can only be performed in the stillness of space. It has never been done before beyond our own Sun. "These studies will help us understand the evolution of stars and galaxies, and improve our methods for measuring stellar ages and distances," says Roxburgh.
Competition time
Until recently, says Alan Penny, joint-leader of Eddington at the Rutherford Appleton Laboratory near Oxford, UK, the mission seemed to be doomed after ESA cut its budget for space science missions1. And last month NASA gave funding to Kepler – an all-American mission almost identical to Eddington – to look for Earth-like planets in the same region of space, only with a larger telescope.
Now all-round belt-tightening could act to Eddington's advantage. "Eddington was on thin ice, but now everyone is on thin ice," Penny says. Sean O'Keefe, NASA's new administrator, who was appointed in November, is cutting spending; and several ESA missions are falling behind deadline. Eddington is cheap and reliable and so "could rapidly fill the gap if the spending profile moves", suggests Penny.
William Borucki of the NASA Ames Research Center in Moffat Field, California, is confident that the Kepler mission that he is leading will be the first to spot Earth-sized planets. "We've every reason to think we're going to fly," he says.
But Borucki hopes Eddington makes it too. "I don't think of it as a competition," he says. "It's an important mission and will add to our science."
References
Goodman, S. Europe puts the squeeze on space projects. Nature, 414, 383, (2001).
Media Contact
TOM CLARKE
© Nature News Service
All latest news from the category: Physics and Astronomy
This area deals with the fundamental laws and building blocks of nature and how they interact, the properties and the behavior of matter, and research into space and time and their structures.
innovations-report provides in-depth reports and articles on subjects such as astrophysics, laser technologies, nuclear, quantum, particle and solid-state physics, nanotechnologies, planetary research and findings (Mars, Venus) and developments related to the Hubble Telescope.
Back to home
Newest articles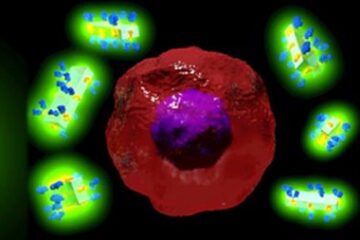 A world-first antibody-drug delivery system
It sounds like the stuff of science fiction: a man-made crystal that can be attached to antibodies and then supercharge them with potent drugs or imaging agents that can seek…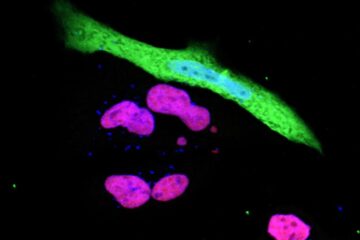 Revealed: How SARS-CoV-2 evades our immune system
Scientists at Hokkaido University and Texas A&M University have identified a key mechanism used by the SARS-CoV-2 virus to evade host immune systems. Researchers in Japan and the United States…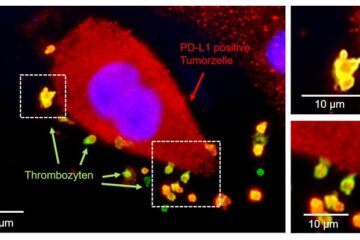 New approach developed to predict response of immunotherapies in lung cancer
New methodology at the University Hospital of Tübingen harnesses the function of platelets. At Tübingen University Hospital, a preclinical study led by Dr. Clemens Hinterleitner and Prof. Dr. Lars Zender,…