NRL Demonstrates High Durability of Nanotube Transistors
"One of the primary challenges for space electronics is mitigating the susceptibility of prolonged exposure to radiation that exists in the charged particle belts that encircle Earth," said Cory Cress, materials research engineer. "These are the first controlled demonstrations showing little performance degradation and high tolerance to cumulative ionizing radiation exposure."
Radiation effects take two forms, transient effects and cumulative effects. The former, referred to as single effect transients (SETs), result from a direct strike by an ionizing particle in space that causes a current pulse in the device. If this pulse propagates through the circuit it can cause data corruption that can be extremely detrimental to someone that relies on that signal, such as a person using GPS for navigation. NRL researchers have recently predicted that such effects are nearly eliminated for SWCNT-based nanoelectronics due to their small size, low density, and inherent isolation from neighboring SWCNTs in a device.
The cumulative effects in traditional electronics results from trapped charges in the oxides of the devices, including the gate oxide and those used to isolate adjacent devices, the latter being primary source of radiation-induced performance degradation in state-of-the-art complementary metal-oxide semiconductor (CMOS) devices. The effect is manifested as a shift in the voltage needed to turn the transistor on or off. This initially results in power leakage, but can eventually cause failure of the entire circuit.
By developing a SWCNT structure with a thin gate oxide made from thin silicon oxynitride, NRL researchers recently demonstrated SWCNT transistors that do not suffer from such radiation-induced performance changes. This hardened dielectric material and naturally isolated one-dimensional SWCNT structure makes them extremely radiation tolerant.
The ability for SWCNT-based transistors to be both tolerant to transient and cumulative effects potentially enables future space electronics with less redundancy and error-correction circuitry, while maintaining the same quality of fidelity. This reduction in overhead alone would greatly reduce power and improve performance over existing space-electronic systems even if the SWCNT-based transistors operate at the same speed as current technologies. Even greater benefits are foreseeable in the future, once devices are developed that exceed the performance of silicon-based transistors.
About the U.S. Naval Research Laboratory
The U.S. Naval Research Laboratory is the Navy's full-spectrum corporate laboratory, conducting a broadly based multidisciplinary program of scientific research and advanced technological development. The Laboratory, with a total complement of nearly 2,500 personnel, is located in southwest Washington, D.C., with other major sites at the Stennis Space Center, Miss., and Monterey, Calif. NRL has served the Navy and the nation for over 85 years and continues to meet the complex technological challenges of today's world. For more information, visit the NRL homepage or join the conversation on Twitter, Facebook, and YouTube.
Comment policy: We hope to receive submissions from all viewpoints, but we ask that all participants agree to the Department of Defense Social Media User Agreement. All comments are reviewed before being posted.
Alle Nachrichten aus der Kategorie: Physics and Astronomy
This area deals with the fundamental laws and building blocks of nature and how they interact, the properties and the behavior of matter, and research into space and time and their structures.
innovations-report provides in-depth reports and articles on subjects such as astrophysics, laser technologies, nuclear, quantum, particle and solid-state physics, nanotechnologies, planetary research and findings (Mars, Venus) and developments related to the Hubble Telescope.
Zurück zur Startseite
Neueste Beiträge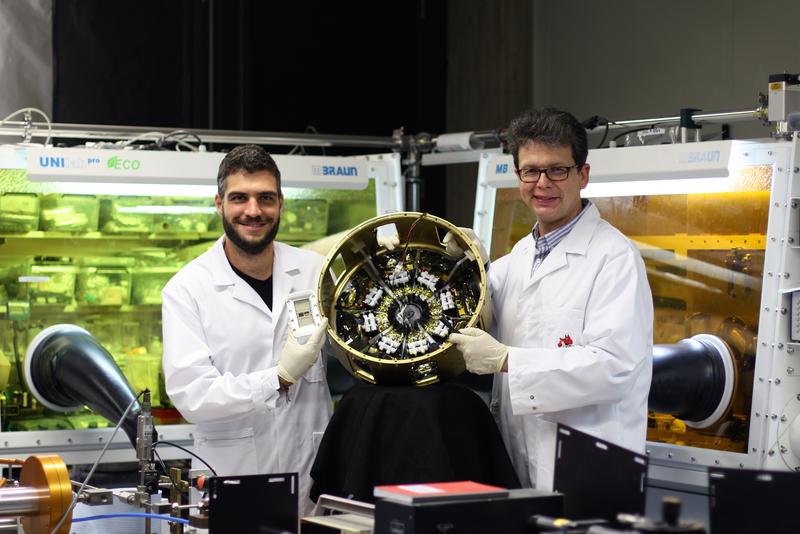 New solar cells for space
Almost all satellites are powered by solar cells – but solar cells are heavy. While conventional high-performance cells reach up to three watts of electricity per gram, perovskite and organic…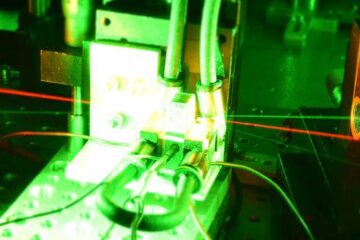 Development of a novel membrane laser module for spectral measurement methods
The Fraunhofer Institute for Applied Solid State Physics IAF has partnered up with the start-up "Twenty-One Semiconductors" (21s) from Stuttgart to bring their unique laser concept from lab to practice….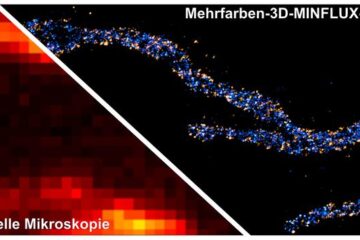 Dissecting protein assemblies
Super-resolution MINFLUX nanoscopy, developed by Nobel laureate Stefan Hell and his team, is able to discern fluorescent molecules that are only a few nanometers apart. In an initial application of…